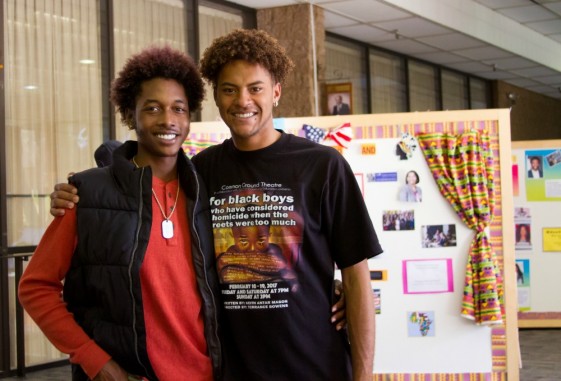 Board of Trustees adopts resolution to support civil rights landmark designation
February 9, 2018

|
The San Diego Community College District Board of Trustees adopted a potentially historic resolution during their monthly meeting yesterday evening. Carlos O. Turner Cortez, Ph.D., President of San Diego Continuing Education, presented plans to request an official Civil Rights Landmark Designation of San Diego Continuing Education's Educational Cultural Complex (ECC) in the Mountain View community.
ECC has been a symbol of community and African-American activism since its beginnings in 1972. Dr. Turner Cortez intends to memorialize the significant contributions and events that impacted the history of American civil rights at SDCE.
Many significant events have ties to ECC, including the California Commission to establish Martin Luther King, Jr. Day as a federal holiday. Former SDCE Provost, Dr. Robert Matthews, hosted a committee at ECC and a successful campaign that ultimately established the federal holiday in 1983.
Civil Rights leader Coretta Scott King delivered a speech at ECC in 1985, award-winning artist and humanitarian Stevie Wonder performed a concert at ECC in 1986 and Civil Rights activist and American poet Maya Angelou performed and spoke at ECC in 1987.
SDCE has received numerous first place awards over the past 12 years during the annual Martin Luther King, Jr. Parade, an event that began out of ECC in 1980 by former SDCE Provost, Dr. Robert Matthews, and fellow Alpha Phi Alpha Fraternity (Zeta Sigma Lambda Chapter) brothers organized.
The SDCCD Board of Trustees applauded the plans and adopted a resolution on February 8, 2018 in support of recognizing the impressive civil rights history associated with ECC, and approved the submission of a proposal to the City of San Diego for official Civil Rights Landmark Designation of ECC.
With support from SDCCD Board of Trustees, as a next step, Dr. Turner Cortez and ECC's Historic Preservation Committee will negotiate with the city and state officials to have the institution named as a Civil Rights Landmark.
"The inclusion of ECC as a national landmark is important because out of the thousands of landmarks in San Diego not too often are ethnic and minority groups truly represented," said Dr. Turner Cortez. "Too often American history is shared without regard to racial groups. As a higher education institution we must continue to celebrate social justice and cultural diversity because black history is American history. The public recognition will remind our students about their rich heritage and ancestors who continued to excel at all areas in life despite hardships and obstacles."
ECC is SDCE's Campus of Excellence for Career Education and has established a reputation in southeastern San Diego as a vibrant educational and cultural center with rich roots, especially amongst the city's African American residents.
Every February, SDCE invites the Mountain View community to commemorate Black History Month through art at ECC. This month, events include a presentation and workshop of "Unsung Heroes of Black History" on February 14 from 12:30 to 1:30 p.m., a movie screening of "I am not your Negro" on February 22 from 12:30 to 2 p.m. and "What's Goin' On?" an afternoon of live music and dance on February 28 from 11 a.m. to 1 p.m.
SDCE's long-term vision is to update the historic theatre at ECC to continue the legacy and inclusion of all cultures by promoting and supporting live performance.