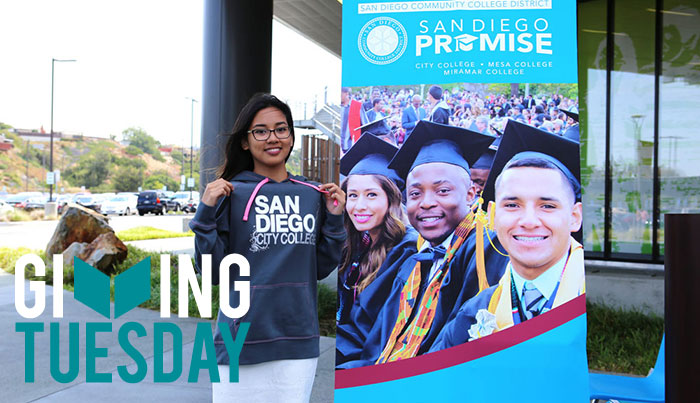 Promise program to benefit from upcoming Giving Tuesday
November 2, 2018

|
Fundraising for the tuition-free San Diego Promise program is set to get another shot in the arm through Giving Tuesday, on November 27, which includes a goal of securing at least 100 new donations that day.
Giving Tuesday is a day of philanthropic giving, celebrated each year on the Tuesday following Thanksgiving, as a way to kick off the charitable season, when many focus on their holiday and end-of-year giving. Through email and social media, the San Diego Community College District will encourage those who may be interested to participate in Giving Tuesday by making a gift to the San Diego Promise.
Make a donation to
The San Diego Promise
The San Diego Promise waives tuition and enrollment fees for first-time, full-time students' first two years of study toward an associate degree while also providing other support, including textbook grants. While state funding is available to cover each student's first year, the San Diego Community College District has been raising money to provide tuition for a student's second year, as well as to support eligible students with the cost of textbooks. In exchange, San Diego Promise participants must take part in orientation services, develop an education plan, meet with counselors, and maintain a minimum GPA of 2.0. A recent analysis showed San Diego Promise students are faring better in their studies than non-Promise participants.
Approximately 2,200 local students are currently enrolled in the San Diego Promise for the 2018-19 school year, up from 661 students during 2017-18 and an initial cohort of approximately 180 students during the program's pilot year of 2016-17.
To date, the San Diego Promise has raised close to $900,000. All donations to the program go to student support. Nothing is spent on overhead or salaries.
Last year, the District collected more than $4,000 on Giving Tuesday.