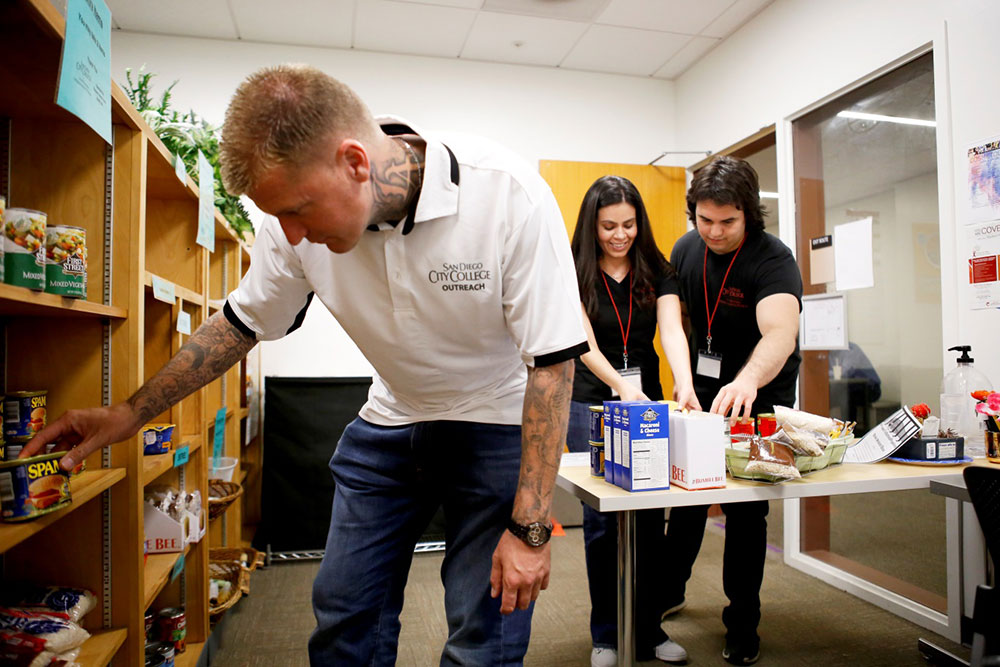 SDCCD colleges receive $100,000 to fight hunger
March 27, 2018

|
The San Diego Community College District – which each week provides emergency food to hundreds of students who would otherwise go hungry – has received nearly $100,000 in state grant money to further bolster emergency pantry services at City, Mesa, and Miramar colleges.
Colleges will use the funds to augment food pantries on campus, including a partnership with Feeding San Diego that provides fresh produce to students in need. City College is earmarking its entire amount of nearly $33,000 to buy non-perishable food. Mesa College will use its nearly $41,000 to bolster its partnership with Feeding San Diego. Miramar College will spend its more than $20,000 to expand the size of its pantry as well as purchase food for the hungry.
The allocations come from $2.5 million in state funds the California Community Colleges Chancellor's Office is allotting to more than 60 campuses to fight student hunger. The SDCCD's Board of Trustees at its March 15 meeting voted unanimously to accept and disburse the money.
Several recent studies have highlighted the impact that food insecurity is having on college campuses across the country, including student retention and success. The Community College Equity Assessment Lab at San Diego State University found that 12 percent of community college students in California sometimes aren't sure where they'll get their next meal, and the National Student Campaign Against Hunger & Homelessness reported that nearly half of more than 37,000 respondents in 12 states had experienced food insecurity within the previous 30 days. More than 24 percent of SDCCD students responding to an online survey by The Ohio State University said they "sometimes" didn't have money to feed themselves after running out of food, and an addition 16 percent replied they "often" faced such a predicament.
San Diego City, Mesa, and Miramar colleges, in addition to San Diego Continuing Education, have been on the forefront in addressing the issue. The San Diego City College Emergency Food Pantry provides pre-packaged items suitable for an on-campus meal to approximately 300 students each week. Mesa College operates The Stand, a pantry and clothing closet supplied through food drives and campus competitions, as well as community donations. And REACT – an acronym for the student-led Researching Equity, Action and Community for Transformation – at Miramar College operates a campus pantry that is open five days each week.