Civil rights activist honored by Project New Village
October 8, 2018

|
Gwendolyn Chamberlain, civil rights activist and longtime educator was recognized October 4, 2018, by Project New Village. Chamberlain was awarded during the charity's 8th annual Fannie Lou Hamer Celebration, which took place at San Diego Continuing Education's historic Educational Cultural Complex.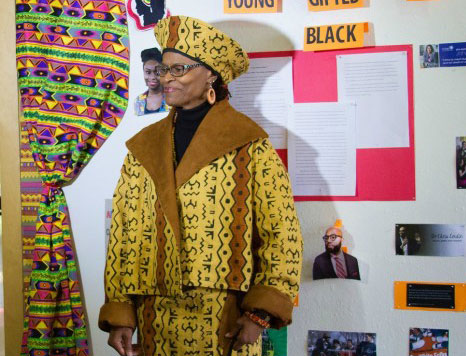 The evening program celebrated the intersection of farming, health, activism, art, and education as a birthday tribute to civil and human rights leader and food justice pioneer, Fannie Lou Hamer. In Hamer's honor PNV awarded local "heroes and sheroes" alongside national champions, including SDCE's faculty member, Chamberlain, for their outstanding commitment to strengthen Southeastern San Diego.
"I am extremely pleased to have been chosen as one of the honorees to represent such a respected ancestor as Fannie Lou Hamer! As a woman who grew up in the state of Mississippi as did ancestor Hamer, some of our missions were very similar: Fighting for the civil rights of black people in Mississippi and ultimately in the United States," said Chamberlain. Chamberlain works as SDCE's CalWORKs intake coordinator and she helps produce the school's Black History Month festivities every year. Her personal history includes many stories and challenges with political activism for civil rights.
ECC is SDCE's Campus of Excellence for Career Education and has been a symbol of community and African-American activism since its beginnings in 1972. Many significant events have ties to ECC, including the California Commission to establish Martin Luther King, Jr. Day as a federal holiday.
The San Diego Community College District Board of Trustees adopted a resolution on February 8, 2018 in support of recognizing the impressive civil rights history associated with ECC and approved the submission of a proposal to the City of San Diego for official Civil Rights Landmark Designation of ECC.
"The inclusion of ECC as a national landmark is important because out of the thousands of landmarks in San Diego not too often are ethnic and minority groups truly represented," said Carlos O. Turner Cortez, Ph.D., President of SDCE. "We are proud to have Gwendolyn Chamberlain represent SDCE. She works tirelessly to bring the richness of African-American culture to the Southeastern community of San Diego."