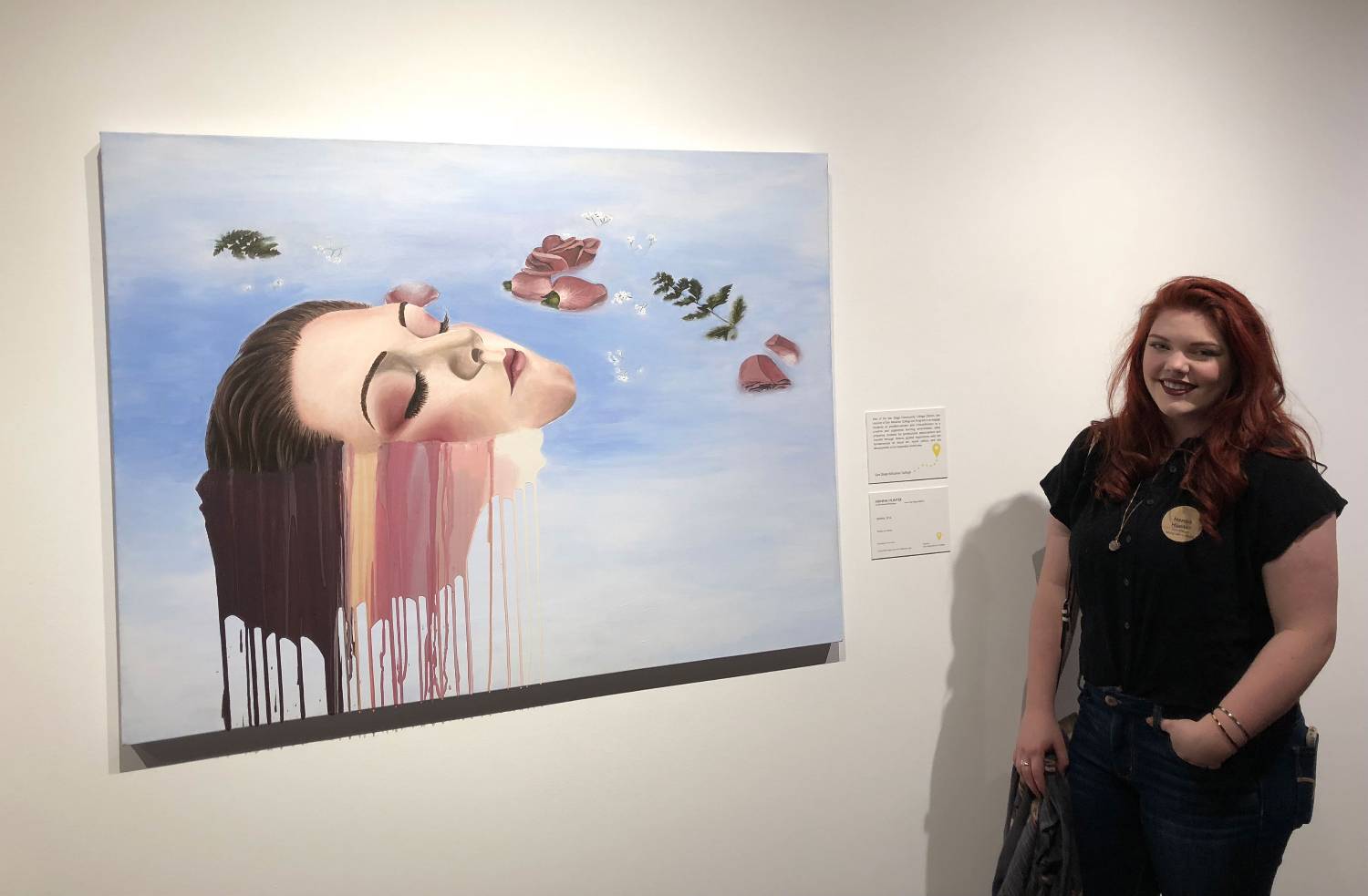 Miramar student paints her way to prestigious Chicago arts school
April 9, 2018

|
Hanna Hunter had never shown her artwork to anyone besides her parents and teachers – at least not until a representative from one of the top art schools in the country, the School of Art Institute Chicago (SAIC), was invited to give a presentation to a San Diego Miramar College arts course and students were asked to present a portfolio of their work.
Now Hunter, 22, is preparing to enroll at the prestigious college in downtown Chicago that has been ranked as the most influential arts school in the country by Columbia University's Art Critics National Arts Journalism Survey.
Hunter is still pinching herself.
"The representative saw my work and encouraged me to apply to the school," she said. "It was nerve racking. I had never applied to a college before that, and this is one of the top arts schools in the world. I couldn't be happier that I was accepted."
So are her classmates and instructors.
"We are extremely proud that Hanna is transferring from Miramar to SAIC," said Hunter's art professor, Jessica McCambly. "It is truly an honor. It has been a pleasure to work with her and I am confident that she will continue to thrive in her new academic environment. She will be an excellent addition to their outstanding program."
A native of Richland, Wash., who moved to San Diego when she was 13, Hunter had taken a few art classes at Mt. Carmel High School but was an English literature major when she enrolled at Miramar College in the fall of 2015 after tiring of work as a cashier at a local crafts store. "I needed to do something besides sit by a cash register all day," she said.
Her life changed forever when she enrolled in McCambly's class. "She has inspired me and helped make me see that you can make art for a purpose and not just for a hobby."
She also has encouraged Hunter to display her works. One of her more recent pieces, "Ophelia," which depicts the character from the William Shakespeare drama, Hamlet, disintegrating into the abyss, is on display through May 6 at the San Diego Central Library as part of its "You Are Here" art exhibit celebrating more than two dozen works from higher education arts departments.
"I love painting," Hunter continued. "My passion is painting. I love that you could take something that is three-dimensional and make it two dimensional with just as much of an impact connected to it."
The work illustrates not only Hunter's focus on feminist values, the female experience, and how men typically view the female body, it also underscores her lifelong love of English literature.
"I continue to be impressed with the innovative approach that she takes to both her studio practice and to her academic development as an artist and as a thinker," said McCambly.
So what does the future hold?
"Art has been a constant for me since high school, and I would love to be a working artist, but what I really want to do is become an art teacher, especially after seeing the impact Professor McCambly has had on me and other students."
Hunter will drive out to Chicago with her mom this summer. She earns her associate degree in English from Miramar this spring.
"I am so excited," Hunter said. "I'm also ready. This is going to be amazing."