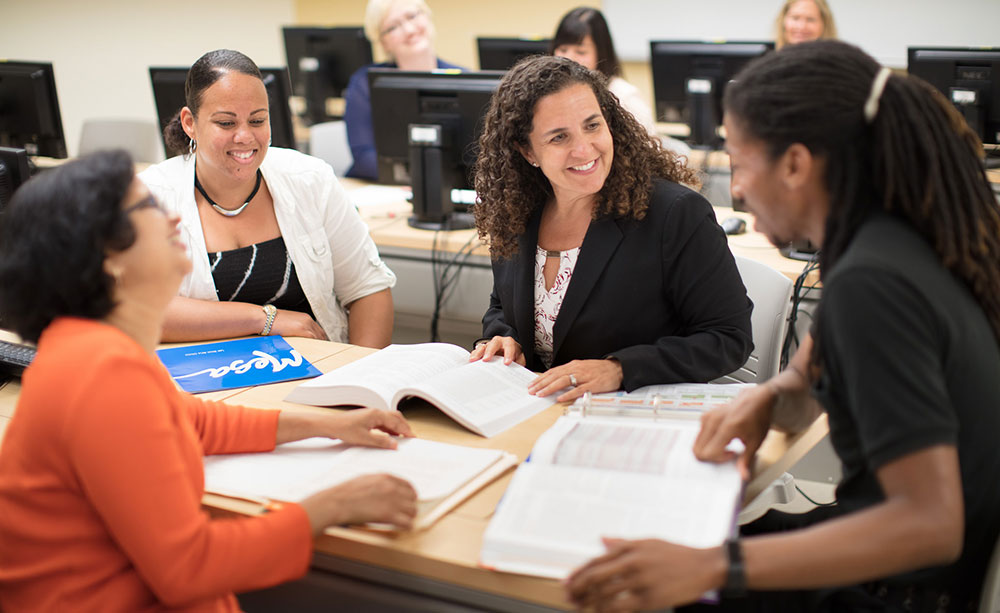 Bright futures await first 4-year degree recipients
May 10, 2018

|
The way medical coding specialist Victoria Bradbury sees it, her career options are now almost without limit. San Diego Mesa College classmate and Scripps Healthcare Quality Control Analyst Michelle Gurrola sees a similar array of opportunities; she is set to embark on a lucrative journey toward consulting in the growing field of healthcare informatics. Classmate Henry Cunningham, who works at UC San Diego Health, says he now has the tools needed to pursue a future as a health information data analyst.
Bradbury, Gurrola, and Cunningham are making history this spring as among the first 16 San Diego Mesa College students who will be earning their bachelor of science's degrees in the booming field of health information management thanks to the state's Baccalaureate Pilot Program. They are among the first students to complete a baccalaureate program at a California community college.
"A bachelor's degree goes a long way in the health information management field, especially on the information technology (IT) and systems analysis side of things," said Cunningham, 28. "This being a community college where the cost is next to nothing compared to some of the online programs that are out there, I'm saving a lot of money and I'm not going into debt, all while having a lot of doors opening for my career."
Once they accept their diplomas at Mesa's May 19 commencement ceremony, they will be qualified to sit for a national certification exam – sponsored by the American Health Information Management Association – that marks the last step needed before becoming a registered health information administrator (RHIA).
Job opportunities abound, thanks to a growing healthcare industry and increased sophistication in managing and protecting computerized medical records. The U.S. Bureau of Labor Statistics is projecting employment of medical and health services managers – which includes health information managers – to grow by 20 percent in the 10-year period through 2026. Wages vary according to the position and the employer, but can reach six figures annually.
"All of San Diego County should be proud of the job Mesa College has done in building its baccalaureate program in Health Information Management," said San Diego Community College District Chancellor Constance Carroll. "Our first class of graduates is a diverse one in both gender and ethnicity, and most of our students have job offers, or – for those who are already employed – have promises for advancement."
Career options include working as a health information department manager or director, a healthcare systems manager, a data analyst, a quality or compliance coordinator, or a coding manager. Students are trained to design databases, analyze healthcare data; understand the laws of patient record confidentiality and privacy; understand and master the principles of personnel management; and be able to develop a financial plan for a health information management department.
"The first week we started the baccalaureate program, Sharp Healthcare called me to collaborate in creating an employment pipeline straight from our college," said Associate Professor Connie Renda, Director of the Health Information Management program. "The demand for employees is here in the San Diego healthcare community."
The Health Information Management baccalaureate program resulted from a years' long process led by Chancellor Carroll, former state Senator (and former SDCCD trustee) Marty Block, and others who pointed out that community colleges were vital in helping California meet industry demands for more workers with a bachelor's degree. What's more, Block's Senate Bill 850 set the enrollment fees and tuition for a four-year community college degree at just over $10,000, a fraction of the cost of earning a bachelor's degree at any other college or university.
The 15 colleges chosen as part of the pilot program were selected based on local workforce needs.
"San Diego County is home to several major hospital systems, including military hospitals,and the San Diego County Health and Human Services Agency said Mesa College President Dr. Pamela T. Luster. "We have worked side-by-side with our industry partners in developing our program, which has the potential to become a statewide leader."
President Luster noted that Mesa was supported in its effort to offer a bachelor's degree by an advisory board comprising 19 health information technology industry leaders, including Cassi Birnbaum, the president-elect at that time of the national organization representing 75,000 health information management professionals.
Fueling demand was 2009 federal legislation mandating health care institutions to convert to electronic health records by 2014. All in all, changes in industry standards have created a need for highly skilled health information management administrators to oversee information technology, patient records systems at hospitals, clinics, and other healthcare facilities, and a bachelor's degree has become the entry point for these high-skilled management positions. Yet the only other California institution offering a bachelor's degree in health information management is a private institution that is a two-hour drive from San Diego on a good day. Full-time undergraduate students at the school are charged almost $34,000 annually in fees and tuition.
The first cohort of freshmen in the Health Information Management program enrolled in the fall of 2015; a second cohort students who already had an associate degree in health information technology were accepted the following fall. It is the latter group that is graduating with bachelor's degrees this May.
"A bachelor's program is a natural progression for those with an associate degree in health information management, but none of the colleges or universities around here offer a baccalaureate," said Bradbury, who was hired as a Sharp Healthcare clinical coding specialist almost immediately after earning her associate degree in health information technology in 2015 and passing the Registered Health Information Technician (RHIT) exam the same month. "There are so many opportunities out there – risk management, human resources, project management, legal and compliance, data analytics, coding management and having a bachelor's degree as well as the RHIA certification opens a lot of doors. It's an exciting time to be a part of history and I am proud to have had this opportunity to represent Mesa College and the health information management industry."
Gurrola agreed. "Even the internships at the companies I want to work for require a bachelor's degree," said the 28-year-old San Diego resident who also earned an associate degree in health information technology from Mesa College. "Having the baccalaureate program at Mesa is going to have a huge impact on students and the community. It feels wonderful to be a part of history."