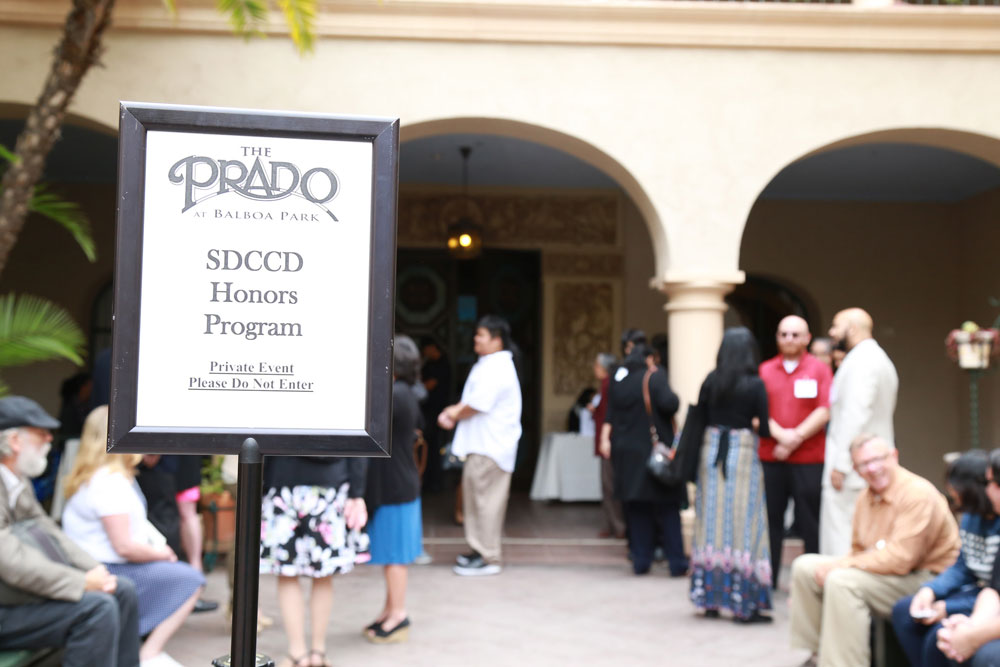 District to honor top students at May 2 reception at The Prado
April 30, 2018

|
The San Diego Community College District will salute its highest achieving students from 11:30 a.m. to 1:30 p.m., Wednesday, May 2, during the 31st annual Honors Program Reception at The Prado in Balboa Park.
"I always look forward to seeing my students' faces at the Honors Program Reception – their surprise and joy that they're the focus of such an event, that we celebrate them, that we're excited for their successes," said Dr. Kelly Mayhew, a San Diego City College English professor and SDCCD Honors Program coordinator.
The SDCCD's Honors Program offers a more challenging curriculum that helps students transition seamlessly to some of the top universities in the country, with past honorees going on to earn bachelor's degrees at Stanford, doctorates at Princeton, and law degrees at Yale. Students also are afforded access to designated honors counselors, an opportunity to present research at conferences, and a chance to apply for expanded scholarship opportunities. Collectively, San Diego City, Mesa, and Miramar colleges provided their top students a total of more than $645,000 in scholarships this past year.
"Our program is aimed at giving our district's students an excellent and challenging educational opportunity that enables them to transfer to the colleges of their dreams," Mayhew said. "Because we strive to be as accessible as possible, we serve over 2,500 of our district's diverse student body, something of which we're incredibly proud."
Miramar College student Nhan Nguyen attributes the Honors Program for helping him earn acceptance to UC Berkeley, where he will enroll this fall en route to law school.
"I wanted to challenge myself," said Nguyen, a Marine Corps veteran who graduates with a GPA just shy of 4.0. "I consider it to be the best decision I have made since I started my educational journey as it allowed me to work with some of the best faculty the school has to offer, it allowed me to work with like-minded individuals, and it ultimately allowed me to discover the Phi Theta Kappa Honor Society. The Honors Program has given me many opportunities and experiences, and I know it can do the same for any student who wants to take the extra step in achieving academic excellence."
Karina Tarasova is sold. Named to the Phi Theta Kappa All-California Academic Team, Tarasova signed up for the Honors Program shortly after arriving at Mesa College. She's now looking at her transfer options, having so far been accepted to Boston University, the University of Michigan, UCLA, and USC.
"The Honors Program was a great experience for me," said Tarasova, who has a 4.0 GPA, has served as president of the Phi Theta Kappa Honor Society and vice president of the Business Club while volunteering with Soldiers Who Salsa and the campus TerraMesa Environmental Club, among others. "Without it, I wouldn't have been involved as much in the community and in leadership events. The program challenges you to raise your expectations."