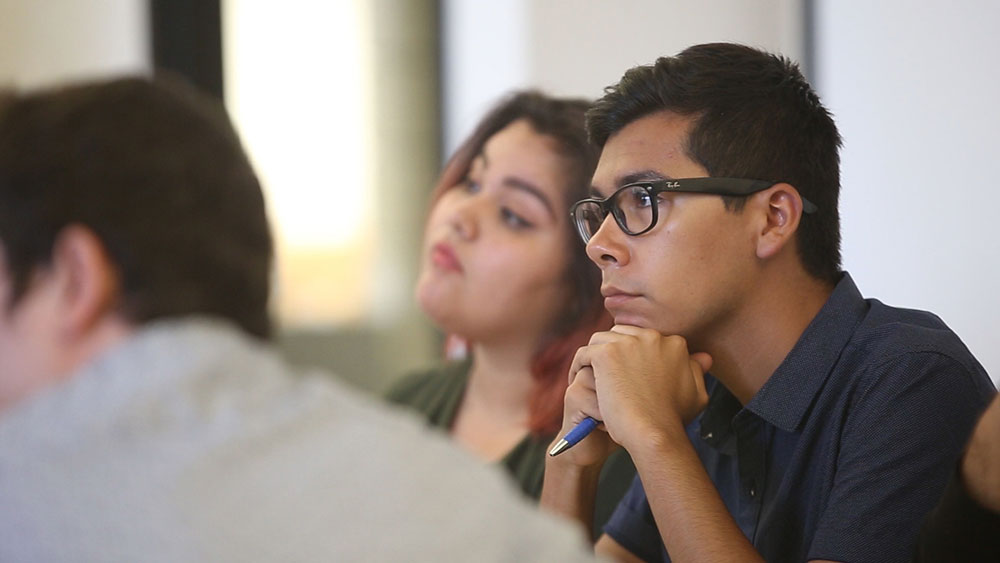 Humanities students get boost from UC San Diego-SDCCD collaboration
July 17, 2018

|
Twenty-six transfer students from San Diego City, Mesa, and Miramar colleges are spending five weeks at UC San Diego this summer as part of a joint UC San Diego-San Diego Community College District initiative aimed at expanding pathways to the humanities.
The PATH Summer Academy -- Preparing Accomplished Transfers to the Humanities -- is among the programs funded through a $2.59 million grant from the Andrew W. Mellon Foundation. The program is part of a larger effort to reverse a recent trend in which fewer and fewer students are graduating with bachelor's degrees in the humanities.
PATH Summer Academy courses generally cover culture in the United States. Students this summer will be enrolled in classes such as Jazz and the Music of the African Diaspora and The History of Race in the United States. Summer Academy attendees will participate in workshops at the iconic UC San Diego Library and campus Career Center. They will also meet directly with faculty from the Division of Arts and Humanities, home to the departments of History, Literature, Music, Philosophy, Theatre and Dance, and Visual Arts, as well as the Institute of Arts and Humanities and Analytical Writing Program.
This year's academy began with an orientation July 1; classes continue through August 3.
"Our partnership with the San Diego Community College District through the PATH program is a tremendous success, and we look forward to continuing and expanding this important initiative," said UC San Diego Division of Arts and Humanities Dean Cristina Della Coletta at the 2018 PATH Summer Academy opening reception. "The Division of Arts and Humanities is key to all UC San Diego students, for we provide the foundation for learning. We help students make sense of the world and how to not only imagine, but to create a better future for everyone."
In addition to the Summer Academy, other elements of the initiative include student outreach and recruitment, building connections and collaborations among faculty at the two institutions, and a peer mentoring program to support humanities students once they arrive at UC San Diego.