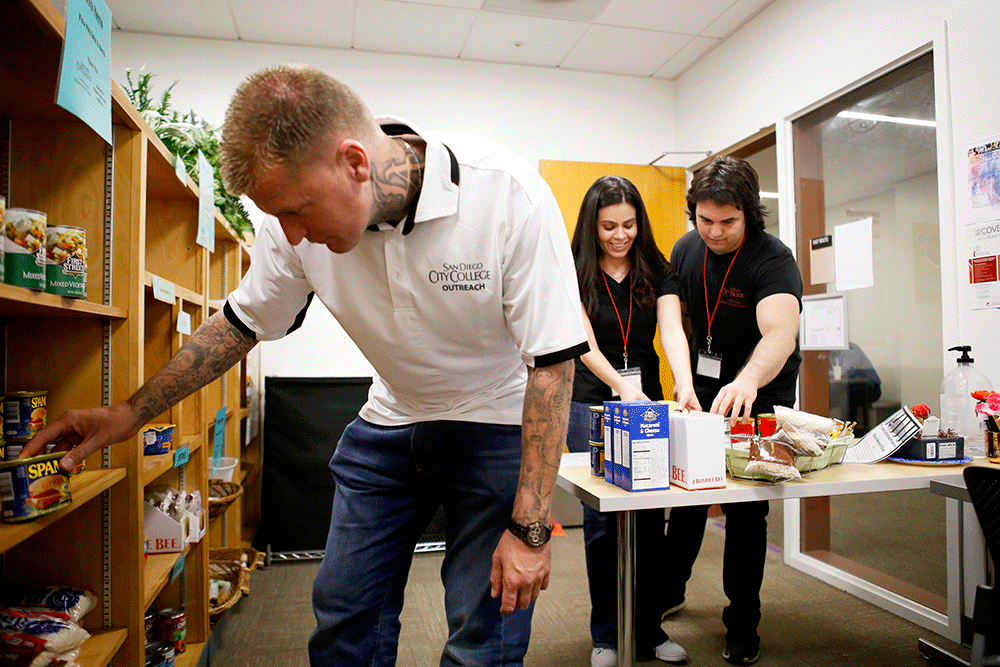 District efforts address hunger and homelessness
November 6, 2018

|
Hunger & Homelessness Awareness Week, November 10-18, is a national effort to draw attention to the problems of hunger and homelessness. The San Diego Community College District, which recently secured nearly $100,000 in state grants to supercharge food distribution efforts and emergency pantries at its colleges, has a number of initiatives in place to help make certain students don't go hungry. Among them:
- City College's Emergency Food Pantry provides free food with a valid student I.D. card. The pantry is operated by student interns and supported through donations from faculty and staff, along with community partners and neighbors. A new partnership with Feeding San Diego beginning this year will soon enable the college to double the goods in its pantry and provide a monthly, on-campus, cost-free farmers market.
- Mesa College's The Stand: Farmers Market, has been having a significant impact since it debuted in 2017 through a partnership with Feeding San Diego. The effort includes access to free, fresh produce at a monthly farmers market at the Mesa College campus, with the next Farmers Market scheduled for November 15. The Stand, a food pantry and clothing closet, and the Farmers Market evolved through efforts on behalf of Associated Students, which also established a Homeless Outreach Student Transition program that sponsors an annual Thanksgiving dinner for students with no place to go for the holiday.
- Miramar College started a monthly farmers market in September that is stocked with excess food from a local Sprouts store. In just the second month of operation, more than 600 pounds was collected and distributed to students. Miramar also has embarked on an initiative known REACT – an acronym for the student-led Researching Equity, Action and Community for Transformation – that is tackling far more than hunger. Miramar REACT is geared toward social justice, and it is managed by student activists working under the guidance of Dr. Laura Pecenco, a professor of sociology.
- San Diego Continuing Education in April launched SDCEats!, a campus food pantry that served more than 1,000 students in its first few months alone. SDCEats! is operated in partnership with the San Diego Continuing Education Foundation, Feeding San Diego, and San Diego Rescue Mission through Partners for Hunger Relief. SDCEats! also kicks off a Farm to Family Free Farmers Market in November, which is open not only to current and prospective students, but also to the neighboring community.