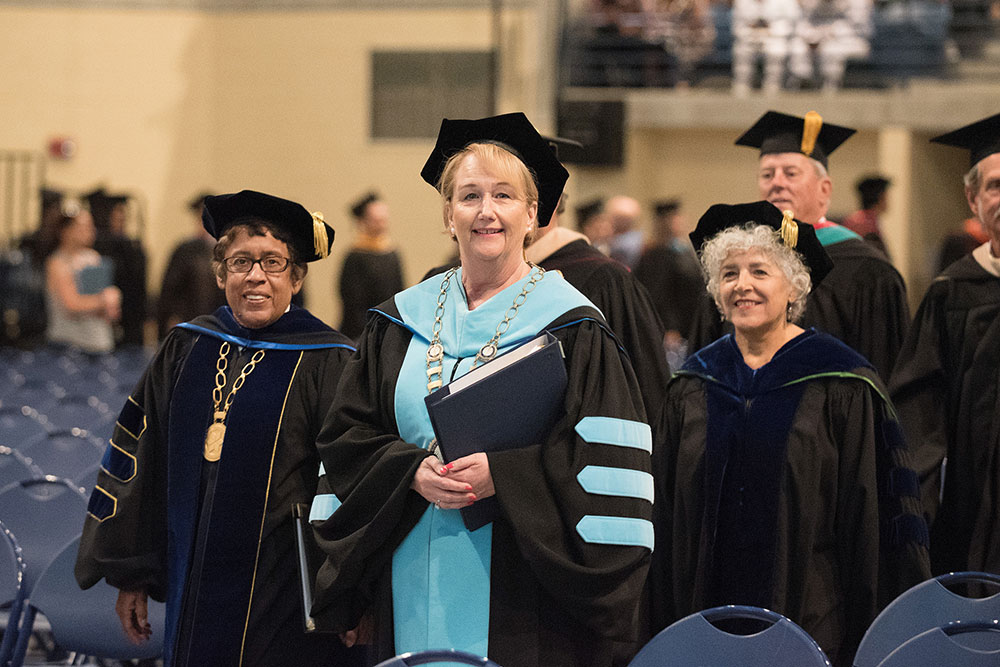 Mesa to confer first bachelor's degrees in history of the college
May 18, 2018

|
On Saturday, May 19, San Diego Mesa College will make history by awarding the College's first Bachelor of Science degrees in Health Information Management (HIM) to 16 students. The HIM Program is a continuation of the College's Health Information Technology (HEIT) Associates Degree program, and provides accessible, high-quality, industry-approved instruction designed to prepare students to work at a management level in a health care setting.
"This is a truly historic year for Mesa College," stated San Diego Mesa College President Dr. Pamela T. Luster. "We will award the first Bachelor's degrees in Health Information Management, and our associate degree students are transferring to excellent colleges and universities. We are also proud of our first set of San Diego Promise students, many of whom are graduating with honors."

Other "firsts" for the college this year is the graduation of the first set of students whose education was funded under the San Diego Promise program. For the first time as well, Mesa College will be live-streaming the 2018 Commencement at sdmesa.edu/mesalive so that family and friends who cannot otherwise attend, can enjoy from afar.

Nearly 2,000 students are earning degrees and certificates in 2018, an 8 percent increase over 2017. More than 700 students are graduating with more than one degree, and the Class of 2018 boasts 34 valedictorians and close to 600 students who are graduating with honors.

This year, Antonio Martinez is receiving Mesa's Distinguished Alumni Award. Martinez graduated from Mesa in 2005, and transferred to the University of Pennsylvania, where he earned a degree in Philosophy, Politics, and Economics. Currently, Martinez serves as the Director of Public Relations at Imperial Beach Community Clinic.

The Mesa College Commencement takes place at the Jenny Craig Pavilion at the University of San Diego at 3 p.m. Saturday, May 19 with San Diego Community College District Board of Trustees, administrators, faculty and staff joining more than 740 graduates and thousands of family members for the ceremony.