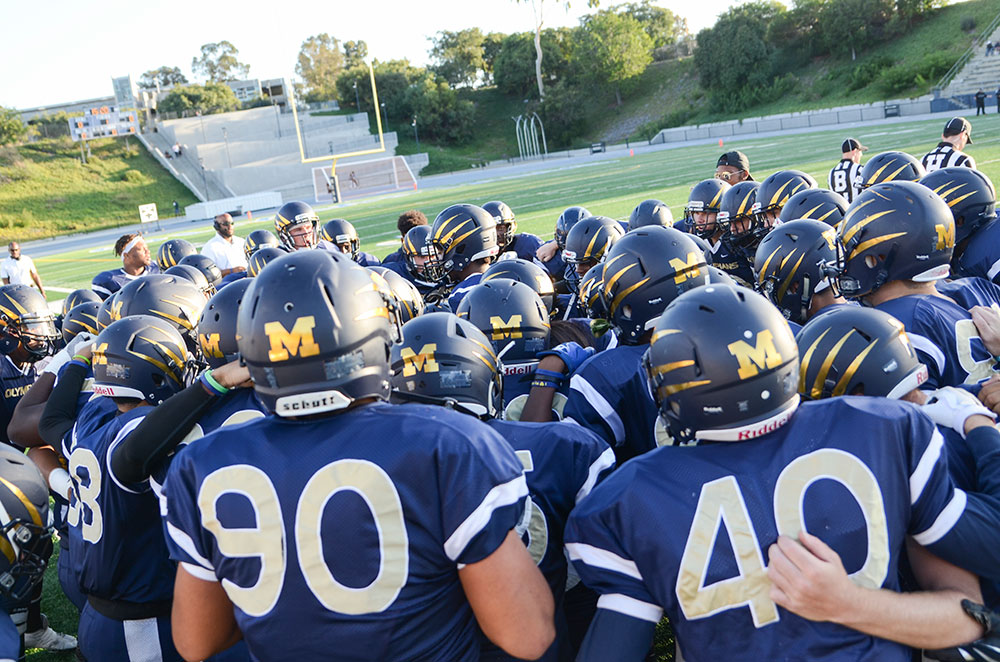 Building a new tradition - It's about more than football
February 5, 2018

|
That's the message from players, coaches, and administrators after the San Diego Mesa College Olympians capped their most successful season in the college's history with a victory against Santa Ana College in the Southern California Bowl. This was the first time in more than 25 years that Mesa hosted the event, and the first time in a decade it secured a bowl berth.
"As is the case with many stories about sports, the story about what happened on the field with Mesa College football is a result of what happened off the field," said Mesa College President Pamela T. Luster. "This is a group of very dedicated coaches who came in and worked really hard with a group of very dedicated young men determined to excel not only as players, but as people. This was a team with a lot of character, a team that often went out of its way to help others, and we couldn't be more proud."
Among the team's generous acts was a homecoming game food drive that yielded several 55-gallon containers packed with canned goods and other nonperishable items for The Stand, the campus food pantry, which aids students facing hunger. Months earlier, several players donated their wages from working as security guards at a half dozen events over the summer to fund new equipment for the college football program.
"This team made a difference in our community," said Athletics Director Ryan Shumaker. "They're a great group of guys, and they're changing the narrative for Mesa College football."
Until this year, that narrative was not impressive. Mesa entered the season having won just one conference championship since 1981 and had suffered through consecutive 3-7 campaigns. The turnaround began after Mesa hired several talented new assistant coaches during this past offseason, including Defensive Coordinator John Jennings and Offensive Coordinator Gary Watkins.
In the spring, the coaching staff instituted a series of mandatory, weekly character-building workshops for student-athletes dubbed "Raising Your Expectations" that included discussions with business leaders, public safety officials, and campus administrators.
"Mesa is very invested in the student-athlete experience," Shumaker said. "The workshops focused on leadership skills, overcoming adversity, and communication –with a focus on working with both instructors and teammates."
Graduating defensive back Marcus Rosser is a believer. One of a dozen or so players fielding scholarship offers from Division I universities; Rosser was among the leaders of a talented squad that had one of the top-ranked defenses in the state.
"All it takes is a few key guys to do what is right all the time, every day, and people will start following you," Rosser said. "That's what happened with this team."
Mesa began the season with a September 2 win against rival Grossmont College. They won again the next week against Antelope Valley, and the victories kept coming. Blitzing their way to an 8-1 record (4-0 in conference), Mesa hosted Southwestern for the American Mountain League Conference Championship. Though they lost that contest, the Olympians nonetheless secured the rights to host the Southern California Bowl against the Santa Ana College Dons. Mesa secured its place in school history with a 37-34 victory.
"We all really wanted to turn this program around, and that started with a coaching staff not letting us settle for being mediocre and not settling for anything less than giving our best," Rosser said.
All the coaches are confident that the 2017 streak can be replicated, and with top high school players looking to play for winning teams, recruiting will be easier. Many key players are returning. The requirements for players to be enrolled full time, maintain a minimum GPA of 2.5, to not fumble while following an education plan, and to meet with counselors isn't changing.
Shumaker would like to see the character and leadership seminar series instituted last spring continue.
"We plan to build off what we've just accomplished," Shumaker said. "We want to continue supporting our all of our student-athletes, by investing in them both on and off the field, and turn winning into a tradition here at Mesa College."