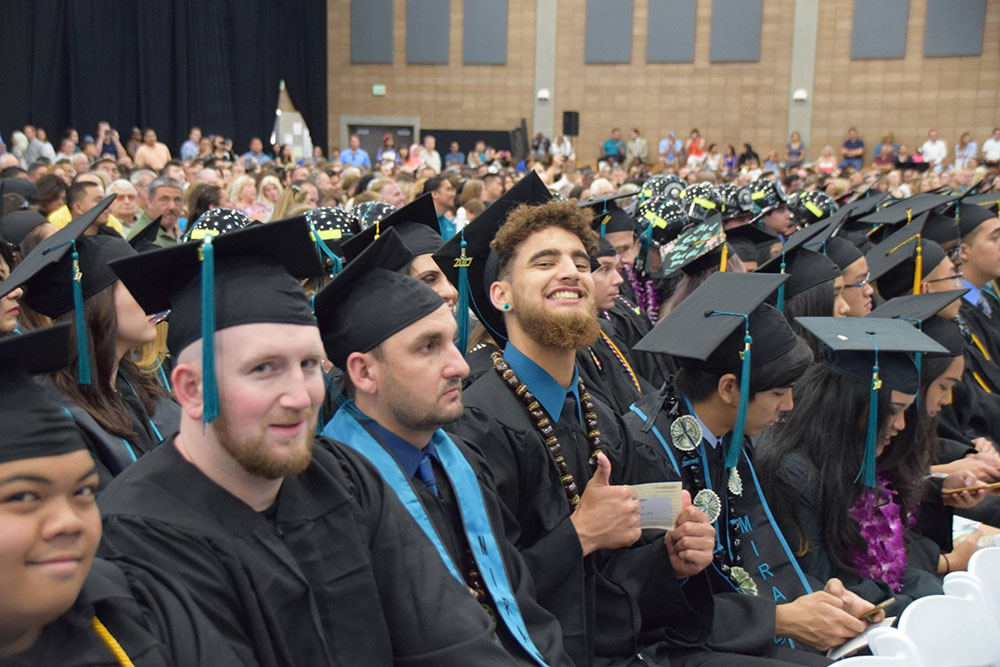 Miramar College to graduate its largest class ever
May 9, 2018

|
A long-term strategic goal of San Diego Miramar College is to improve degree completion, and for the first time in the history of the college more than 1,000 associate degrees will be conferred. A total of 1,068 associate degrees have been earned during the 2017-18 academic year. The increase of 257 degrees over last academic year represents the largest gain of any of the San Diego Community College District's three credit granting colleges. San Diego Miramar College improved its degree completion by 32 percent year over year. Last year, the college conferred 811 associate degrees. Miramar College had the second highest number of degrees conferred in the SDCCD during 2017-18.
Of the 1,068 associate degrees to be conferred, 437, or 41 percent, will be Associate Degrees for Transfer (ADT), thus demonstrating that the college will have prepared at least 437 students for transfer to a 4-year university. The number of ADT's conferred is 159 more than last year, a rise 57 percent, and it represents the second highest number of ADT's awarded among the SDCCD colleges.
In addition, 479 Certificates of Achievement will be awarded. That number represents an increase of 8 percent over last year and is the highest total of certificates awarded by a SDCCD college this academic year.
Relative to its size and resource allocation, the college will see 1,340 individual students earn awards. Miramar College further illustrated its service to its surrounding community by proudly announcing that 133 Filipino students and 320 Latino students will be among the 1,340 students graduating this May. Miramar College enrolls the most Filipino students of any college in the SDCCD.
"At San Diego Miramar College, focusing on student success is the college's top priority," said Dr. Patricia Hsieh, president of Miramar College. "I couldn't be more excited that not only does the college's enrollment continue to grow, but the total number of degrees and certificates conferred are also up significantly for a fourth straight year. The college continues to prove its commitment to serving those who wish to enroll and achieve their educational goals."
Art major Hanna Hunter has been chosen to deliver the student commencement address. As a result of her completion of the Associate Degree for Transfer (ADT) in Studio Arts, Hunter has been admitted to the prestigious School of Art Institute of Chicago (SAIC).
San Diego Miramar College will hold its 2018 commencement ceremony May 18 with a record setting 401 students confirmed to attend to accept their awards. Commencement exercises will be held inside Hourglass Fieldhouse on the Miramar College campus from 1 to 3 p.m.
More info: Miramar College Commencement