'No Forgotten Fronts: From Classrooms to Combat' is subject of Mesa professor's April 26 talk
April 23, 2018

|
Long before Facebook or Twitter, there was the U.S. Postal Service. And when men and women were serving their country during World War II, letters were often the only way they could communicate with family and loved ones. Which is why Mesa College Assistant Professor Lisa Shapiro spent two years researching the correspondence between young service men and women and one trusted San Diego State College professor.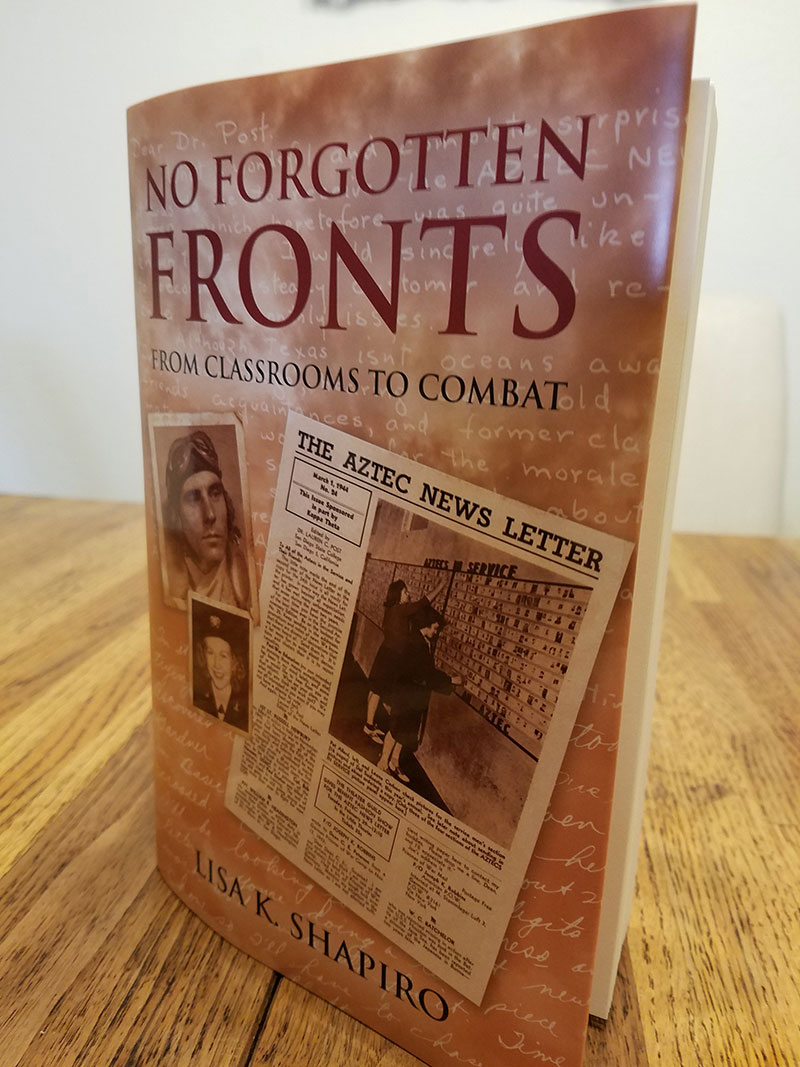 The result is No Forgotten Fronts: From Classrooms to Combat (Naval Institute Press), a newly released book based on thousands of letters penned by San Diego State students who served in World War II.
Shapiro will be discussing her research during a book signing in the Winn Room at the Coronado Public Library on Thursday, April 26, at 6:30 p.m. The library is at 640 Orange Ave., Coronado, 92118. The event is free and open to the public.
The book is based on letters received by the late-Dr. Lauren Post, a San Diego State College geography professor and veteran of World War I who – at the beginning of World War II – asked students entering military service to write him. For the next five years, thousands of letters from Pearl Harbor, North Africa, Normandy, and elsewhere described vivid accounts of training, combat, and camaraderie. Pilots wrote about seeing planes shot down. Men in POW camps sent word about other prisoners. Often, Dr. Post passed the information on to frantic families hoping for news about their loved ones. And every month, Dr. Post mailed newsletters to his Fighting Aztecs around the globe, letting them know the community cared.
Asked about her research, Shapiro said: "The letters written to one beloved professor describe an American perspective of war that shines with idealism, determination, raw grief, and the power of friendship. These intimate, first-person accounts capture honest, in-the-moment reactions to war that resound with heartache and gratitude."
Shapiro, who was raised in San Diego, began teaching as an adjunct professor at Mesa College before being hired as an assistant professor of business in 2014. Her quest to learn more about the experiences of those who have served their country was sparked by the large number of veterans at Mesa College, which has a strong record of outreach to veterans, active-duty military, and their dependents. Mesa College proudly serves veterans through its Veterans Resource Center and Veterans Affairs office.
Shapiro also has co-authored with Deborah K. Reed The Chamber and the Cross, a contemporary thriller wrapped around a medieval romance. The book was a finalist in the San Diego Book Awards.