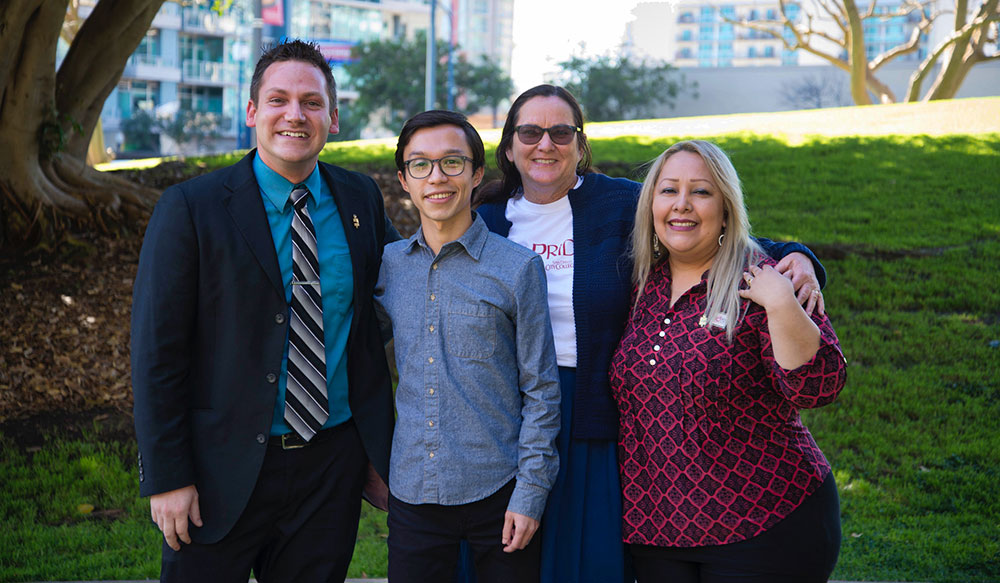 District students honored as California Academic Standouts
March 13, 2018

|
One is active in promoting social justice at San Diego City College. A second student volunteers extensively at San Diego Mesa College and the surrounding community while maintaining a 4.0 grade point average. A third served eight years in the Marine Corps before enrolling at San Diego Miramar College and has his sights set on transferring to UC Berkeley.
The three are among seven students in the San Diego Community College District who have been named to the 2018 Phi Theta Kappa All-California Academic Team.
PTK is an international honor society for two-year colleges, and students are nominated based on their GPA, awards and honors received, leadership abilities, and community service. Among the award winners:
San Diego City College:
- Caleb Mertz-Vega is studying English at San Diego City College and is currently the Vice President of his Phi Theta Kappa chapter. He is focused on issues of social justice, and in 2017 he was awarded a peace studies scholarship for his contributions to the 3rd Annual Social Justice and Education Conference – a two-day series of discussions and presentations involving student organizations, education reformers, local nonprofits, policy makers, and others. Mertz-Vega has a 4.0 GPA, is a regular on the Dean's List, and he plans to earn a Ph.D. in English before working as a college professor.
- Wilson Saiki, who was born and raised in Brazil, is studying political science with plans for a career in government or working for organizations that care about progressive social justice issues. Saiki traveled throughout Nevada, Arizona, and California in volunteering for Senator Bernie Sanders' presidential campaign, he serves as vice president of the Asian and Pacific Islander Student Alliance, and he plans on transferring to a UC Berkeley or UC San Diego in the fall of 2019.
- Nadia Escobar was born and raised in Tijuana and began her studies at City College with classes in English for Speakers of Other Languages (ESOL). She has earned several academic awards, including an Honors Program Scholarship, the ASG Membership Scholarship, the Friends of Downtown Scholarship, and the Board of Trustees Scholarship, and the mother of three children is now president of the City College Phi Theta Kappa chapter. Escobar plans to transfer to San Diego State University with a goal of earning a master's degree in Spanish.
San Diego Mesa College: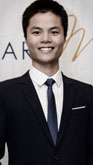 - Toan Phan is a first-generation college student who is in the Honors Program and maintains a GPA of 4.0. Phan co-founded the Vietnamese Student Association at Mesa College to help develop a community of Vietnamese and Vietnamese-American students. Phan, who loves cooking traditional dishes for his family, hopes to transfer to UC Berkeley to study electrical engineering and computer science before moving on to graduate school and embarking on a career of research in the field of artificial intelligence.

- Karina Tarasova moved to San Diego from Moscow and is studying business and economics while being active as a student leader and community volunteer. Tarasova has traveled to and studied in countries including Germany, Egypt, England, India, and China, and she speaks several languages. She has a GPA of 4.0 and has served as the president of the Phi Theta Kappa Honor Society and Vice President of the Business Club while volunteering with Soldiers Who Salsa and the campus TerraMesa Environmental Club.
San Diego Miramar College:

- Nhan Nguyen enrolled at Miramar College after serving eight years in the Marine Corps. As a returning student, Nguyen is the embodiment of resilience, as he was able to transform a 1.3 GPA to 3.79 in just two semesters. The political science major is working full time, raising a year-old son, and is planning to go to law school. A member of the Honors Program, Phi Theta Kappa, and co-chair of the Miramar College LGBTQ Alliance Task Force, Nguyen plans to transfer to UC Berkeley this fall.

- Kelly Clemen has always had a passion for reading and writing – her favorite book is John Steinbeck's East of Eden. Clemen works with her professors and peers as part of the PATH program to help arts and humanities students transfer to UC San Diego. She plans on participating in the program herself, with a goal of majoring in Literature/Cultural Studies, and potentially minor in Film Studies, at the La Jolla campus.
Students will be recognized at a PTK awards luncheon at the Sacramento Convention Center on Monday, April 2.