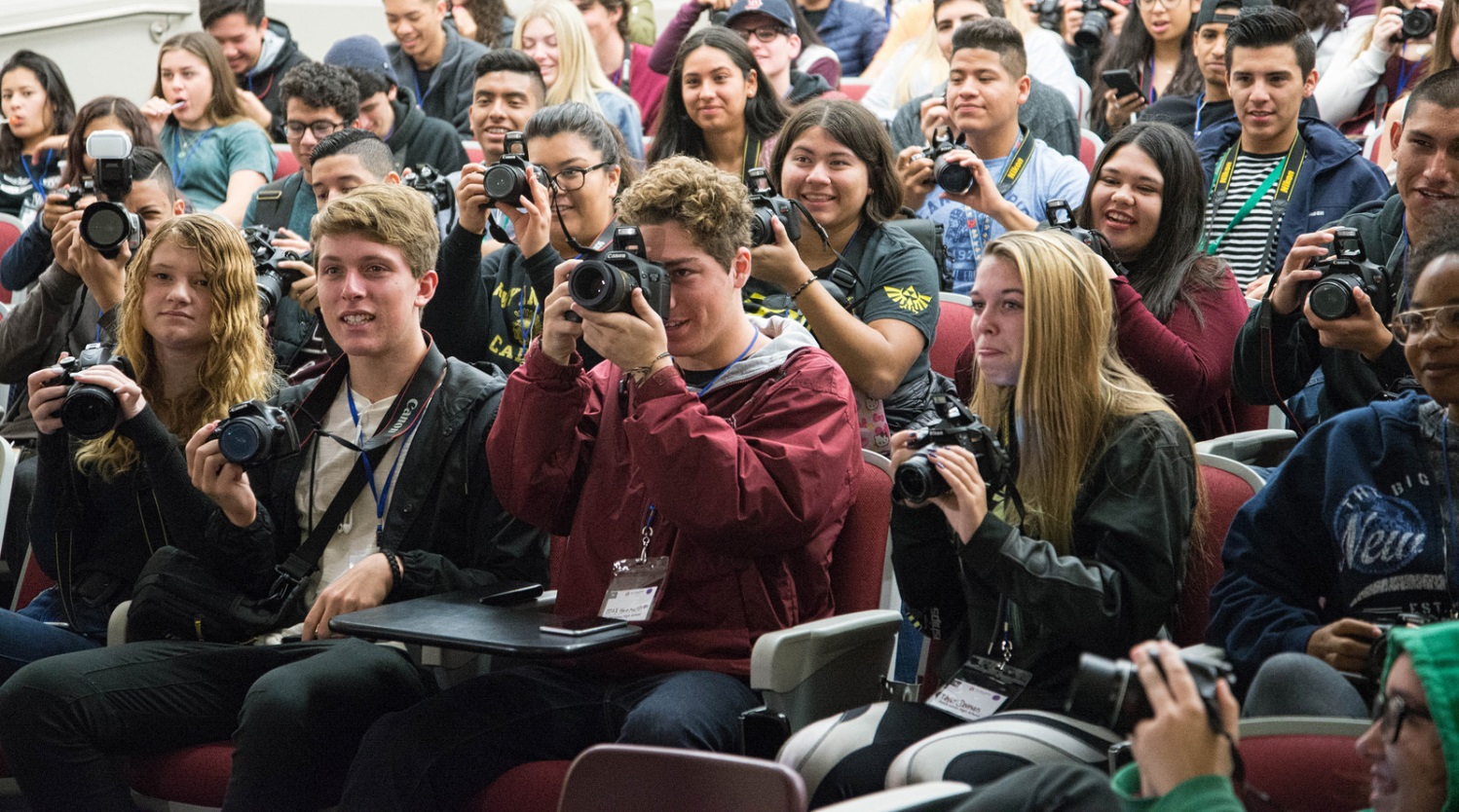 High school students will focus on photography careers at Photo 360 event
January 11, 2018

|
San Diego City College's Photography Department will host approximately 250 local high school students Wednesday, Jan. 17, at its second annual Photo 360 event, an event aimed at providing exposure to the department's offerings and photography careers.
Students from local high schools will be hand-selected by their teachers to learn more about City College's Photography Department and hear from speakers who work in the media. The event will be held from 8 a.m. to 3 p.m.
Students will attend workshops, learn more about City College's photography program, and hear from speakers who work in the profession. Some 180 San Diego Unified School District students took part in last year's inaugural Photo 360. This year's event will also include students from the Poway and San Dieguito Union school districts.
Every high school student will have a DSLR digital camera and will rotate through five professional photo studio workshops during the day. Students will have the opportunity to photograph various people and objects including professional fashion models. In addition, students will be exposed to a variety of current photographic techniques as well as traditional film and darkroom processing methods.
Students were selected to take part in the event by instructors at the San Diego Unified School District's College, Career & Technical Education program. The CTE program embodies the strong collaboration between the San Diego Community College District and San Diego Unified.
School buses bringing high school students to the V Building, 1081 16th St., will arrive at approximately 8 a.m. The program, sponsored in part by Nelson Photo Supply and George's Camera, will commence with an overview and orientation at 8:30 a.m. in the V Building auditorium on the first floor. City College President Ricky Shabazz will address the students at 8:45 a.m. The workshops will run from 9 a.m. to 2 p.m. and take place on the 4th and 5th floors. Further information can be obtained by contacting professor David Eichinger at deiching@sdccd.edu or George Tubon at 619-388-3281.
City College's award-winning photography program includes more than 30,000 square feet of darkrooms, digital labs, studios, and the Luxe Photography Gallery, all housed in a $72.5 million Career Technology Center on 16th and C streets in San Diego's East Village. Students are steeped in the basics before progressing into courses such as Digital Imaging/Adobe Lightroom, Photographic Lighting Techniques, Advanced Digital Photography, and Photographic Styling. Students have more than 50 classes to choose from in all. What's more, the curriculum also covers the business side with an emphasis on branding, marketing, and advertising, and numerous former students are now running their own photography studios.