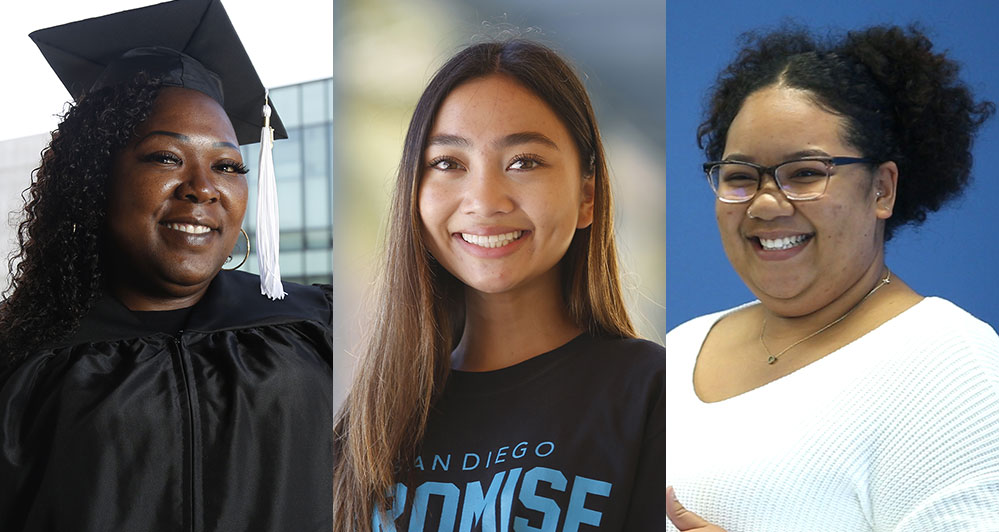 Promise Program graduates detail how free college transformed their lives
May 14, 2018

|
The national free community college movement arrived in San Diego in February of 2016 when the San Diego Community College District's Board of Trustees approved a pilot program to implement a local version of America's College Promise at City, Mesa, and Miramar colleges. The first cohort of students were selected based on a combination of need, including barriers and challenges they had faced in the past, and a commitment to completing a college degree, certificate, or transfer program.
More than two dozen of those students are earning an associate degree this May thanks to the San Diego Promise. Scores of additional students will earn their degree next spring. Following are the experiences of a few graduating San Diego Promise students whose lives have been forever changed.
Romelia Turner
San Diego City College student Romelia Turner is transferring to Clark University Atlanta University, a private, historically black university that was formed through the 1988 consolidation of Clark College (founded in 1869) and Atlanta University (founded in 1865). Although her immediate goal is to earn a bachelor's degree, Turner, 44, said she will keep pursuing her education until she secures a Ph.D. in the area of mental health and black studies.
"Education is my passion," said Romelia, who will leave City College with associate degrees in psychology and black studies, in addition to a certificate in mental health.
That's a far cry from where Turner was when she first arrived at the San Diego Community College District. Her journey began after she left her job at Sharp Grossmont Hospital to take care of her mother. Finding it difficult to return to the workforce after her mom recovered, Turner enrolled at San Diego Continuing Education. It was at Continuing Education where an instructor encouraged Turner to apply for the San Diego Promise program when it was launched in the fall of 2016. With no tuition or fees, and with no textbook costs to fret over, the choice was easy. Living near downtown at the time, Turner enrolled at City College.
Turner took advantage of every opportunity to become involved on campus and was soon named president of the Umoja club. She was also hired as a San Diego Promise outreach ambassador, helping first-year Promise students become comfortable with the nuances of college life and ensuring they were following their education plan. In addition, Turner served as a volunteer coordinator with the nonprofit organization Pillars of the Community.
Now living in Spring Valley, Turner said the San Diego Promise has transformed her life.
"San Diego City College has prepared me for this transition through education from a black perspective," she said. "I just want to give myself a fair shot at succeeding, and the San Diego Promise has been there for me."
Dana Maristela
Dana Maristela had her sights set on heading to a university straight out of Mira Mesa High School, but her family's finances made that impractical. She opted for Miramar College instead.
It turned out to be a great move.
"Because the Promise program covered all my costs, I was able to direct my focus toward school and my educational and emotional development," said Maristela, 19. "I feel like because I went to a community college I was able to mature more and find myself."
An honors student with a 4.0 grade point average, Maristela is graduating with an associate degree in social and behavioral sciences. She applied for transfer to three universities, and she was accepted to all three. She's moving to Cal Poly Pomona in the fall for a bachelor's degree in hospitality management.
"When I reflect back on my experience, my motivation for going to a four-year college or university right after high school was that was what my friends were doing," Maristela said. "I was just following their lead. But going straight to a university isn't for everyone. And the Promise program not only helps students who need the financial support – I didn't have to work full time while going to school, which was a huge stress release – but it guides you through your educational journey. It's just an amazing program."
Maia Wakefield
Maia Wakefield said she didn't know what to expect when she learned of the San Diego Promise and enrolled at Mesa College. Two years later, the 19-year-old San Diego resident who is earning her associate degree in black studies applied to transfer to 12 colleges and universities. She was accepted at all 12.
Wakefield this fall will be enrolling at San Francisco State University to earn a bachelor's degree in social work and Africana studies. She ultimately hopes to earn a Ph.D., launch a career as an educator, and develop a required ethnic studies program at San Diego city high schools.
"I had a hard time finding out who I was because of a lack of knowledge about my heritage and what it meant to be an African American," said Wakefield, whose father is black. "People should know about their heritage. It's part of who they are."
Raised by a single mom who comes from a family of Vietnamese refugees, Wakefield could not afford going straight to a university and wasn't sure about college when she heard about the San Diego Promise from a counselor while at the San Diego School for Creative & Performing Arts. Despite her anxiety when enrolling at Mesa College, Wakefield soon found a new home. Before long, Wakefield was involved in myriad projects, and she later became president of the Mesa College Umoja program.
"I didn't have an initial goal when I applied, but when I got here I was provided with so much support and so many resources that I was able to find my path," Wakefield said. "The Promise Program helped me focus on my studies and it was vital in helping me become very involved at Mesa. It also helped me discover who I was."
Wakefield held out especially high praise for Genevieve Esguerra, Mesa College's outreach coordinator. "She was always there to make sure I was on task. I didn't have to worry about a lack of resources or not having someone there as a mentor."