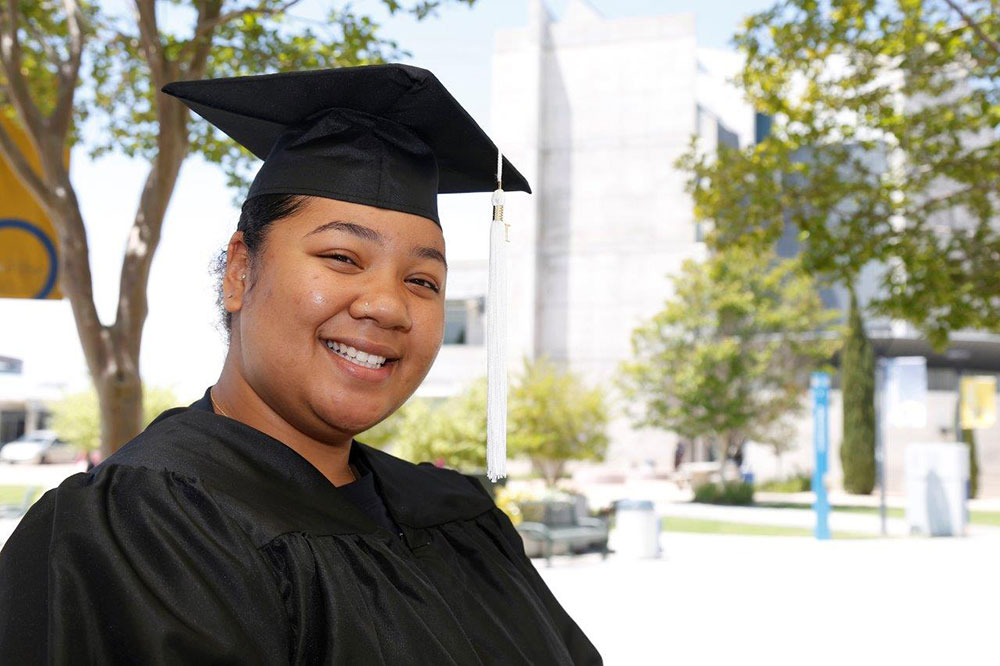 Students in the Promise Program outpacing their peers, study says
June 15, 2018

|
Students in the San Diego Community College District's free college program known as the San Diego Promise are faring significantly better in their studies than non-Promise students even though a much larger percentage of them come from underrepresented communities, according to a new progress report.
The average GPA for African-American students in the San Diego Promise this past year was 3.33, nearly a full point above the 2.37 average GPA for similar group of non-Promise students. The average GPA for a Latino students enrolled in the San Diego Promise student was 2.82, compared to an average GPA of 2.58 for other first-time, full-time students who are Hispanic. What's more, 19 percent of San Diego Promise students – nearly 1 in 5 – had a 4.0 GPA this past year, whereas 12 percent of other first-time, full-time students had a 4.0 GPA.
Dana Maristela is among the San Diego Promise students who graduated from Miramar College this spring with a 4.0 GPA. She will be transferring to Cal Poly Pomona in the fall to study hospitality management.
"The Promise program not only helps students who need the financial support – I didn't have to work full time while going to school, which was a huge stress release – but it guides you through your educational journey. It's just an amazing program."
Some 661 students participated in the San Diego Promise during the 2017-2018 academic year. Eighty-eight percent of them are students of color, compared to 73 percent of other first-time, full-time students; 57 percent are Latino, compared to 47 percent of other first-time, full-time students; and 45 percent are first-generation college students, compared to 28 percent of other first-time, full-time students.
Eighty-three percent of Promise students qualified for federal and/or state financial aid.
The SDCCD launched the San Diego Promise in 2016 to ensure that no deserving student is denied the opportunity to go to college due to lack of resources. Besides paying for enrollment fees at San Diego City, San Diego Mesa, and San Diego Miramar colleges, the San Diego Promise provides comprehensive counseling and other support services to help students secure a certificate or degree or transfer to a four-year college or university.
"This program provided me with everything I needed to do well in school and succeed," said Maia Wakefield, who graduated from Mesa College on May 19 and will be transferring to San Francisco State University in the fall to earn a bachelor's degree in social work and Africana studies.
With a combination of donor support and new state funding, the SDCCD will expand the San Diego Promise in the fall of 2018 to serve all recent high school graduates who are enrolled in at least 12 units, maintain a minimum 2.0 GPA, and complete a college success course. Students who meet all of those requirements in their first year will have a second year fully funded, too.
Related Story: Promise Program graduates detail how free college transformed their lives