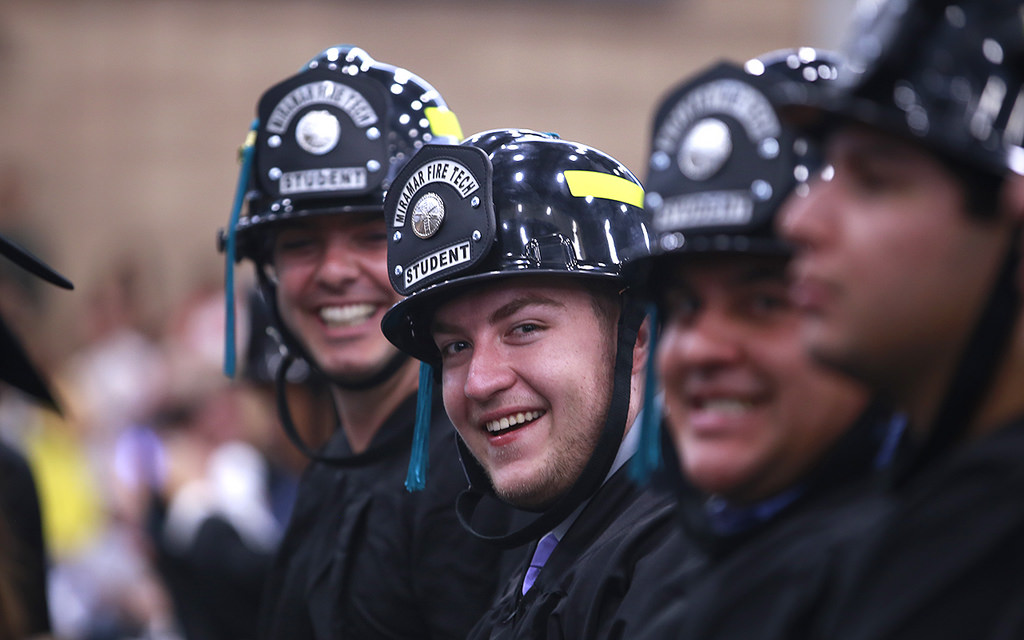 A Record 3,833 Degrees to be Awarded at Commencements
May 11, 2018

|
The first cohort of community college students in California earning a bachelor's degree and the first local "Promise" students will be among those taking the stage this spring when the San Diego Community College District awards 10,751 degrees and certificates to students graduating from San Diego City, Mesa, and Miramar colleges and San Diego Continuing Education.
In addition to those earning a bachelor's degree through the state's Baccalaureate Pilot Program at Mesa College in the growing field of Health Information Management, more than two dozen students who are part of the initial cohort of San Diego Promise free college program will be earning their associate degrees just two years after the effort was launched. Many others will earn certificates, and some will transfer to four year institutions such as UC San Diego, San Diego State University, Cal Poly Pomona, and San Francisco State University. Without the San Diego Promise, many students would not have the opportunity to go to college.
In all, the second largest community college district in California is awarding a record 3,833 associate degrees, an increase of 15 percent from 2016-17. That includes increases of 8 percent at Mesa College, 14 percent at City College, and 32 percent at Miramar College.
"Commencement is the most important celebration of the year," said SDCCD Chancellor Constance M. Carroll. "However, this year's graduations are even more so. A record number of students are receiving degrees and certificates; the first bachelor's degrees are being awarded by a California community college; and students from our first San Diego Promise cohort will be marching across the stage to receive their diplomas. We are proud to see so many students transform their lives and move forward as they transfer to four-year universities or enter the workforce with excellent salaries."
San Diego Miramar College will hold its 2018 commencement on Friday, May 18, at 1 p.m. inside Hourglass Fieldhouse on campus. Hanna Hunter will give the commencement address. Hunter, who enrolled at Miramar College in the fall of 2015 after tiring of work as a cashier at a local crafts store, is transferring this fall to study at the world-renowned School of the Art Institute of Chicago. Miramar College is at 10440 Black Mountain Road, 92126.
San Diego Mesa College commencement ceremonies will be held Saturday, May 19, at 3 p.m. at the University of San Diego Jenny Craig Pavilion, 5998 Alcala Park, 92110. Antonio Martinez – a first-generation college student who attended Mesa, transferred to the University of Pennsylvania, and graduated with honors with a degree in philosophy, politics, and economics – will be the Distinguished Alumni Speaker. Martinez is a public relations professional who serves on the San Ysidro School Board and community planning group.
San Diego City College will hold its 2018 commencement on Friday, May 25, at 5 p.m. at the Spreckels Organ Pavilion in Balboa Park. Ignacio Hernandez Valverde is the student speaker. A DACA student originally from Tijuana, Hernandez Valverde serves as President of the Associated Student Government. He is transferring to UC Berkeley this fall as a Film Studies major. He has a passion for social justice and serving people.
San Diego Continuing Education commencement ceremonies will be held Friday, June 1, at 5 p.m. at the Spreckels Organ Pavilion in Balboa Park. Yesenia Lopez is the student speaker. As a mother of four girls, Yesenia has balanced education and family to achieve a high school diploma at age 31 and plans to enroll at City and Mesa colleges to earn her Associate in Arts in Sociology for Transfer Degree.
Students who earn an associate degree can more than double their annual pre-degree wages after just two years in the workforce depending on their field of study, according to data from the California Community Colleges system. And approximately 44 percent of students who secure a certificate earned $56,000 or more annually five years after graduating. In addition, students who transfer with an associate degree are far more likely to earn a bachelor's degree within four years when compared to students who do not have an associate degree.