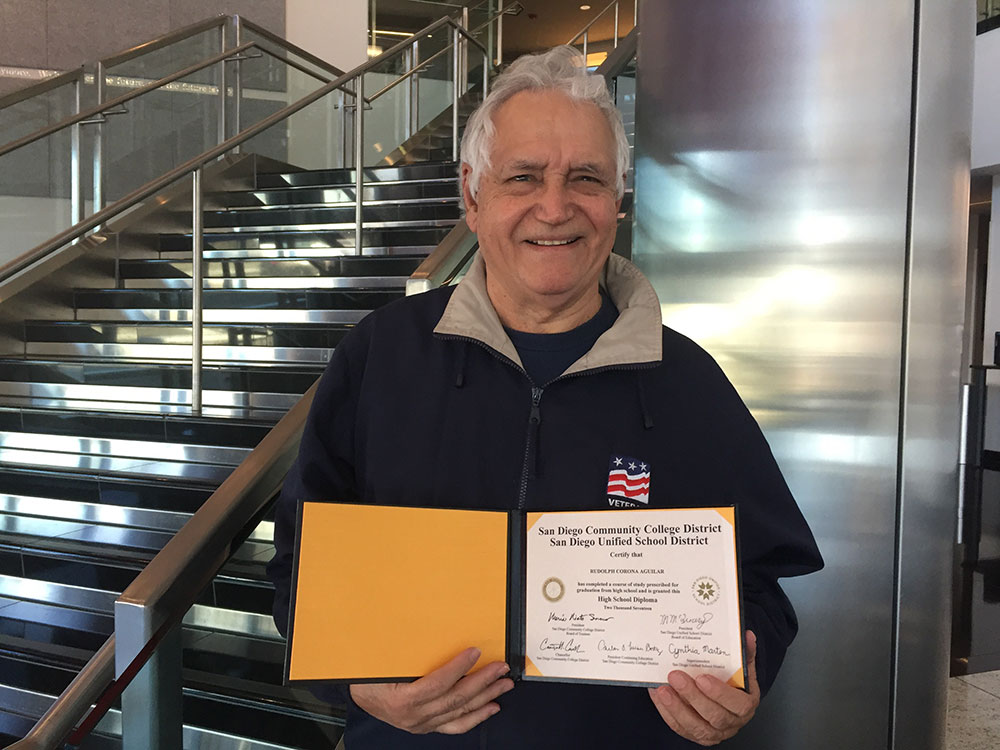 Continuing Ed student earns high school diploma at 76
January 10, 2018

|
Rudy Aguilar picked grapes as a teenager in the Central Valley in the 1950s, took part in reconnaissance missions along the demilitarized zone in Korea while with the Army in the 1960s, and found work as an electronics technician for NASSCO in the 1970s. But one thing he never did was graduate from high school.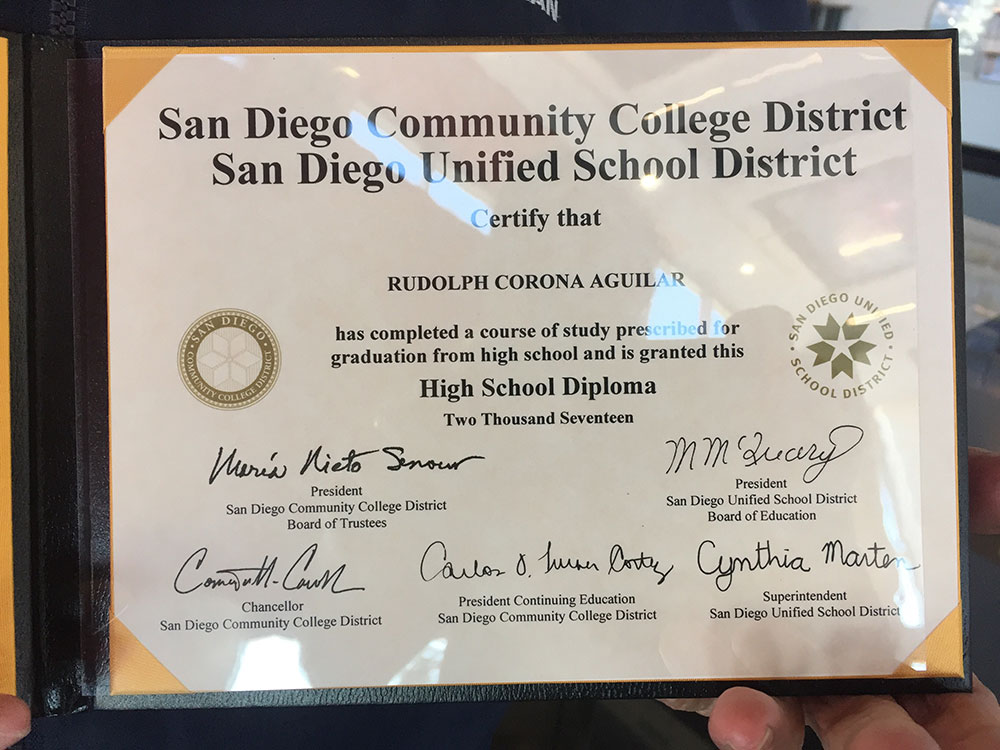 Until, that is, Aguilar earned his adult high school diploma from San Diego Continuing Education this past fall shortly after turning 76.
We sat down with Rudy to talk about his experiences.
Q. After so many years, why was it important to you to earn your high school diploma?
A. My mother told me always that I needed to get a good education and I needed to have a diploma. But I was young, I was stupid, I didn't listen. That's why I ended up in the Army in Korea. I suffered a stroke many years ago, and I promised the Lord, if I get up, if I recover, I will be a better man. And I promised myself I would finally get my diploma.
Q. What was going through your mind when you were presented with your diploma?
A. I cried. I cried a lot. I know my mother, may she rest in peace, was crying, too. You know, I took a lot of classes over the years. I always wanted to learn. But I never focused on getting a diploma. It means so much to me."
Q. What was the hardest part of your journey?
A. Staying focused. Sometimes it's hard for me to stay focused. But I've seen people come to school in wheelchairs. So there's no excuse. And the people who work at Continuing Education's Cesar Chavez campus, they are all going to Heaven. They only want to help people. The staff, the teachers, the people at the front desk, they are only here for you. I'm very thankful.
Q. What does your experience mean to others?
A. Anything is possible. I'm 76 years old. I've lived a long life. If I can do it, anyone can."
Q. What now?
A. You should never stop learning. I'm still going to school. I'm still here on Tuesdays taking a Japanese drawing and painting class. I don't know, maybe I can go to college. Anything is possible.