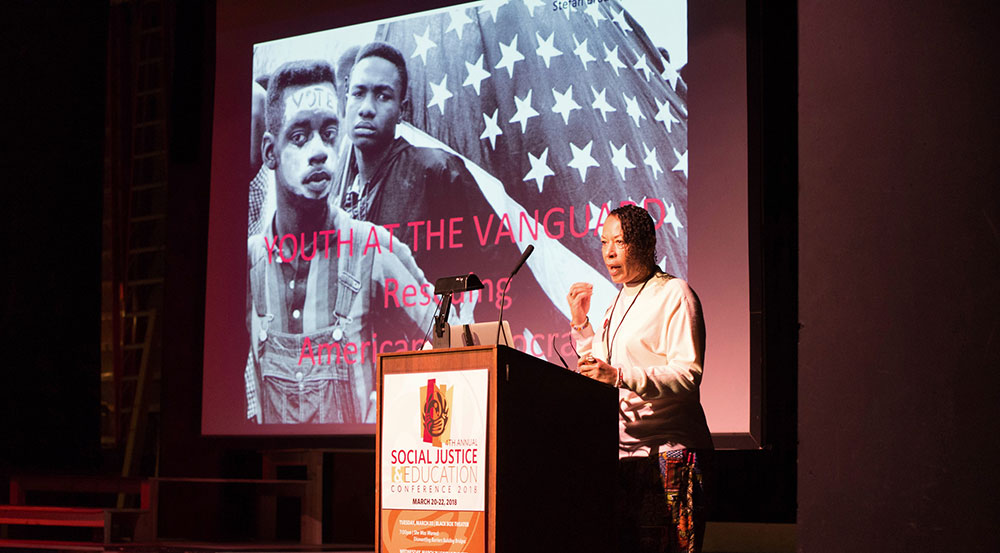 City College hosts 4th annual Social Justice and Education Conference
March 26, 2018

|
San Diego City College hosted its fourth annual Social Justice and Education Conference on March 22 through 23. This annual conference is designed to bring together student organizations, education reformers, local nonprofit organizations, policy makers, and other community members to share experiences and resources, raise awareness about challenges we face as a society, and to develop collaborations and foster actions that bring about meaningful social transformation.
This year's theme was entitled "Beyond Borders: Dismantling Barriers, Building Bridges." The conference drew nearly 500 participants made up of administrators, faculty, staff, students, activists, and community members.
Dr. Cheryl Tawede Grills, who was the featured speaker Wednesday, talked about Racial Stress and Trauma: Healing Through Knowledge, Justice and Community. Dr. Grills is a clinical psychologist with a current emphasis on Community Psychology. A national past president of the Association of Black Psychologists, she is a tenured professor at Loyola Marymount University and director of their Psychology Applied Research Center. She also serves as chair of the Los Angeles County Sybil Brand Commission.
Thursday's featured speaker was award-winning poet, writer, performer and educator Denice Frohman. She talked about The Role of Artists to Resist and Revive. Frohman has a master's degree in education and works with The Philly Youth Poetry Movement. Her work explores the intersections of race/ethnicity, gender and sexuality. Frohman was the 2013 Women of the World Poetry Slam Champion, 2014 CantoMundo Fellow, and 2013 Hispanic Choice Award winner. Frohman's work has been featured on ESPN, Huffington Post, Buzzfeed, Refinery29, and is forthcoming in Nepatla: An Anthology of Queer Poets of Color.
The two-day conference included nearly two dozen break-out sessions covering topics such as Empowering Ourselves and Our Communities with Nurturing Foods; Chicano Punk Rock Artesano; #MeToo: Sexual Harassment and Sexual Assault; Narratives of Resistance Through Education; DACA and the Current State of Dreamers; How Community College Helped Me Achieve Success: Personal Narratives Intended to Normalize the Student Experience; Mass Incarceration and the Collateral Consequences of the New Black Codes; PUERTO RICO En Crisis: US Colonialism (UN)natural Disasters; Reproductive Justice and Birth Workers of Color: Black and Chicano Advocates in the Birth Room; From Refugees to the Muslim Ban: How Foreign Intervention and Neo-Imperialism are Shaping the Modern World; Ballot Matters: Howe the Ballot Box was Used to Create an Incarceration Nation; Tending to Intangible Wounds: On Community Healing; and Bomba Workshop, Puerto Rican Drums and Dancing.
"The Social Justice and Education Conference represents everything special about San Diego City College," said San Diego City College English Professor Paul Alexander who was part of the organizing committee for the conference. "We pride ourselves for being a college that recognizes the real life issues that our students face on and off campus. Like our most successful classrooms, the conference aims to bridge the gap between higher education and the real lives of our students."
Additionally, the Wednesday evening program includes visual and audio monologue performances (VAMP) in the Saville Theatre and on Thursday evening World Water Day and Puerto Rico Rising Performance Fundraiser. Proceeds from the fundraiser will go toward the relief effort in Puerto Rico.
"I would like to thank the faculty, staff and students for putting together another successful conference," said San Diego City College President Ricky Shabazz who welcomed attendees during the opening session. "We hope that the knowledge and discussion being disseminated throughout the last two days spreads beyond our institution to the wider community in addressing injustice."