Local education leader honored by National Community College Hispanic Council
September 25, 2018

|
On Saturday, September 22, the National Community College Hispanic Council (NCCHC) recognized Star Rivera-Lacey, Ph.D., San Diego Continuing Education's Vice President of Student Services as an 2018 NCCHC Leadership Fellow.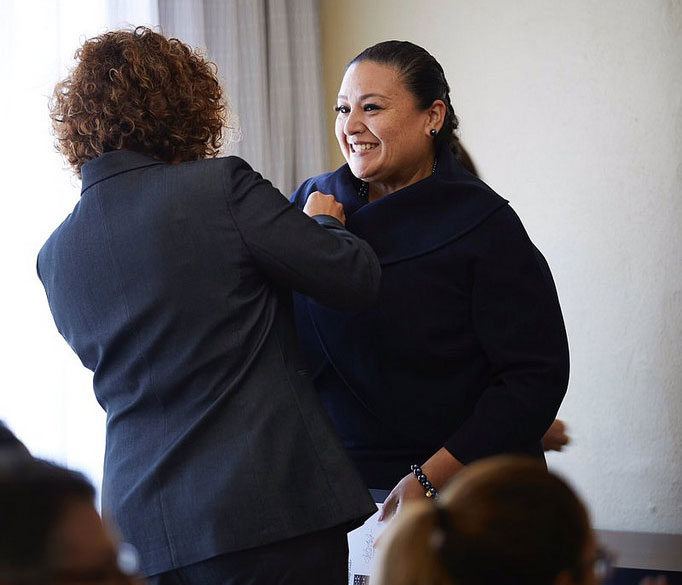 NCCHC is the premiere organization for Latinx leadership development in community colleges and is an affiliation of the American Association of Community Colleges. The pinning ceremony took place near the University of San Diego, where Dr. Rivera-Lacey and 24 of her colleagues from around the nation were honored for their outstanding contributions and influence toward Latinx students.
"It is an honor to be associated with such a prestigious national organization," said Star Rivera-Lacey, Ph.D. "The leadership training was invaluable and I am excited to implement the skills into my day-to-day work."
Dr. Rivera-Lacey was appointed SDCE's first Vice President of Student Services in July 2016. The Latinx activist has more than 20 years of progressive administrative and leadership experience in Student Services programs.
"We are honored to have Dr. Rivera-Lacey represent SDCE. Latinx are still the most underserved ethnic group in academia and the largest minority group in America," stated Carlos O. Turner Cortez, Ph.D., President of SDCE. "Under Dr. Rivera-Lacey's leadership SDCE implemented Caltrans VOP Veterans Back to Work program, allowing homeless veterans to gain education and valuable work experience, and SDCE will open its first free farmers market this fall, SDCE's Farm to Family Fair."
SDCE is the adult education division of the San Diego Community College District. The District is honoring Latinx Heritage Month September 15 through October 15 with documentaries, lectures, workshops and events that are free and open to the public.
Raised locally in Oceanside, Dr. Rivera-Lacey is proud to have started her post-secondary education at MiraCosta community college. She received a bachelor's degree in Liberal Studies from California State University, San Marcos, and earned a master's degree in Education, with an emphasis in multicultural counseling (Community Based Block) from San Diego State University. Dr. Rivera-Lacey also earned a Ph.D. in Education from the San Diego State/Claremont Graduate University joint doctoral program.
Related article in the San Diego Union-Tribune: Committed to community colleges and serving as a Latinx leader