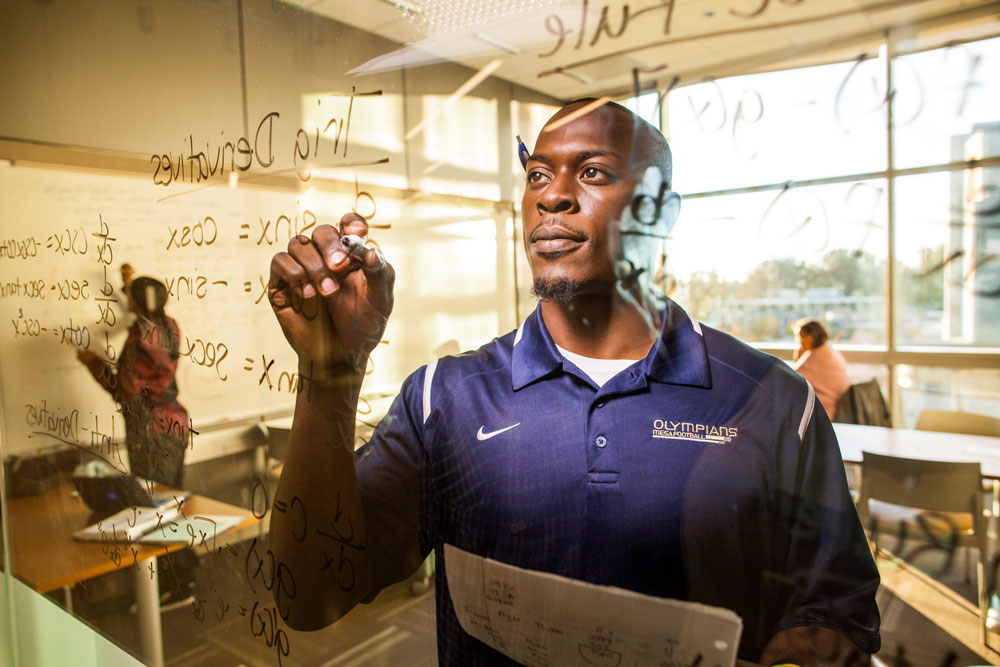 Supporting men of color
February 2, 2018

|
Nate Wyley wasn't ready for the rigors of college when he enrolled at the Illinois Institute of Technology, a leading research university in Chicago, right after graduating from high school. It was only after he dropped out, moved to San Diego, and began taking classes at City College that he found the support to help men of color succeed.
Now Wyley is a junior at UC Davis studying electrical engineering, with his eyes on a Ph.D. and a career in the alternative energy sector.
"The programs at San Diego City College, and there are a lot of them, from HUBU, Umoja, and EOPS to Price Scholars and MESA (Math, Engineering, Science Achievement), were invaluable," Wyley said. "I know I wouldn't have been as successful as I am without them."
Indeed, Wyley embodies how the San Diego Community College District is setting the pace in supporting men of color, who researchers say face far greater external challenges in trying to earn a degree than other populations.
"The San Diego Community College District is by far one of the most progressive districts in the country when it comes to supporting men of color and underserved populations in general." Said Dr. J. Luke Wood, the dean's Distinguished Professor of Education in the College of Education at San Diego State University who also serves as director of the Ed.D. Program in Community College Leadership, "San Diego is far beyond where other districts are."
Wood attributed the District's commitment to a number of factors, including leadership at the campus level from educators such as San Diego City College President Ricky Shabazz and Acting Dean of Student Development/Matriculation Nesha Savage, San Diego Mesa College President Pam Luster and Vice President of Student Services Ashanti Hands at Mesa College.
The need is profound. Although more than 75 percent of black men and nearly 80 percent of Latino men in California's public postsecondary schools are attending community colleges, men of color have the lowest completion rates among all racial, ethnic, and gender groups, according to the 2017 report, Supporting Men of Color in Community Colleges: An Examination of Promising Practices and California Student Equity Plans. The report was written by Wood and Frank Harris III, his co-director at the Community College Equity Assessment Lab at San Diego State University.
Why such low completion rates? Administrators and faculty alike point to a host of external challenges that men of color face at significantly higher rates, such as uncertainty over housing or where they'll get their next meal, not to mention a lack of transportation that can make just getting to class difficult. "Those are challenges we don't typically concentrate on at the campus level," Wood said.
Another factor: the misplacement of students into remedial courses based on assessment tests that have been found to be flawed indicators of success. Study after study shows that remedial education is a significant contributor to dropout rates, and no group is more affected than men of color. For that reason, Mesa College is piloting the use of self-reported multiple measures – including high school GPA, highest math and English courses completed, and the major a student thinks he or she will declare in college – in determining placement into English and mathematics courses.
Mesa College is almost halfway into a five-year project with the Center for Urban Education and the Community College Equity Assessment Lab (formerly the Minority Male Community College Collaborative) that to date has focused on collecting baseline data and is now turning toward interventions such as training sessions and addressing the inequities in remedial education. Other efforts include a Teaching Men of Color Workshop series for faculty and staff, and a nationally broadcast course called Black Minds Matters – A Focus on Black Boys and Men in Education.
Elsewhere, Continuing Education opened its fall 2017 semester with a convocation in which supporting men of color took center stage, and City, Mesa, and Miramar colleges all have programs such as Umoja and PUENTE to provide academic and counseling services and a stronger sense of community among African-American and Latino students. What's more, the District works with historically black colleges and universities (HBCU), institutions established before 1964 whose principal mission was, and is, the education of black Americans, as it strives to open greater opportunities for men of color.
"We feel privileged to partner with a district that is so committed to making a difference in addressing issues of equity," Wood said.
That partnership includes a fully online certificate training program designed to enhance the capacity of faculty and staff to support learning among men of color. The certificate includes five modules and two live sessions.
"We are seeing some of our gaps being closed, but we still have a long way to go," Hands said. Administrators at City College agree. That's why they hold a Historically Black Colleges and Universities expo with workshops, an HBCU alumni panel, performances, and information tables. The college also is home to an annual Hermanos Unidos/Brothers United (HUBU) conference each fall.
"One of the takeaways that I would like for students to pull from the event is that they have a whole lot of people that are invested in their success," said Cosumnes River College President, Dr. Edward Bush. "And that they matter. And that we know that while it's important for them to do the work, we also want them to know that they are supported in the work that they're trying to do."
City College student Aaron Harvey said such support has made a difference for him. "I'm 29 years old. This is my second go-around at college. I didn't make it the first time, and now I'm about to graduate from a community college and go on to a university."