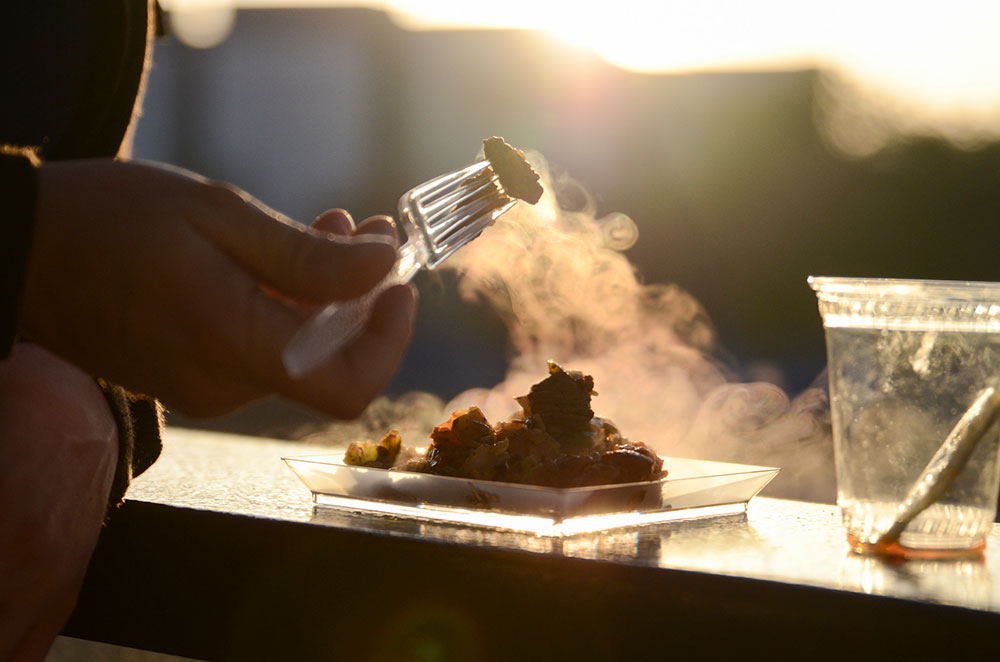 Taste of Mesa
September 14, 2018

|
San Diego Mesa College announced that Taste of Mesa, the popular fundraiser benefiting the Culinary Arts Management Program, will take place on Thursday October 4 at 5:30 p.m. in Culinary Outlook, in the Mesa Commons. Taste of Mesa is an exciting cooking-show style event that will feature internationally-inspired cuisine, tastings, demonstrations and three cook-off competitions between alumni, students and an advanced baking team. The ticketed event is open to the public.
"You don't want to miss this event," stated Dr. Pamela Luster, President. "These students are the future of San Diego's popular food scene – in fact - if you have been to any restaurant in San Diego, chances are good that a portion your meal may have been prepared by a Mesa College Culinary Arts student."
Get Tickets to the
Taste of Mesa
This year, Mesa will have more students competing in the cooking contests – and while the students are competing, guests can watch them from inside the kitchen or while they enjoy tapas on the patio. Alumni and current students in the industry will be creating their signature dishes. Sous Chef Eric Benjamin from Belize and Line cook Andrew Flietz from Georges at the Cove are just two of the 2018 Taste of Mesa Signature Chefs for the evening.
Guests will also be able to bid in the silent auction on exclusive celebrity chef experiences, consisting of private dinners with local favorites Chef Kevin Templeton of Barleymash, Chef Davin & Jessica Waite of Wrench & Rodent, and Chef David Chenelle of FourPenny House. VIP ticketholders are invited to judge and taste, both the culinary and cake decorating competitions, enjoy private tours of the garden and kitchens, and receive a culinary gift bag.
The proceeds from "Taste of Mesa" will be used to purchase ingredients that will help train students for the farm to table style restaurants that are becoming more common in today's market and prepare them to become valued employees in the service industry.
"The students need to learn what is changing in the industry, and we need to teach them more before they leave," Culinary Arts/Management Professor Tonya Whitfield said. "With this fundraiser, we can do more for them."
Tickets for the Taste of Mesa are $25 for students, $10 for children 12 and under, $50 for the general public and $75 for VIP. To purchase tickets, visit sdmesa.edu/tasteofmesa.
For sponsorship opportunities, contact Krista Stellmacher, Director of Development at kstellmacher@sdccd.edu or 619-388-2285.
For alumni involvement information, contact Professor Tonya Whitfield at twhitfie@sdccd.edu.