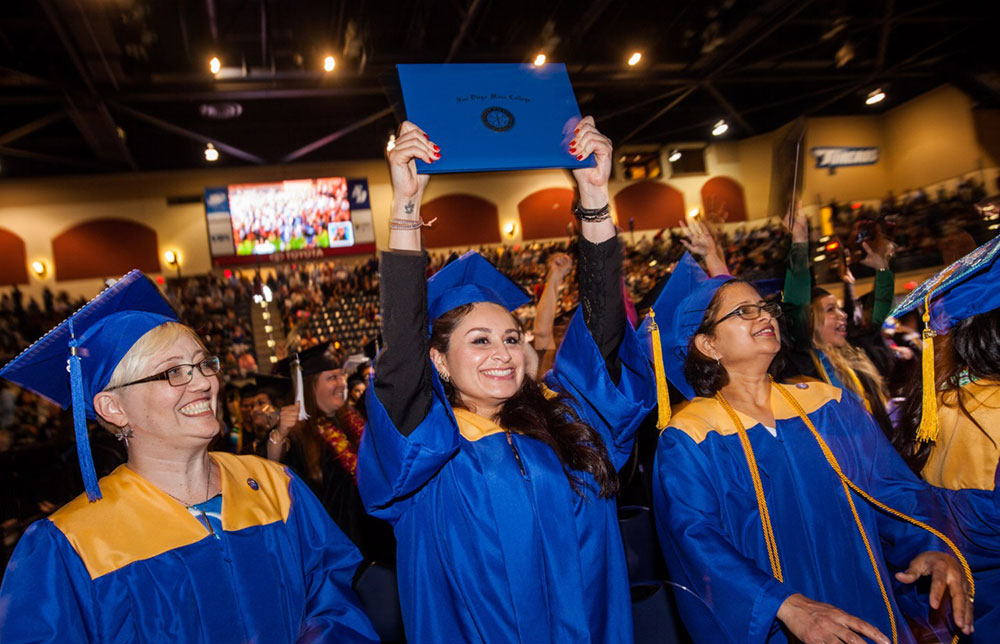 District adopts tentative $713-million budget
June 8, 2018

|
The San Diego Community College District has a new, tentative spending plan of $713 million for the 2018-19 fiscal year that emphasizes student success and provides for increased online, evening, and intersession classes that offer additional opportunities for students to take the core classes needed to graduate in a timely manner.
The SDCCD's Board of Trustees adopted the balanced budget at its June 7 meeting.
"This new budget underscores the Board of Trustees' longtime practice of focusing on sound enrollment management efforts to serve student demand while at the same time building reserves to address any uncertainties and challenges, such as funding the steep increases in the state's pension obligations," said SDCCD Chancellor Constance M. Carroll. "As always, I am proud that our budget is both balanced and progressive."
General Fund spending that is not restricted to specific programs is holding steady at nearly $325 million, with the total General Fund projected at $460 million – an increase of 5.8 percent over last year. Total overall spending, of $713,250,526, represents a decrease of nearly 1.8 percent from the previous year, a drop largely attributed to the winding down of the voter-approved, $1.55 billion Proposition S and N bond program that has financed unprecedented construction at San Diego City, Mesa, and Miramar colleges and Continuing Education.
Some uncertainties remain, however. The spending plan is being developed as California considers transitioning to a new state funding formula for community colleges. Under the proposed formula, 60 percent of state dollars would be based on enrollment, 20 percent would be based on student performance outcomes, and 20 percent would be based on the number of low-income students enrolled in a district
"The uncertainty of how the 72 community college districts will be funded in 2018-19 this close to July 1 which is the beginning of the fiscal year is unprecedented and has left districts in a very difficult situation as to how best to prepare to serve their local communities in the upcoming year," said Bonnie Ann Dowd, the SDCCD's Executive Vice Chancellor, Business and Technology Services.
Tentative budgets must be adopted by June 15 and a final adopted budget must be approved by the Board of Trustees in September.
The SDCCD is among a small number of districts experiencing enrollment growth. Of the 72 community college districts in California, 32 are currently experiencing declining enrollment and 18 have not recovered from past enrollment declines.