Chancellor's Message: Update on the Board of Trustees Election 2018
November 15, 2018

|
Dear Colleagues and Friends:
I am writing to provide you with an update on the election results for the San Diego Community College District.
As you know, the race in District E was too close to call on election night. However, as the daily election updates were released from the Registrar of Voters Office, Sean Elo-Rivera, J.D. was shown to have a widening lead over David Alvarez. The Voice of San Diego reported that David Alvarez conceded the race to Sean Elo-Rivera, J.D..
As of 5:05 p.m. November 14, the San Diego County Registrar of Voters posted the votes as follows.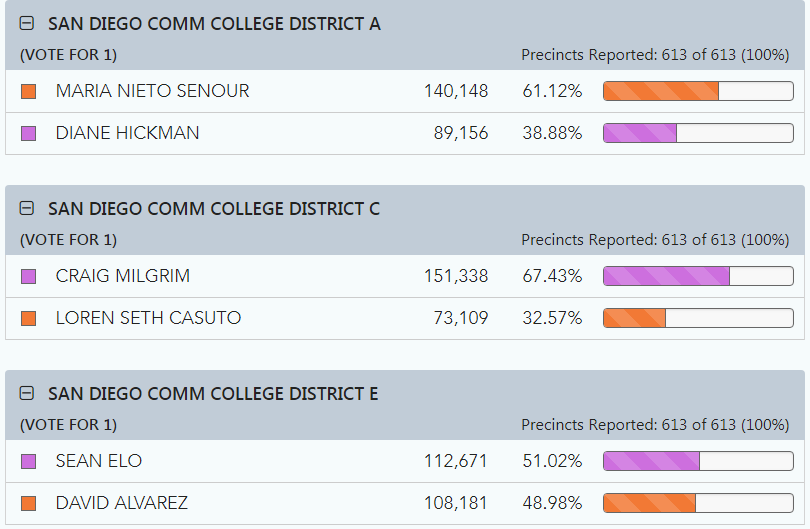 Please join me in congratulating Trustee Maria Nieto Senour, Craig Milgrim, and Sean Elo-Rivera, J.D. on their election wins. Our new and reelected trustees will take the oath of office at the December 13 Board of Trustees meeting.
We will celebrate them, as well as our outgoing trustees, Rich Grosch and Peter Zschiesche, at a "Hail and Farewell" event on December 13 following the Board of Trustees meeting. More information about that will be forthcoming.
Again, congratulations to all who stood for election and worked hard for these positive outcomes in Election 2018.
Sincerely,
Dr. Constance M. Carroll
Chancellor
San Diego Community College District