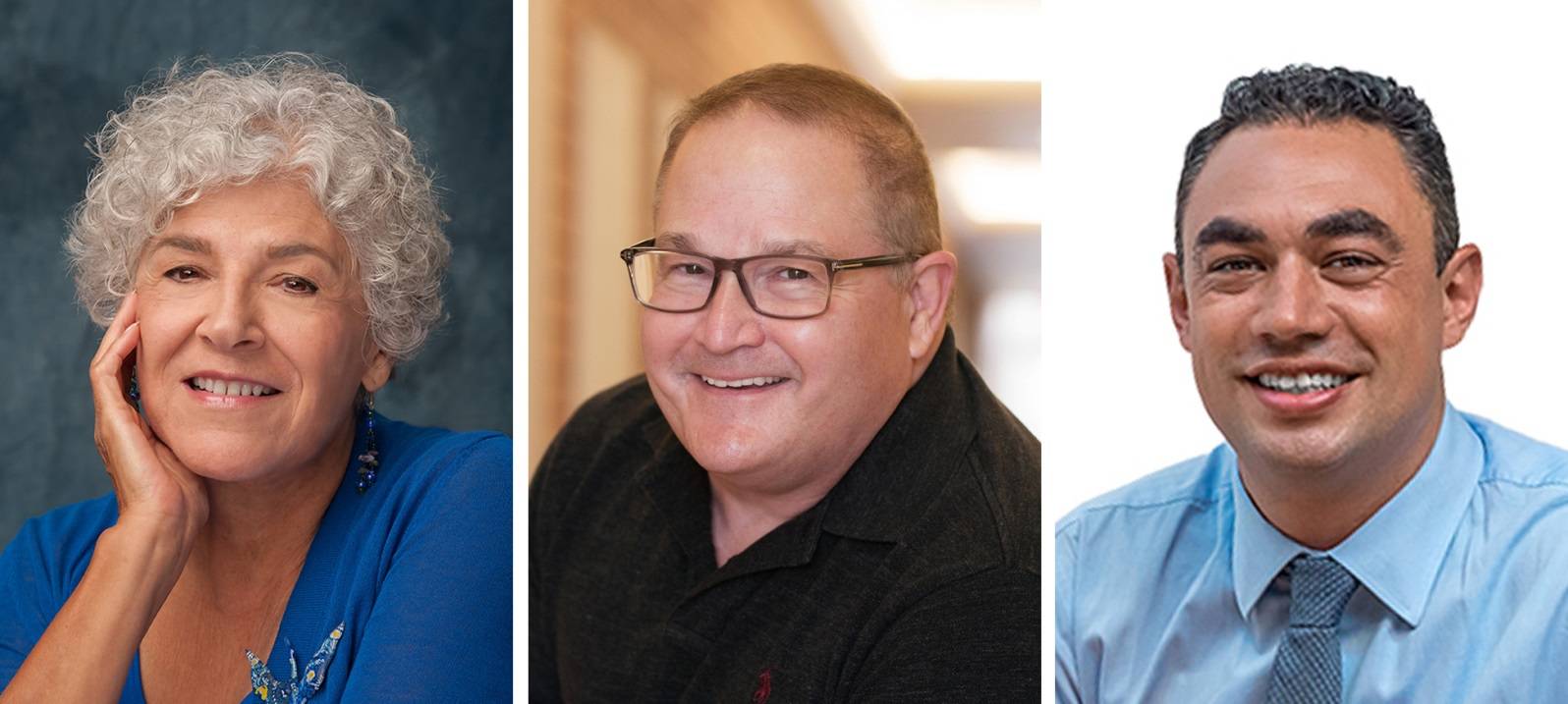 Trustees re-elect Senour as board president as new members sworn in
December 14, 2018

|
Dr. Maria Nieto Senour has been re-elected president of the San Diego Community College District's Board of Trustees. The vote occurred at the board's December 13 organizational meeting that saw Senour and two newly-elected trustees take the oath of office.
First elected to the SDCCD board in 1990 and serving as board president since 2015, Senour thanked her colleagues for their confidence in her leadership and reflected on the board's recent accomplishments.
"I'm grateful to be part of this district," said Dr. Senour. "Serving on this board has been one of the most gratifying things I have done and there is still much I want for us to accomplish."
Newcomers Craig Milgrim, a Grossmont College professor, and community college alumnus Sean Elo-Rivera, J.D. also won four-year terms to the board in the November general election. Elo currently serves as executive director of the San Diego Youth Development Office.
"One of the primary reasons our district is successful is the fact that we have a well-qualified and talented group of trustees who are committed to student success and service to the community," SDCCD Chancellor Constance M. Carroll said.
This marked the first time since 2002, when retiring trustees Rich Grosch and Peter Zschiesche were elected, that the governing board seated two new members. During their terms, Grosch and Zschiesche were part of a board that oversaw an unprecedented, $1.555 billion bond construction program financed by Propositions S and N that transformed San Diego City, Mesa, and Miramar colleges, and San Diego Continuing Education. Grosch and Zschiesche also played a leadership role in introducing the San Diego Promise program, which allows all recent high school seniors to attend City, Mesa, or Miramar College tuition-free for two years as first-time, full-time students. Other highlights during their tenure include greater numbers of students graduating and transferring to a university, the hiring of more full-time faculty, and closer collaboration with the San Diego Unified School District.
"Of course, I'll miss the frequent contact with my close colleagues and friends on the board and in the district," said Grosch. "But I'm also proud of what we together have accomplished. Our audits have been outstanding, our bond is rating the highest possible, and we keep attracting and graduating more students. Our campuses have all been rebuilt and we lead the country in sustainability building. We did our job."
Added Zschiesche: "I thank the voters of San Diego for these past 16 years as a trustee of the board. We have created the best of local government in San Diego. We have led with our values to create equity and success for our students, fairness, and participation for our faculty and staff, and respect for the taxpayers support."
In addition to Senour's election as board president, trustee Mary Graham was elected as the board's executive vice president, and Chancellor Constance Carroll was appointed as secretary.
The SDCCD is governed by a five-member, locally-elected Board of Trustees. Three students also serve a one-year term filling a student trustee position on a rotating basis.