Dr. Isabel O'Connor named Vice President of Instruction at Mesa College
November 6, 2018

|
San Diego Mesa College has announced the appointment of Dr. Isabel O'Connor as the new Vice President of Instruction. A native of Spain and the first in her family to graduate from college, Isabel O'Connor earned a B.A. in Elementary Education from the University of Alicante before immigrating to the United States in 1986. After learning English at Los Angeles City College, she obtained a B.A. in European Studies at Loyola Marymount University, and a Ph.D. in medieval Spanish history at UCLA.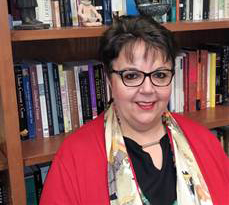 "I am honored to become part of the Olympian family and contribute to the College's culture of innovation and excellence," stated O'Connor. "I am committed to working with faculty, staff, and administrators to help each and every student who comes to Mesa College achieve their dream for a better life."
O'Connor spent 12 years in Indiana, as a member of the faculty at the University of Southern Indiana, and then as chair of the History Department at Indiana University South Bend. She received several teaching awards, including the Indiana University South Bend Distinguished Teaching Award, as well as membership in the Indiana University Faculty Colloquium for Excellence in Teaching. Isabel published numerous articles and a book on the history of Muslims in medieval Spain.

In 2011, O'Connor returned to California and became Dean of Human Arts and Social Sciences (HASS) at Cabrillo College. Under her leadership, the division saw the development of new programs, such as a Certificate in Latino/Latin American Studies and a Fire Academy to meet local workforce development needs. Isabel secured a variety of grants from the Baskin Foundation and the Giannini Foundation to support the work of programs in her division, such as Women's Studies and the Children's Center. She served on the Board of the Bay Area Public Safety Consortium and represented Cabrillo College at fundraising events held by the Santa Cruz County Court Appointed Special Advocates, CASA.
A firm believer in the power of a community college education to improve students' lives, O'Connor joined a group of faculty as part of a Leading from the Middle Academy in 2016. The team led the college through a journey of exploration and reflection about student success and completion data, as well as the student journey at Cabrillo. Following these efforts, Cabrillo College was accepted as one of the 20 colleges in the California Guided Pathways Project. In 2017, she was appointed as Dean of Guided Pathways. Under her leadership, Cabrillo has accomplished several milestones in Guided Pathways implementation, including the development of Career and Academic Pathways, program maps, and plans to offer a first year experience. Isabel has given presentations about Cabrillo College's Guided Pathways implementation, which is seen as a model across the state, at the Strengthening Student Success Conference, IEPI workshops in the Bay Area in coordination with Career Ladders Project, as well as at several colleges.
O'Connor will begin as the new VP of Instruction at Mesa on January 2, 2019.