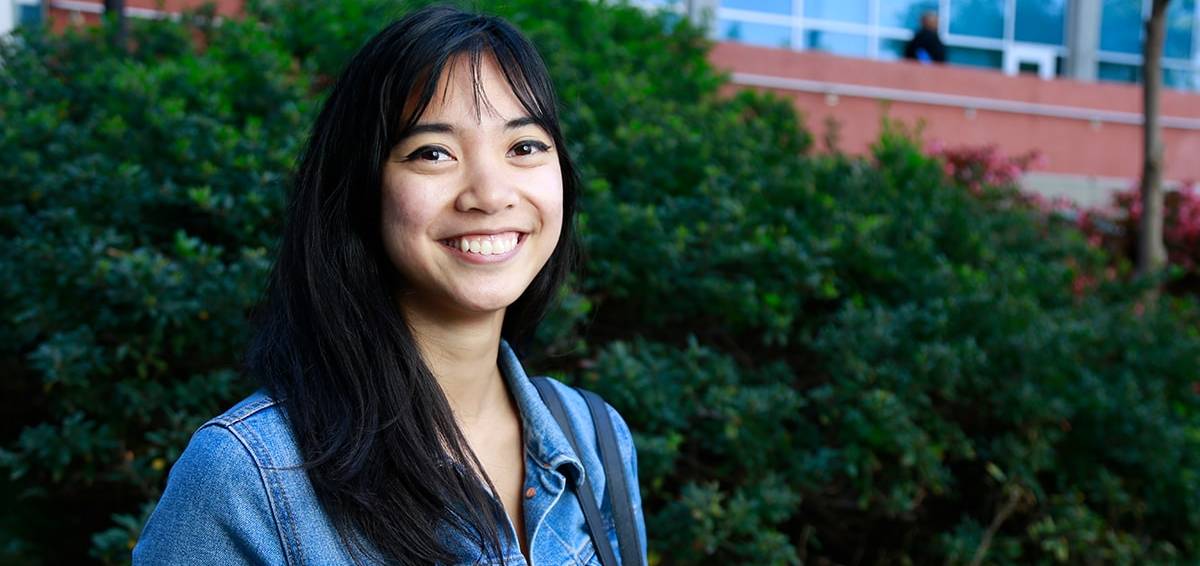 Miramar grad carries on a love for the humanities
May 14, 2019

|
Like a lot of high school seniors who excel academically, Angelica Ilagan found herself applying to several prominent universities throughout California. She had second thoughts, however, before the acceptance letters starting coming in.
"I really wasn't sure what I wanted to do, and I didn't want to just go to a four-year college or university for the sake of going to a four-year college or university," Ilagan said. "I decided to go to Miramar College so I could be in a space where I could find myself."
Mission accomplished.
Ilagan, 19, graduates from Miramar College in May with a 4.0 grade point average and an associate degree in English literature. As a Miramar College Outreach Mentor, she regularly checks in with dozens of San Diego Promise students to make sure they remain on track. In addition, she is taking part in the Preparing Accomplished Transfers to the Humanities (PATH) program, a collaborative transfer support initiative involving the San Diego Community College District and the University of California, San Diego, Division of Arts and Humanities that is funded by a grant from the Andrew W. Mellon Foundation. Her plans include spending several weeks in a PATH Summer Academy at UCSD this summer, then transferring either to UCSD or UCLA this fall.
"Angelica is an exemplary scholar, a talented poet, and a skilled critical thinker," said Miramar College English Professor Carmen Jay. "She has earned many accolades for her writing, especially in her humanities classes. In fact, one of her poems was selected for inclusion in the League for Innovation's Literary Competition. As a PATH mentee, she has been an ambassador for the value of studying the humanities and exploring ways that the humanities can help us address many of the world's pressing concerns."
Born in Vallejo, Ilagan moved with her family to San Diego when she was in the second grade.
After graduating from Westview High School, Ilagan enrolled at Miramar College, or what many of her Westview classmates referred to as "UC Miramar."
"My sister went to Miramar and transferred to San Diego State, so she seemed to have a lot of success there," Ilagan said. "Miramar made sense."
At Miramar, she was able to explore her love of the humanities and hone her writing skills. One of her poems, "things to write about when you are filipino-american" was recently published in the San Diego Poetry Annual.
Her background comes through in her writing. Among the verses in things to write about when you are Filipino-American:
"Grandpa.
Grandpa at 17 hiding in holes
while Japanese soldiers
raided his village.
Grandpa at 91 telling his stories
with dirt still
curling underneath his fingertips."
Why the humanities?
"I love the humanities because I love people," Ilagan said. "I love people, and I love the stories that they carry with them. Any child of an immigrant family can tell you that we are born with our family's stories written in our bones. What the humanities does is allow us to share these legacies and to pave the way to creating our own traditions. In my eyes, the humanities will always be relevant to our modern world because people will always be relevant.
"Because of the past two years I've spent here at Miramar, I envision a career doing the same thing what my mentors here have done for me: encouraging the pursuit of the humanities & showing that these passions and skills are worthwhile."
Miramar College Commencement is May 17 at 1 p.m. inside Hourglass Fieldhouse. Miramar College is at 10440 Black Mountain Road.