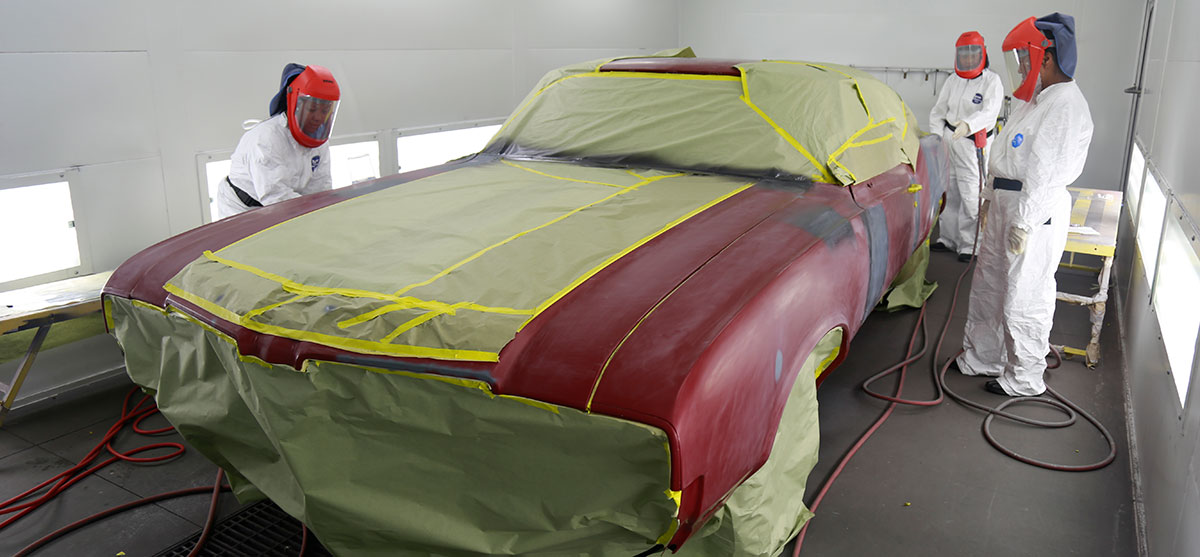 Shifting into a successful new career
October 1, 2019

|
Andrew Na was out of work, collecting unemployment, and dealing with a used 2001 Hyundai that was in the shop more than it was on the road. But life changed after he decided to enroll in San Diego Continuing Education's (CE) free Auto Technician Program.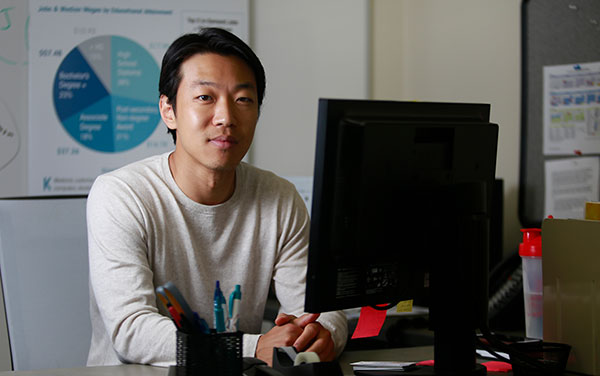 Almost as soon as he earned his certificate, Na landed a job as a junior mechanic at Mission Hills Automotive. Within months, he was promoted to a new post as a service adviser. Then he was hired as an instructional assistant and automotive technician at CE, where his job now involves connecting employers with students completing their skills training at the Educational Cultural Complex (ECC).
"Continuing Education's Automotive Technician Program opened me up to so many different opportunities," Na said. "Not only did I learn new skills, but now I know what to do when my car breaks down."
Continuing Education offers several free automotive certificate options, including the Automotive Technician Program, the Service Advisor Program, the Auto Body and Paint Technician Program, the Auto Upholstery Program, and the Quick Service Inspection Program — all of which can lead to good-paying jobs. The average wage of auto service technicians and mechanics topped $47,000 annually in San Diego County in 2018, according to federal Bureau of Labor Statistics. Service advisers can earn more. And journeymen auto body paint technicians can earn up to $80,000 annually.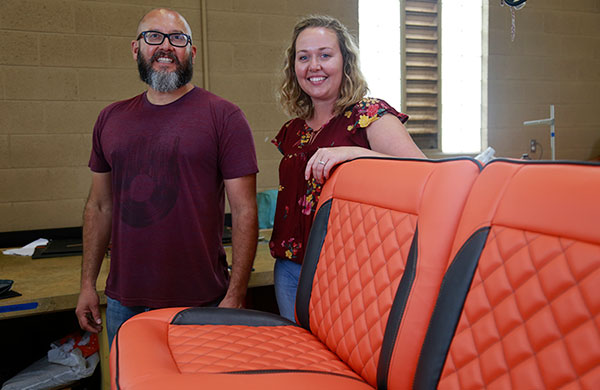 "You could make really good money doing this kind of work and going into this kind of career," said Andrei Lucas, CE's dean of Automotive Skills and Technical Trades, who also serves as Resident Dean of the ECC.
From automotive skills to computer technology, fashion design, construction, and culinary arts, CE provides skills that put people to work. In all, it awards more than 6,000 vocational program certificates each year. And, like all of CE's job-preparation efforts, the automotive certificate program's success is rooted in its collaboration with industry professionals, not to mention its experienced faculty and staff. The Automobile Club of Southern California, the Automotive Service Councils of California, and Sunroad Automotive are among the companies represented on San Diego Continuing Education's automotive certificate advisory board. Industry partners include Subaru, Penske, and Mercedes-Benz.
In fact, CE is now a Subaru factory training and certification facility. And all programs are certified by the National Institute for Automotive Service Excellence, meaning graduates are qualified to work at virtually any auto dealership in the country, Lucas said.
Programs can be completed in as little as 13 weeks. The Automotive Technician Program, which students attend for 25 hours per week for nine months, is the longest. And the 23 units of classes can be transferred to San Diego Miramar College for an associate degree that means even better pay.
Demand is high. A typical class attracts between 25 and 30 students, said Lucas, who added that CE is working with the San Diego Unified School District to offer automotive technology courses at Mira Mesa High School.
"We measure success by our students who are prepared to earn a good living in the Southern California automotive industry," Lucas said.
Just ask Andrew Na.