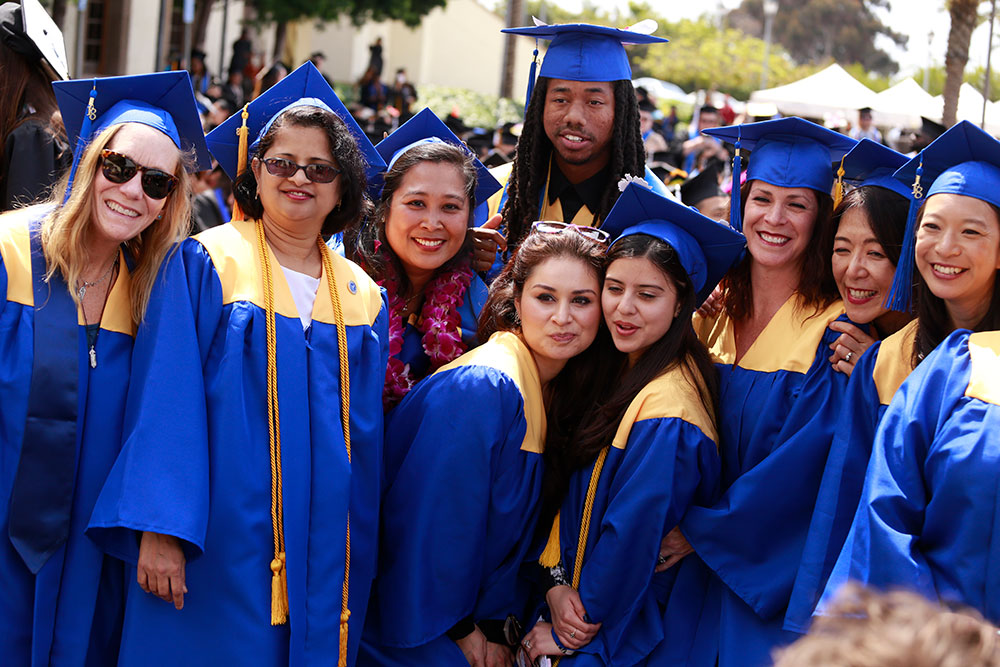 Mesa College bachelor's program receives accreditation
February 8, 2019

|
San Diego Mesa College has received official notification from the Commission on Accreditation for Health Informatics and Information Management Education (CAHIIM), awarding initial accreditation for the Mesa's Health Information Management (HIM) Bachelor of Science degree Program.
CAHIIM, a 501(c)(3), nonprofit organization accredits associate and baccalaureate degree programs in health information management in the United States. Mesa College made history in May 2018 by graduating the first group of Bachelor's degree students.
"This accreditation means Mesa College students are eligible to sit for the national exam and receive the highest credential offered by the American Health Information Management Association (AHIMA) which is the Registered Health Information Administrator (RHIA)," stated Connie Renda, Program Director for Mesa's Health Information Management (HIM) Program. "This credential is required for many high level, high paying jobs in HIM. It is an honor for Mesa College to have earned such high recognition for this program."
Graduates obtaining their Registered Health Information Administrator (RHIA) certification are qualified for multiple careers, with the potential to earn anywhere from $60,000 - $140,000 per year. Career options include Health Information Department Manager or Director, Coding Manager, Healthcare Systems Manager, Data Analyst, Quality or Compliance Coordinator, or College/University Professor of Health Information Technology or Health Information Management.
"Accreditation is the primary means that educational institutions assure and improve quality," stated Dr. Pamela T. Luster, Mesa College President. "For academic institutions, accreditation provides faculty and staff with a plan to meet the needs of students, the profession, and the public."
San Diego Mesa College HIM accreditation process began in 2015 with an application for initial accreditation. From 2016-2018, the HIM faculty prepared a lengthy self-assessment, reporting the college and program's mission and goals, as well as advisory board and faculty qualifications and responsibilities. The accreditation team reviewed the entire curriculum and ensured the program met curricular competencies required. A team of reviewers then met with administration, faculty, students and advisory board members in late August 2018.
The CAHIIM team reported many Mesa College program strengths including, "strong and reliable support from administration for the program growth and expansion." The report further stated that HIM faculty, as well as faculty teaching upper division GE courses, "are well aware of the HIM competencies and how to direct students to resources". The program was also commended on the affordability of the program (approx. $10,500 for all four years), as well as accessibility to a vast array of student support services including library resources, DSPS, The Stand, Veterans Center, as well as general cultural competence and the diversity of the student body.
About the Mesa College HIM Bachelors degree program:
The Bachelor of Science degree in Health Information Management at Mesa College program provides accessible, high-quality industry-approved instruction designed to prepare students to work at a management level in a variety of healthcare settings including acute and subacute hospitals, outpatient clinics, government health agencies, and electronic health records industry vendors. The first two years of the HIM program consist of the Health Information Technology two-year associate degree program, which prepares students to apply for Registered Health Information Technician (RHIT) certification. The third and fourth years of the program consists of upper-division coursework that culminates in a B.S. in Health Information Management. After completion of the degree, students are prepared to apply for Registered Health Information Administrator (RHIA) certification.