'Tis The Season for a home bakery
For pastry chef Kayla Felderhoff, this holiday season marks the beginning of a new chapter for the owner of Bee Sweet Bakeshop and Such, a home-based business she licensed while a student at San Diego Continuing Education.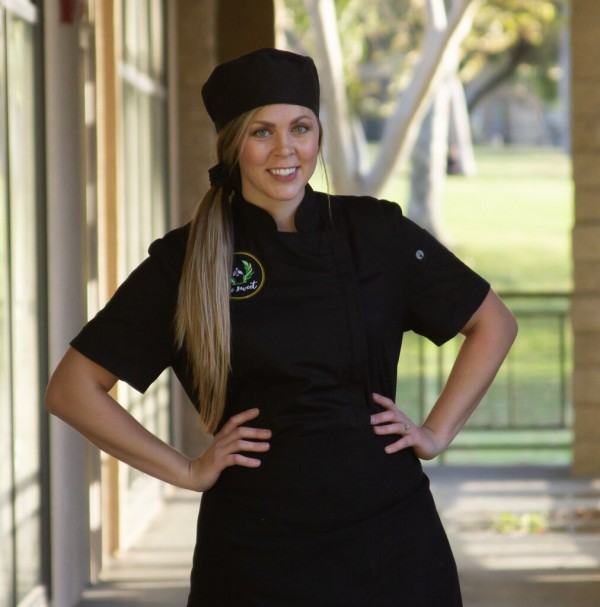 Felderhoff, 28, a Marine wife and mom, sought out a flexible career path to pursue during her spouse's deployment schedule. She started experimenting in 2014 with sugar and flour to create special occasion desserts for friends and family.
By 2018 Bee Sweet Bakeshop and Such went through a major rebrand and Felderhoff thought to improve her baking skills at SDCE. Through the support of the school's free Professional Bakeshop Academy, she grew her company, received her Cottage Food Operators License, business license, seller's permits, and held her first pop-up shop.
"This bakery has always been my dream. Being both a mom and a military wife are demanding jobs," she said. "I'm glad I'm able to work my business part time as well as be home with my family."
Bee Sweet Bakeshop and Such sells custom cakes and decorated cookies using only top-quality ingredients. The December menu includes edible festive arts and crafts for kids, including Paint Your Own winter cookies, a Do-it-Yourself Santa Claus cookie kit, and gold snowflake cookie ornaments.
SDCE's free 18-week Professional Bakeshop program opens a world of possibilities for those with a passion for baking and pastry. Classes are led by professionally trained culinary faculty and are held at the Educational Cultural Complex, West City Campus and at Mission Bay High School. Instruction includes theory and hands-on production, industry safety and sanitation guidelines, in-depth analysis of baking tools, ingredients, measurement and basic business skills to benefit entrepreneurial students like Felderhoff.
Bee Sweet Bakeshop and Such now operates out of her kitchen in Tierrasanta, in pop up shops around San Diego and pays it forward to the city's service men and women by employing military spouses.
Felderhoff was impressed with SDCE's value and no cost education considering the high tuition of culinary training elsewhere. "I was pleased with the wealth of knowledge Chef Sara shared and how she introduced us into the world of pastry. She really took the time to modify the class to meet the needs of students," said Felderhoff. "She even implemented French macaroons into class per my request." Former Executive Chef of The Blind Burro, Sara Polczynski, serves as SDCE's Associate Professor of Culinary Arts for SDCE and is the owner of Sabor Imports.
Felderhoff's future plans for her business include operating out of a commercial kitchen and owning a brick-and-mortar bakeshop in San Diego.