Generations of immigrants and refugees become new Americans
Dating back to 1914 San Diego Continuing Education has supported immigrants and refugees from all over the world in becoming new Americans. SDCE prepares students to take part in the United States Naturalization Ceremony through a free Citizenship program.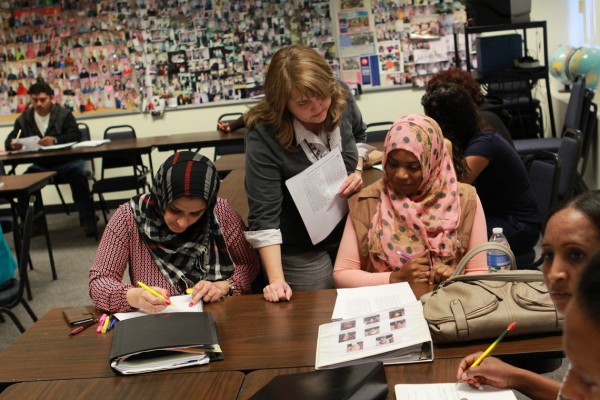 "SDCE welcomes all culturally rich contributions from every community with open arms as we continue to actively fight social injustices inside the classroom," said SDCE's President Carlos O. Turner Cortez, Ph.D. In 2014, Dr. Turner Cortez was appointed to lead the institution and since then it has been his vision to improve opportunities for students beyond the classroom who traditionally face poverty and inequity in education.
Free Citizenship and English as a Second Language (ESL) classes are scheduled mornings, evenings and weekends at SDCE's seven campuses across San Diego communities from Barrio Logan to Miramar.
"I teach students from all over, many come from the other side of the world. Some of them are walking into a classroom for the first time in their lives. It's not that this is their first class, it could be that this is their first opportunity to get an education," says Beth Bogage, SDCE faculty. "When I look at my students, I admire them so much and respect the sacrifices they made to come to a new country to begin a new life for themselves and their families."
Felipe Zuniga moved from Mexico to the U.S. to find more opportunity for his family. "I attended the Naturalization Ceremony 15 years ago for my wife and my cousin. It's my turn now," he said. Zuniga completed SDCE's Citizenship course in spring 2017.
Inside SDCE's Citizenship classrooms are American flags and even larger American dreams, students focus on the development of English language skills, American History and Government. The school's rigorous curriculum prepares adult learners to complete the Citizenship application, the Citizenship History and Government test, and the final US Citizenship and Immigration Services interview.
"It's very exciting and emotional," Zuniga remembers the moments leading up to his Naturalization Ceremony. "Being in the U.S. has taught me a lot of things, such as the freedom every person has and the possibility you can make in your life, if you're willing to put a lot of effort forward."
Zuniga works as a full-time chef at Benihana and will enroll in Advanced ESL classes and the free Computer career training program at SDCE.