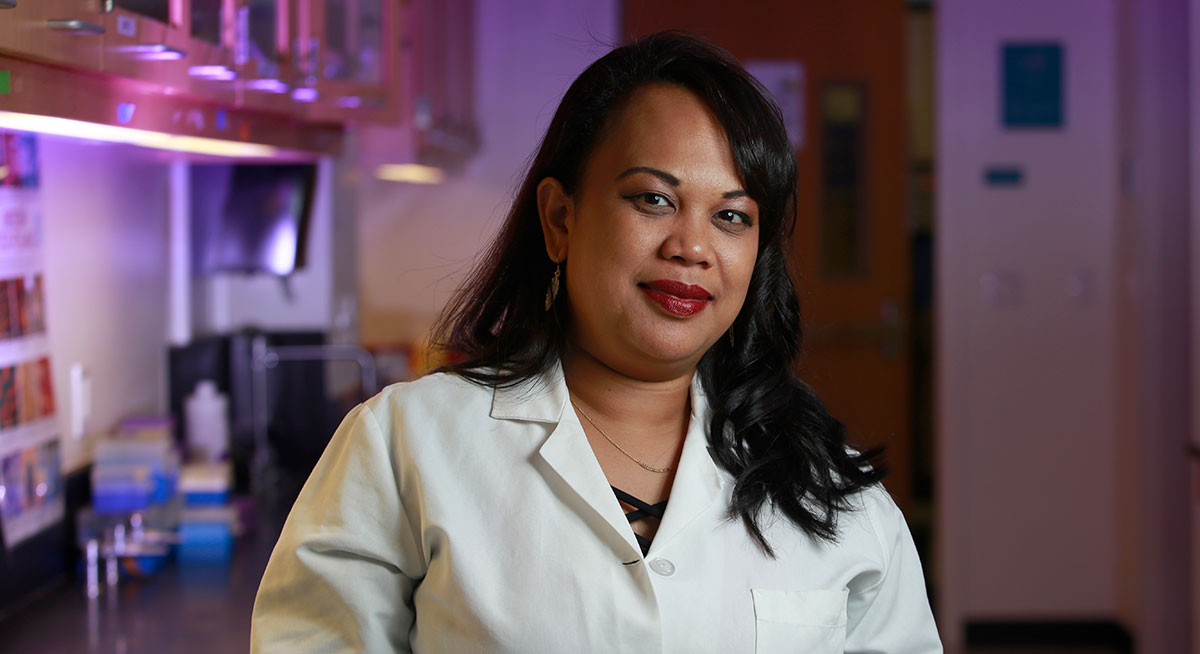 Down to a science
October 2, 2019

|
Southern California Biotechnology Center serves as an onramp to careers in biotech and life science
Tracy Naputi was looking for a better future. She found one through San Diego Miramar College's Southern California Biotechnology Center, which provided her with the skills, training, and education that led to a new career as a quality control analyst for San Diego-based Inova Diagnostics.
"I have nothing but good things to say about Miramar College and the Southern California Biotechnology Center. It changed my life."

Tracy Naputi
"I had gone through a divorce and I was raising five kids on my own," recalled Naputi, who now serves on the Southern California Biotechnology Center's Advisory Board. "I was a manager at McDonalds and I didn't want to be working that hard and not have enough to provide my kids what they need. So I went back to school. And I went back to school because I wanted to provide them with a better life than what I was giving them."
Established in 2004, the Southern California Biotechnology Center is a regional hub that serves as an onramp to careers in biotech and the life sciences while also providing a setting for industry professionals and local science teachers to hone their skills. Initiatives include a California Institute for Regenerative Medicine Internship Program that places college students in paid positions at a stem cell-focused laboratory while attending school; the Life Sciences Summer Institute High School Internship Program that trains up to 50 high school students each summer in laboratory skills before placing them in seven-week internships at one of San Diego's world-renowned scientific research institutes; and the regional Amgen Biotech Experience, a professional development program that includes participation by 250 science teachers each year where they learn how to introduce a cutting-edge biotechnology lab curricula each year.
"We are having a huge impact on the biotech and life science industries in the region," said Kimberly Teston, a Miramar College faculty member who serves as director of projects at the center.
Now the Southern California Biotechnology Center is embarking on a new partnership with local high schools that will offer dual enrollment courses aimed at preparing high school students to transfer to Miramar College for certificates of completion and associate of science degrees, not to mention internships vital for solid careers in the region's thriving biotechnology sector.
Formally known as the STEM San Diego Biotechnology Pipeline Partnership, the initiative, funded through a $1.4 million state grant, will be managed by the Southern California Biotechnology Center in collaboration with the San Diego Unified School District, the Biocom Institute, and Rx Research Services. The effort will include industry mentors and other resources as it strives to eliminate equity gaps among traditionally underserved populations.
"We will be getting students from the time they walk into high school, wrap our arms around them, and guide them until they have a job interview and are working in the industry," Teston said. "They will have opportunities for internships when they are in the 11th and 12th grades through Biocom, and when they get to Miramar (College) they will have guaranteed job interviews and possibilities for apprenticeships."
The STEM San Diego Biotechnology Pipeline Partnership is building on an earlier venture, the Supply Chain Experience Scholarship Program, which served 40 local community college students from underserved populations who participated in 100 hours of hands-on learning of quality control and manufacturing practices, visited local biotech companies, and met with counselors. Ten of the students secured paid life science internships, and all 40 were awarded scholarships through a grant funded by the San Diego Foundation.
The need for such efforts is profound. San Diego County is one of the top industry clusters in California for biotechnology, with more than 48,000 people working in the life science industry, according to Biocom. The number of middle-skill jobs, which require workers to have training beyond high school but less than a bachelor's degree, is expected to grow by 8 percent through 2021.
"There are plenty of positions in the local biotechnology-life science industry where you don't need a Ph.D. and where you don't need a bachelor's degree," Teston said.
Naputi can vouch for that fact. After earning an applied biotechnology certificate in 2010, Naputi was planning on finishing the analytical chemistry associate degree program and transferring to California State University San Marcos.
"It didn't quite work out that way," she said. "I landed my job from a 'practice interview' I made myself go out and have with the company I now work for. I started out as a lab assistant in manufacturing and worked my way up to Chemist II before transferring to our Quality Control Department, where I'm now responsible for doing the final testing of our finished products before they are released to our customers."
The job at Inova Diagnostics pays more than $60,000 annually.
"I have nothing but good things to say about Miramar College and the Southern California Biotechnology Center," Naputi added. "It changed my life."