Top SDCCD administrator appointed to statewide oversight committee
January 22, 2019

|
Dr. Bonnie Ann Dowd, the San Diego Community College District's Executive Vice Chancellor of Business and Technology Services, has been appointed to a statewide panel tasked with reviewing a new funding formula for California's 115 community colleges.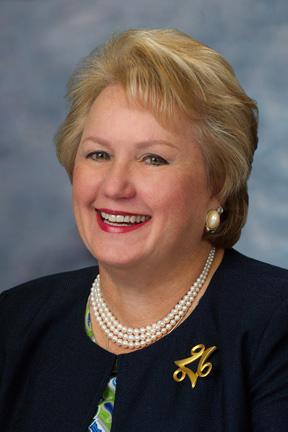 The "Student Centered Funding Formula," introduced for the first time in the 2018-19 fiscal year, marks a sea change in how the state finances its community colleges. Instead of basing all funding on the number of students attending each college, the new formula also takes into account student success milestones such as certificates and degrees awarded, and the number of students being served who are receiving financial aid.
Many statewide leaders have suggested that the complex formula, established immediately before the 2018-19 fiscal year began, could benefit from additional review.
Recent legislation calls for the 12-member Community College Student Success Funding Formula Oversight Committee to review the new financing formula. Oversight committee members have been appointed by the Senate Rules Committee, the Speaker of the Assembly, and the Governor. Dr. Dowd was one of four members appointed to the panel by Senate President pro Tempore Toni Atkins (D-San Diego) and confirmed by the Senate Rules Committee on January 9.
"Bonnie Dowd has been acknowledged as the leading finance director among California's 73 community college districts. "She has extensive expertise, which will benefit this important committee in many ways," said SDCCD Chancellor Constance M. Carroll.
The oversight committee will review systemwide data and make recommendations by January 1, 2020, on the use of funding measures such as the number of first-generation students served, a student's financial needs, and a student's academic proficiency. By June 30, 2021, the committee is tasked with analyzing data and making recommendations on funding for noncredit courses and instructional service agreements, as well as adjusting allocations during a recession.
Before coming to the SDCCD in September of 2011, Dr. Dowd worked for more than two decades at Palomar College in San Marcos, most recently as Vice President of Finance & Administrative Services and previously as a tenured professor. She has a doctorate in education in leadership studies from the University of San Diego and has served on a number of statewide committees during her career. Dr. Dowd also is a part-time faculty member at San Diego State University.
The full committee includes:
- Sonya Christian, president of Bakersfield College
- Bonnie Ann Dowd, executive vice chancellor of business and technology services at the San Diego Community College District
- Ann-Marie Gabel, vice chancellor of business services at the South Orange County Community College District
- Angélica Garcia, vice president of student services at Skyline College
- Elizabeth Guillen, director of legislative and community affairs at Public Advocates
- Valerie Johnson, student at Crafton Hills College and San Bernardino Valley College and president of the Crafton Hills College student senate
- John McDowell, Jr., founder of the Labor Center at Los Angeles Trade Technical College
- Kindred Murillo, superintendent and president of Southwestern College
- Christopher Nellum, senior director for higher education at the Education Trust-West
- Manuel Payan, grounds equipment operator at San Joaquin Delta College
- Michele Siqueiros, president of the Campaign for College Opportunity
- Dianne Van Hook, chancellor of College of the Canyons