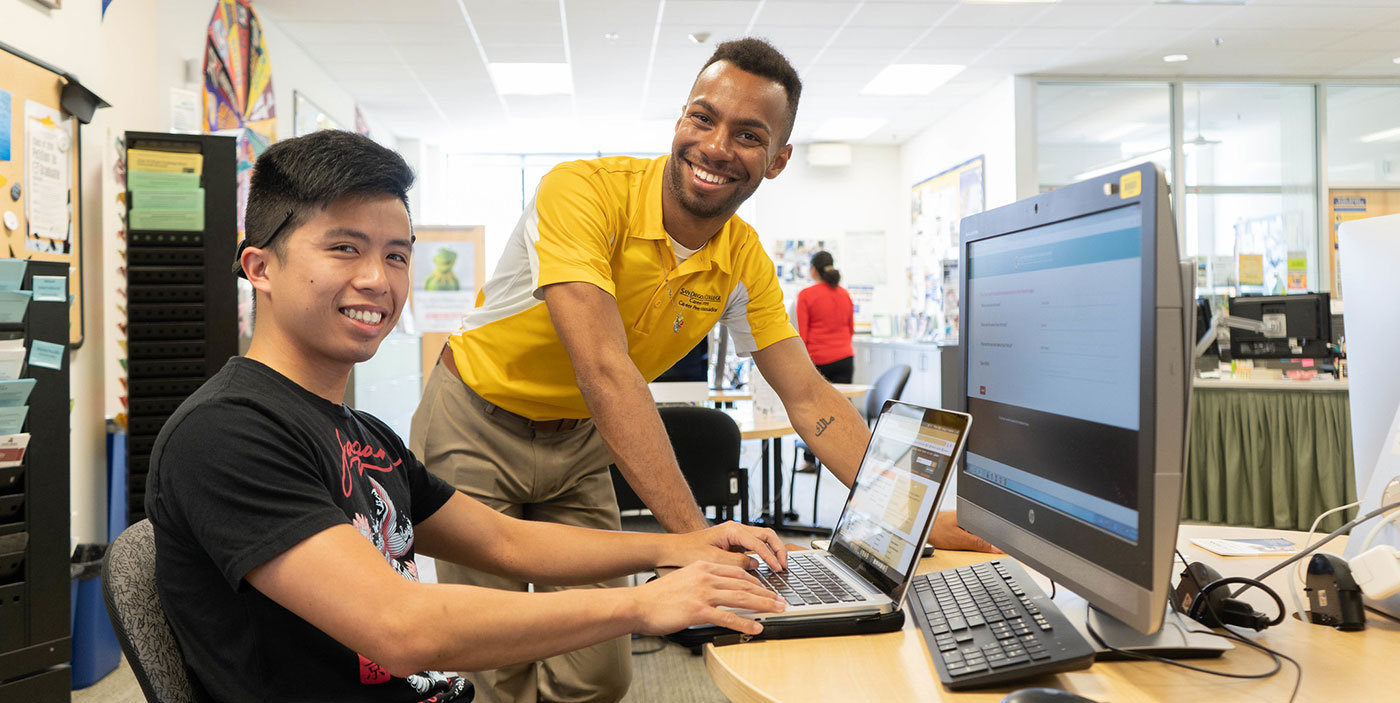 Career Centers: The resource students didn't know they needed
September 9, 2019

|
A common worry for students who are about to graduate is now that they have their education, how are they going to find a job? Staff in career centers believe that students should ask this question at the beginning of the educational journey, not at the end of it.
"What kind of career am I interested in?"
"What are the short-term/long-term job prospects in that industry?"
"What kind of salary can I expect?"
These are some of the questions students can address with a career counselor, but not all students go to the career center for those answers. Some are even trying to figure it out by themselves.
"I wish there was more career planning before education planning," said Claudia Estrada-Howell at the San Diego Mesa College Transfer, Career and Evaluations Center. "Mesa College has well-trained career peer ambassadors. Current students and alumni are welcome to come back and meet with our career counselors."
The center helps prepare students for the professional world by helping them complete an application, write a resume, participate in mock interviews, learn to dress the part, and connect with employers.
Student Services Assistant, Jill De La Cruz, who works at San Diego Miramar College's Career Center said, "It's a common misconception that we manage all on-campus recruitment. Instead, we are here to provide the tools and support to get students ready for the next steps in landing a job opportunity or internship."
Career Centers

Career Planning
By getting an early start, students can find out which careers match their strengths and interests. They can also determine what the right classes are for that career path. Student assessment is a discovery process that helps students narrow down career options and set them in the right direction.
Job Placement Coordinator Sasha Knox at San Diego City College said that self-assessment is the first step in deciding what career would best suit an individual student. "We're matching skillset with talent and earning power," she said. "Career planning comes before Ed planning. While you're taking your first classes you should have an end game in mind."
De La Cruz said the career center is one of the more underutilized resources on campus. "We mainly serve current students. Prospective students and community members are more than welcome to visit our career center; however, to make an appointment with a career counselor, we ask for an active college student ID."

Resume and Cover Letter
Some students are looking to apply for a job with a more professional work environment than what they are used to. Presenting a professional resume and articulate cover letter can be daunting for anyone, let alone someone who is creating these for the first time. Career center staff works with students individually and at workshops to help students tailor their resumes to the job they're applying for, fill in any employment or experience gaps, and correct errors.
San Diego Continuing Education's Career and College Transition Dean Stephanie Lewis said, "Some students think once they're finished with their training, the next day they're going to work. They aren't realizing that they have to have a resume and have to know how to interview. There are steps to getting to employment."

Interviewing
The interviewing process is an opportunity to make a good impression beyond the resume. Career centers offer advice on what to wear, what questions to ask, how to follow up, and etiquette. Miramar College hosts an annual Dress for Success fashion show to give students an example of what professional attire looks like. Dress to Impress workshops are held at all of the colleges and Continuing Education.
"You're going to learn the skills necessary to present yourself professionally and the tools to land your dream job," said Knox.

Career Pathways
Connecting students with employers can make all the difference to a student who is ready for a professional job. The colleges and CE have established relationships with employers throughout the San Diego region to help bring together students and local job opportunities.
One example is the district's partnership with Naval Information Warfare Systems that provides a pipeline for City College and Continuing Education students looking to get into high-tech, STEM jobs.
Mesa College's career center works in partnership with its Career Technical Education departments and Service Learning faculty to offer learning opportunities for students who want to work with faculty in their classrooms.
Continuing Education offers Employer Spotlight events in which employers come to the campus to meet with students who are studying in their field. Job developers at CE help students prepare for the workforce, define their goals, and find jobs and internships.
"It actually takes a village to get a student to a job. Faculty, counselor, job developer working together to help that student be successful in the end," Lewis said.

Job fairs and job boards
Job fairs at the colleges and CE allows students the opportunity to meet with employers from around the San Diego region. Students can offer employers their resumes and can sometimes even get an on-the-spot interview. On October 10, Miramar College will be hosting their fall semester job fair. The following day, October 11, Miramar College will host its first-ever Reverse Internship Fair in which students and employers switch roles. Students will have the opportunity to market themselves and showcase their skill sets to match employers' open internship positions.
City, Mesa, and Miramar colleges have job boards for current students and alumni. Students can create a profile, view job openings, search for internships, post their resume, and receive updates and announcements from the career center. Job listings are updated every month.
"When students sign up to participate in commencement they can receive information from the job board. They just opt-in or opt-out. About 20 percent of traffic is alumni,"said Estrada-Howell.
A job board at CE is in the works as well, for now, those students looking for employment are encouraged to speak to a job developer at the Career and College Transition Center.
Walk-ins are welcome at the career centers. Staff can help students with general information or assist with an appointment with a career counselor.
"Come on by. We're here all the time," Estrada-Howell said.
Upcoming Events
Don't miss Work It Wednesday employment workshop at the City College career center. For more information call 619-388-3722.
Sept. 23-36
Career Fest at Mesa College - Resume review, networking, internship fair, job fair, employer meet and greet. For more information call 619-388-2777.
Oct. 10
Job fair at Miramar College from 10 a.m. to 2 p.m.; Reverse internship fair will be held Oct. 11 from 9 a.m. to noon. For more information call 619-388-7335.
Oct. 29
Job fair at the Educational Cultural Complex with a focus on Career Technical Education Pathways. For more information call 619-388-4847.