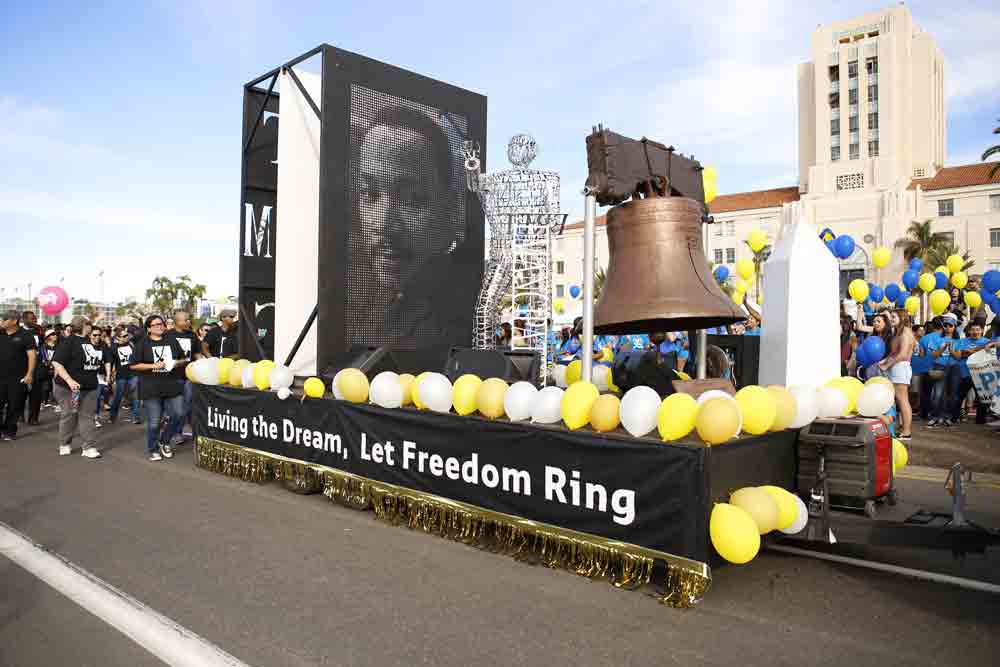 Celebrating the legacy of Martin Luther King, Jr.
January 14, 2019

|
The San Diego Community College District will honor the late-Dr. Martin Luther King, Jr. during a variety of events celebrating the civil rights leader's legacy, including the 39th annual Dr. Martin Luther King, Jr. Parade along the San Diego Embarcadero.
The celebrations begin Friday, January 18, when SDCCD representatives join others at the Jackie Robinson Family YMCA Human Dignity Awards Breakfast at 7 a.m. in the Grand Ballroom of the Town & Country Resort in Mission Valley, 500 Hotel Circle North. That will be followed at 8 a.m. Saturday at the San Diego County Educators Breakfast at the Jacobs Center for Neighborhood Innovation, 404 Euclid Ave., in southeast San Diego. District administrators, faculty, and staff will be at both events.
On Monday, January 21, the District will have a table at the 31st annual All Peoples Celebration, a program where 1,000 diverse community members, business leaders, elected officials, and clergy will honor the work of Dr. King. Greisa Martinez Rosas, a DACA recipient and executive director of United We Dream, will be the keynote speaker. The All Peoples Celebration takes begins at 10 a.m. in the Balboa Park Activity Center, 2145 Park Blvd.
Holiday weekend celebrations wrap up at 2 p.m. Monday with the 39th annual Dr. Martin Luther King, Jr. Parade. The parade is coordinated by the Zeta Sigma Lambda chapter of Alpha Phi Alpha Fraternity, Inc., the oldest African-American fraternity in the country and a fraternity of which Dr. King was a member. Several hundred students, faculty, and staff from San Diego City, Mesa, and Miramar College, and San Diego Continuing Education are planning to take part in the parade, along with members of the SDCCD Board of Trustees and Chancellor Constance M. Carroll.
Students in the welding program at San Diego Continuing Education have for several years designed and built a float that embodies the leadership of Dr. King with metal artistry and techniques they learn in the classroom, and past entries have earned numerous first-place awards.
"These events in Dr. King's honor enabled all of us to 'witness' and provide testimony to his ideals and to demonstrate our own commitment, individually and collectively, to the humane causes that were espoused by this great civil rights leader, preacher, and educator," said SDCCD Chancellor Constance M. Carroll. "Dr. Martin Luther King, Jr. was not just a hero of the African-American Civil Rights Movement, he was and is the hero of the broader movement to provide opportunity, dignity, equal rights, peace, and fulfillment for all people irrespective of their heritage, background, beliefs, or economic condition."
Although Dr. King's birthday is January 15, the federal holiday marking his birth is observed on the third Monday of January. The federal holiday was observed for the first time on January 20, 1986.