New Academic Senate President takes the helm at City College
San Diego City College says farewell to Professor Jan Jarrell and welcome to Professor Paul Alexander, who will be replacing Jarrell as Academic Senate president effective October 17.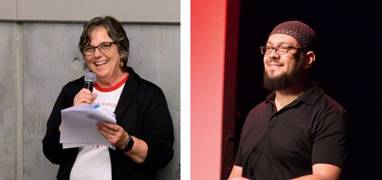 Professor Jarrell will be leaving City College to assume her new role as dean of English as a Second Language at San Diego Continuing Education and site dean for SDCE's Mid-City campus. She has been with City College since 2006 as a professor of English and English Language Acquisition (ELAC) and will be stepping down as the Academic Senate president.
"I really enjoyed my time as Academic Senate president," Jarrell said. "The administration, faculty, classified professionals are committed to shared governance and working together to do what's best for our students. Paul is very well prepared to assume the role and his experience in local and state government is a great asset to the Senate."
Professor Alexander is currently serving as the president-elect of the Academic Senate and will assume the role of president on Thursday.
"I am very excited to be Academic Senate president because we have an amazing student body, and talented and caring faculty members that I have the honor of representing," Alexander said. "I wish Jan the best in her new role and thank her for all her years of leadership in serving on the Academic Senate."
As a San Diego native, Alexander is actively engaged in the campus and San Diego community. He is president and founder of the nonprofit group Pillars of the Community and he is one of the organizers of City College's annual Social Justice Conference.
"It's important to have an Academic Senate that is engaged with our policy makers locally and statewide," Alexander said. "There are so many changes in higher education that can impact our faculty and students, and there needs to be a strong advocate for them."
A designee for president-elect of the Academic Senate will be announced in the coming weeks.