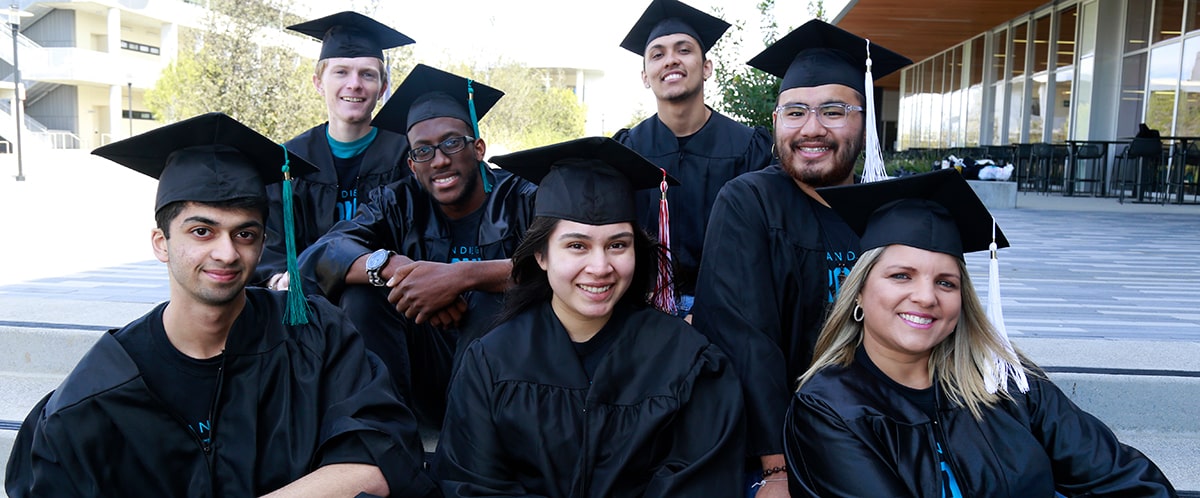 A record 11,754 degrees and certificates awarded as commencements begin
May 15, 2019

|
Note: These degrees and certificates numbers were last updated at 10 a.m. May 15, 2019.
The San Diego Community College District is awarding a record 11,754 degrees and certificates this spring as commencement ceremonies get underway at San Diego City, Mesa, and Miramar colleges and San Diego Continuing Education beginning May 17.
Highlights of the Class of 2019 include 22 students earning bachelor's degrees in Health Information Management at Mesa College through the state's Baccalaureate Pilot Program. That is up from the 15 students who were part of the initial cohort of student earning bachelor's degrees at Mesa College last year. Another highlight: more than 50 students are earning associate degrees through the San Diego Promise program, which provides free tuition and book grants for two years for all first-time, full-time students.
In all, San Diego City, Mesa, and Miramar colleges are awarding a record 4,145 degrees, up 8 percent from last year. That includes increases of 18 percent at Miramar College and 3 percent each at City and Mesa. More than 6,000 vocational program certificates are being awarded by San Diego Continuing Education.
"Students in the San Diego Community College District come from all walks of life and span a broad range of ages, but all of them are single-minded in their determination to completing their education, often while working and supporting a family," said SDCCD Chancellor Constance M. Carroll. "As the largest provider of higher education and workforce training in San Diego County, the San Diego Community College District is dedicated to ensuring that our students achieve their career and educational goals, which we are proud to honor and celebrate at our commencements. On behalf of everyone in one of California's largest community districts, I want to congratulate the Class of 2019 on their achievements."
San Diego Miramar College will hold its commencement on Friday, May 17, at 1 p.m. inside Hourglass Fieldhouse on the Miramar College campus, 10440 Black Mountain Road. San Diego City Councilmember Chris Cate will present the college with a proclamation commemorating its 50th anniversary. Katie Torabi has been selected as the student commencement speaker. A first-generation college student, Torabi graduated from high school two years ago at age 16 and is now earning an associate degree for transfer in English literature. The aspiring novelist is transferring to UC Berkeley this fall. A record 1,261 associate degrees are being awarded at Miramar College.
San Diego Mesa College will hold its commencement ceremony Saturday, May 18, at 3 p.m. in the University of San Diego Jenny Craig Pavilion, 5998 Alcala Park. Mesa is conferring 1,789 associate degrees this year, along with 22 bachelor of science degrees to students in the second cohort of graduates in Mesa's groundbreaking baccalaureate program in Health Information Management. Speakers include student Paulina Solis Ibarra, who served as president of Movimiento Estudiantil Chicanx de Aztlán (M.E.Ch.A.), and the 2019 Distinguished Alumnus, Dr. George Dionisopoulos, a professor emeritus in the School of Communication at SDSU, who has taught thousands of Mesa College transfer students and faculty.
San Diego City College will hold its 2019 commencement on Friday, May 24, at 5 p.m. at the San Diego Convention Center. Andrew Leal is the student speaker. Leal serves as president of the Associated Student Government and the student trustee on the San Diego Community College District Board of Trustees. Leal has been a leader in advocating for students from underrepresented communities and raising awareness about student mental health on campus. Leal is transferring to UC San Diego this fall as a human biology major. City College is awarding 1,073 associate degrees this year.
San Diego Continuing Education will hold its 2019 commencement on Saturday, May 25, at the San Diego Convention Center. The student speaker is Deon Winters, who graduates with a certificate from Continuing Education's 900-hour culinary arts program. "This is my first time graduating from anything," said Winters, who turns 31 in June and who has spent much of his adult life behind bars. "This is my first time walking across the stage. This is my first time giving a speech. This is my first time getting a diploma."