SDCCD Chancellor Constance Carroll recognized with lifetime achievement award
October 21, 2019

|
San Diego Community College District Chancellor Constance M. Carroll has been honored with a Lifetime Achievement Award from the National Association for Community College Entrepreneurship (NACCE), the nation's leading organization focused on promoting entrepreneurship through community colleges.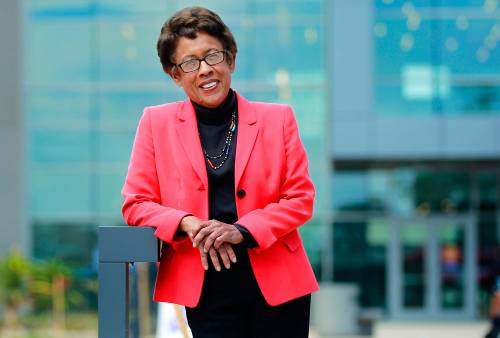 "NACCE's Lifetime Achievement Award recognizes inventive leadership and dedication to local communities and is presented to an individual who has achieved entrepreneurial success and played a pivotal role in the community through involvement and support of civic and philanthropic activities," said NACCE President and CEO Rebecca Corbin, Ed.D. "This year's selection of Chancellor Carroll is based on the many contributions she has made to students and the local communities served by the district's colleges."
Dr. Carroll, who was appointed SDCCD chancellor in 2004, was recognized at the annual NACCE Conference on Oct. 14 in Newport Beach.
"I am truly honored to receive this award from the National Association for Community College Entrepreneurship, which is one of the leading organizations in the country. I am also honored to have been afforded an opportunity to make a difference in the lives of students who look to the San Diego Community College District for the education and skills training they need to reach their career and academic goals," Chancellor Carroll said.
NACCE comprises educators, administrators, college presidents, and entrepreneurs who are focused on igniting entrepreneurship in their community and on their campus. The SDCCD has long played a major role in building the region's innovation economy, from the Center for Applied Competitive Technologies' San Diego Technology Incubator at City College to San Diego Continuing Education's Small Business Management program.
The award is the latest honor in a distinguished career that includes serving as president of San Diego Mesa College, president of Saddleback College in Orange County, president of Indian Valley Colleges in Marin County, and Interim Chancellor of the Marin County Community College District. Past honors include the Moving San Diego Forward award from the San Diego Regional Chamber of Commerce, the National Association of Community College Trustees CEO Award, and the Remarkable Leader in Education award from the University of San Diego.
In addition to honoring Chancellor Carroll, NACCE honored San Diego Continuing Education with its Heather Van Sickle Entrepreneurial College of the Year. The prestigious honor was given in recognition of SDCE's groundbreaking innovation, strong commitment to social justice, and equity through entrepreneurship.