Continuing Education joins statewide campaign to advocate for undocumented students
San Diego Continuing Education joins community colleges across the state for Undocumented Student Action Week, October 14-18, 2019, to advocate and provide support services for undocumented students, while also advocating for Congress to take immediate legislative action on important federal policies.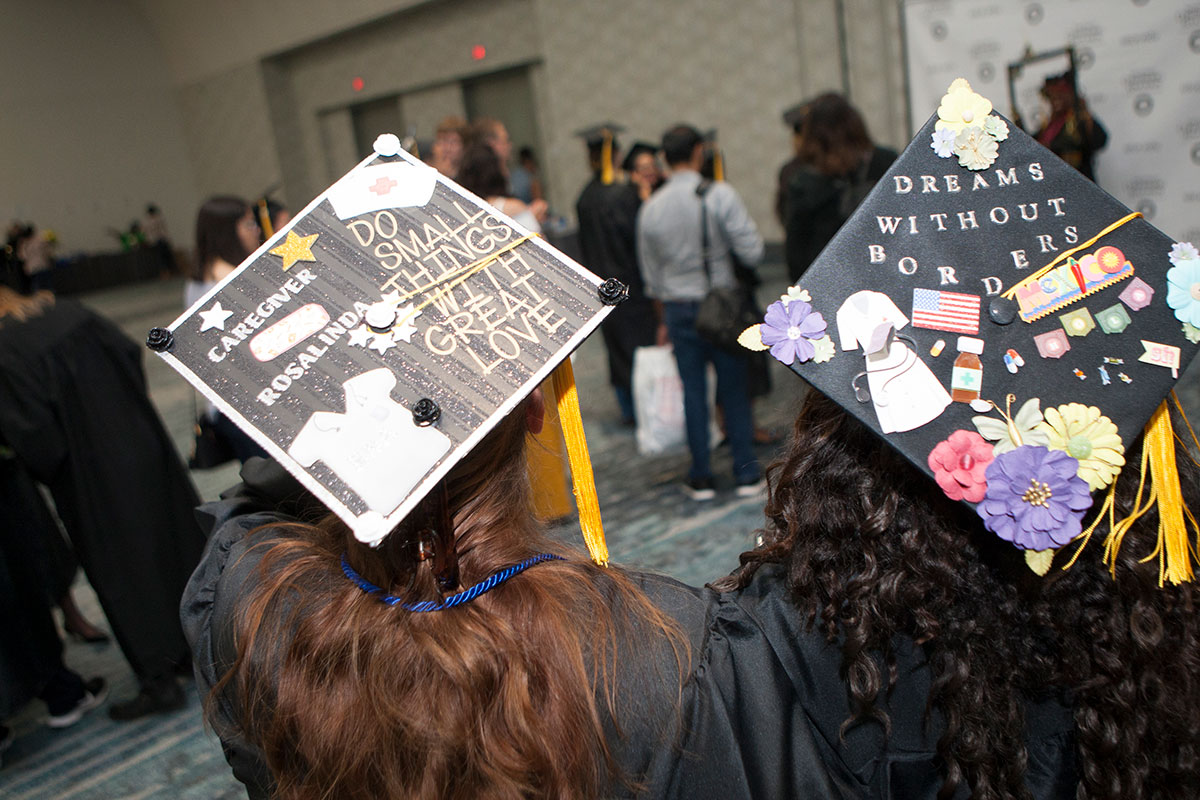 "SDCE has offered hands-on support to immigrants, refugees and students with no family history of attending higher education for more than one hundred years," said SDCE's President Carlos O. Turner Cortez, Ph.D.
Undocumented Student Action Week events at SDCE will include: All Are Welcome resource tables, a workshop session that looks at building on-campus undocumented student programs, and a keynote address and Q&A with Russell Marco Jauregui, J.D., a University of San Diego alum, immigration and Deferred Action for Childhood Arrivals (DACA) expert.
Marie Augustin was born in Les Cayes, Haiti, where she learned the value of academia as she had to walk 15 miles every day for four years to attend high school. "Most of my friends quit going to class because of the political climate at the time. I didn't quit because I knew that getting an education is the only way to survive and to make a life." After achieving her diploma, she worked many years in the private sector as a business analyst.
Augustin left her home country after the devastating 2010 Haiti earthquake. She found her way back to a meaningful education through SDCE's free Vocational English as a Second Language (VESL) program. She completed VESL, six career training certificates, and is currently enrolled in SDCE's free online Citizenship course. "VESL changed my life. I learned how to write a resume in English, how to do an interview, and about American civics." She now works as an English, French and Haitian Creole Interpreter and as an ESL Instructional Assistant at SDCE.
Augustin dreams of studying social work at San Diego City College with plans to return to Haiti to fight for children's education.
In addition to SDCE's free Citizenship and ESL classes, which allow undocumented students to rebuild or create their lives in the United States, the institution offers free career training in emerging fields such as Advanced Manufacturing, Health, and Information and Communication Technologies, so students can find work with living wages immediately after graduation.
Below is a schedule of events that will be held this week at SDCE:


October 14-18, 2019
All Welcome Week Resource Booths at six SDCE Campuses
SDCE's Outreach Ambassadors and Associated Student Body will present undocumented student resources.
Tuesday, October 15, 2019
Introduction to Immigrants Rising's "A Guide to Building an On-Campus Undocumented Student Program"
SDCE's Dean of Student Equity, Maureen Rubalcaba, will lead SDCE's administrators, faculty and students in a discussion on how to best serve the intuition's undocumented student population.
Friday, October 18, 2019
Public Charge, DACA, and Understanding Your Rights: Education, Excellence, Empowerment
Russell Marco Jauregui, J.D. University of San Diego Alumni, immigration and DACA expert will deliver a keynote address "Public Charge", its implementation and impact to students, families, and communities. Q&A to follow.
Undocumented Student Action Week is supported statewide by California Community Colleges, the Foundation for California Community Colleges, the Community College League of California, the Student Senate for California Community Colleges, and Immigrants Rising.
For more information please contact Rising2Success at 619-388-4933.