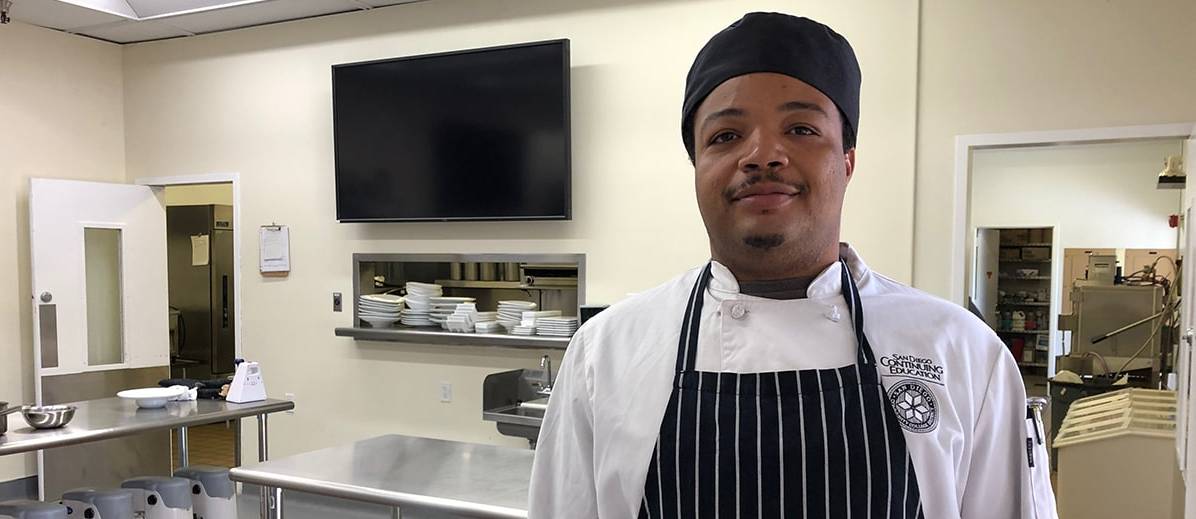 Continuing Education sets new path for Lincoln Park resident
May 13, 2019

|
Deon Winters has spent much of his adult life behind bars and earned his GED at Ironwood State Prison. His fortunes turned after flipping through a San Diego Continuing Education class schedule last year and coming across a free career training program in culinary arts at the Educational Cultural Complex near his home in San Diego's Lincoln Park neighborhood.
He signed up almost immediately. His newfound skills have already resulted in Winters catering an event for a local congressional candidate's fundraiser and crafting a business plan to run a food truck and perhaps work with a nonprofit.
"I've been cooking for my family pretty much all my life, and being in this program has given me the opportunity to perfect my art, work special events, and continue doing what I love," Winters said.
He graduates May 25 with a certificate from SDCE's 900-hour culinary arts program and was honored by being named the student speaker for the commencement ceremony.
Winters said the SDCE program changed him in many ways. "This is by far the toughest thing I've done in my life. It requires a lot of patience. You have to humble yourself. You have to learn how to take constructive criticism. But at the same time, it's very rewarding, and a lot of fun."
In a community where more than 20 percent of residents are living in poverty, where the median family income of $35,819 is barely half of San Diego's as a whole, and where educational attainment lags behind the city's average, Winters said SDCE has motivated him to affect change.
"I want to be an example," said, said Winters, who envisions feeding and employing the poor and the homeless.
"This is my first time graduating from anything," said Winters, who turns 31 in June. "This is my first time walking across the stage. This is my first time giving a speech. This is my first time getting a diploma."