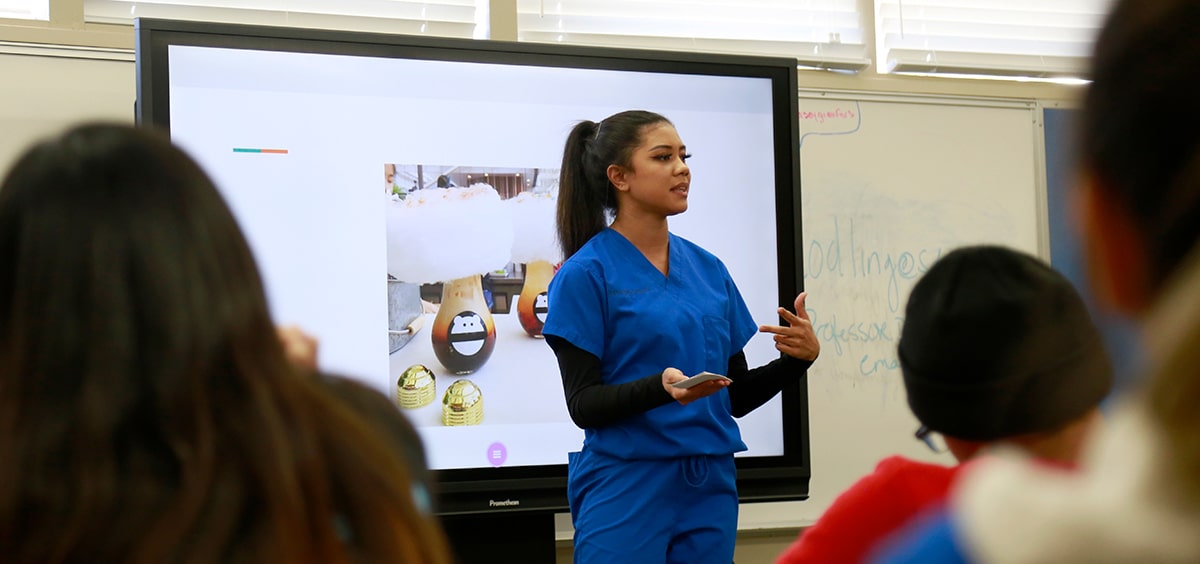 Dual enrollment at a turning point
March 11, 2019

|
For Kearny High School student Devin Tragoso, dual enrollment was a no brainer. Credits for five of his courses – art, history, psychology, Chicano studies, and personal growth – were applied toward both his high school diploma and Mesa College, expediting his goals of securing an associate degree and transferring to San Diego State University to study criminal justice.
"It was huge for me," said Devin, 17, who graduated from Kearny High School a semester early, enabling him to enroll at Mesa this spring. "I don't see any drawbacks. You're getting used to a college environment while still in high school, you're getting credit for both high school and college, and you're saving money by not having to take those classes in college. I'd absolutely recommend it."
Indeed, since former California Governor Jerry Brown signed a bill into law in 2015, significantly expanding dual enrollment by allowing tuition-free, community college courses to be taught on high school campuses, the number of high school students taking college classes taught by San Diego Community College District professors has nearly doubled to more than 4,100.
But dual enrollment is at a crossroads, as the 2015 legislation included a sunset date of January 1, 2022. New legislation, Assembly Bill 30 authored by Chris Holden, D-Pasadena, would keep the successful program in place until January 1, 2027, but it is hardly a sure thing.
"Dual enrollment is an integral part of the high school experience for many students in creating a seamless pathway to community college and beyond," said San Diego Community College District Vice Chancellor of Student Services Lynn Neault. "It is something we need to protect."
The Community College League of California agrees. "AB 30 recognizes the importance of enabling innovative partnerships between K-12 districts and community colleges so that college access is ubiquitous and not exclusive," it said in a prepared statement.
Dual enrollment in California is provided through three avenues, including the College and Career Pathways program authorized by Assembly Bill 288 in 2015, which enables high school students to take college courses taught by college professors at their high school campus. Assembly Bill 30 would allow the 36 existing College and Career Pathway partnerships, including a partnership between the San Diego Community College District and the San Diego Unified School District, to continue.
The two other dual enrollment programs – one that allows high school students to take college courses on a college campus, and a middle college high school model that integrates a high school 'campus' into a community college – are not impacted by the Assembly Bill 288's sunset provision.
Some 3,132 San Diego Unified students took dual enrollment courses via the College and Career Pathways program in 2017-18, increasing to 3,300 students in 2018-2019. An additional 1,496 are taking college courses at a community college campus this year.
Dual enrollment is seen by the California Community Colleges Chancellor's Office as supporting the system's Vision for Success, a set of goals and commitments that include boosting the numbers of students earning degrees or certificates and transferring to a University of California or California State University campus. Most students taking dual enrollment classes complete at least nine units before entering college, and those students are far more likely to succeed once they get there.
Henry Mendoza Rivera is a believer. Not only does the Miramar College mathematics professor teach a calculus 1 college class at Serra High School in San Diego, his daughter took several Mesa College mathematics and political science classes at La Jolla High School. Now she's a freshman at the University of Michigan.
"From my experience and from my daughter's experience, this is an excellent program," Rivera said. "When you are a freshman at a college or university, it can be a difficult adjustment, but if you have already had the experience of a college class, it can make the adjustment a little easier.
"As the semester goes on," Mendoza continued, "you see them acting less and less, little by little, like a high school student and more and more like a college student."
More of those dual enrollment students go on to enroll at City, Mesa, or Miramar colleges. In fact, 27 percent of students in the College and Career Pathways program enroll at a San Diego Community College District campus after graduating high school. Those students also place at transfer-level reading and math at much higher rates than community college students who had eschewed dual enrollment while in high school, according to a San Diego Community College District study released in April 2018. They also fare much better in college including higher persistence and course success rates, earn an average of 10 more units after three semesters and are less likely to drop out, according to the study.
"Dual enrollment has proven to be an effective means to achieve college readiness and promote student success," Neault said. "The College and Career Pathways program should, if anything, be expanded, not eliminated."
Related: The future of dual enrollment will be one of the topics discussed when the San Diego Community College District and San Diego Unified School District trustees hold their annual joint board meeting on March 19 at San Diego Continuing Education's ECC campus. Learn More.