Free fashion program opens industry doors for university students
August 26, 2019

|
Ashley Sevilla, a sophomore at San Diego State University and Landen Saunders, a freshman at California State University, Long Beach took extra courses this summer. The fashion Maker Lab Classroom at San Diego Continuing Education's West City Campus in Point Loma became their creative outlet.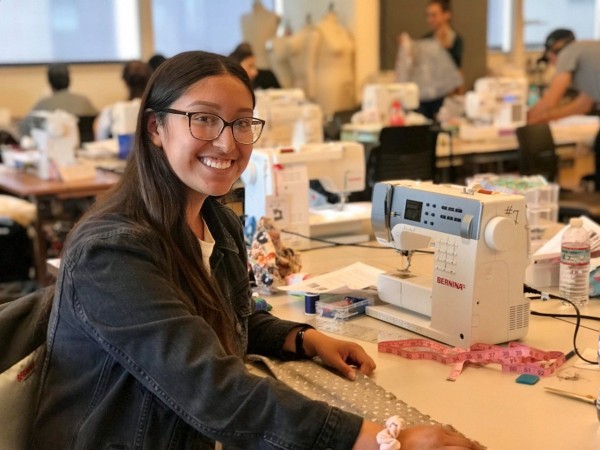 SDCE offers two career training programs in fashion; Clothing Construction and Sewn Product Business. Students learn basic to advanced apparel construction skills as well as the ins and outs of developing a sewn product from concept to consumer.
After graduating from Point Loma High School, Saunders, 18, wanted to get ahead in the fashion industry. "Before leaving for college I wanted to at least learn how to sew," he said.
SDCE's Maker Lab Classrooms are equipped with modern sewing machines, mannequins, and fabric cutting tables for a hands-on learning experience. Free classes take place at West City Campus in Point Loma, Mid-City Campus in City Heights and at Cesar Chavez Campus in Barrio Logan.
Saunders has plans to design an apparel line following his Bachelor of Arts in Fashion Merchandising and Design at CSULB. He hopes his brand will empower his peers to be more socially aware of the world. "My generation has a lot of potential to do great things," he said.
Sevilla, 19, dreams of being a couture fashion designer. She attends SDCE's fashion classes while studying Criminal Justice at SDSU. "As a young Latina I hope to make a difference in the world by combining my love for fashion and social justice," she said.
Sevilla was inspired by SDCE's Charity Sew event to envision her own cause-based collection which will include affordable evening gowns and prom dresses. Sevilla and her classmates made brightly colored pillowcases to benefit local foster youth.
"My experience at SDCE has been really motivating. I'm amazed with the diversity in this class--all genders, ages and ethnicities learning together," she said. Following SDSU, Sevilla plans to continue her fashion studies at San Diego Mesa College.
After certification completion at SDCE, students are ready for entry-level employment or can transition to San Diego Mesa College with up to four college credits earned toward an Associate Degree in Fashion.
SDCE's fall semester begins Tuesday, September 3, 2019. Students can sign up now to attend free orientation and learn more at sdce.edu.