First Responders stamp to be dedicated at Miramar College on January 25
January 23, 2019

|
The United States Postal Service in San Diego will dedicate a new forever stamp honoring first responders during a ceremony at San Diego Miramar College on Jan. 25, 2019. The dedication will take place at 11 a.m. inside Fire Technology (building R) located on the north end of campus (off Hillery Drive and Westview Parkway).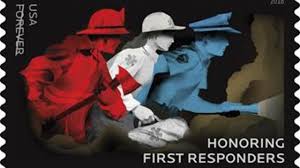 San Diego Fire Engine 44 and Battalion 7 will be attending the event along with Fire Captain and Miramar College Fire Program Director Darren Hall, San Diego Police Assistant Chief Sandy Albrektsen, San Diego Police Captain Al Leos, U.S. Postal Service Executive James Olson, and 2003 Paradise Fire victim Allyson Watson.
Students in the College's fire program will do a repelling demonstration during the dedication.
Launched nationally on Sept. 13, 2018 by the United States Postal Service®, this stamp recognizes the men and women who respond to critical situations with skill, dedication, and uncommon bravery. The digital illustration on the stamp is a symbolic scene that shows three first responders in profile, facing right, as they race into action.
Miramar College has provided fire, EMT and police training since its inception in 1969. The College is home to the Regional Public Safety Training Institute which serves as the police academy for several local agencies including the San Diego Police Department and San Diego County Sheriff's Office. San Diego Fire, and several other local agencies, use Miramar College for their academy and POST training.