Mesa College opens foster youth center
August 26, 2019

|
San Diego Mesa College brought in the fall 2019 semester with a grand opening of the Fostering Academic Success & Transitions (FAST) Center – the first of its kind at a community college in the San Diego region. NextUp—an Extended Opportunity Program and Services (EOPS) program that provides support services to former and current foster youth—proudly opened the doors to its brand new FAST Center on Thursday, August 22, 2019.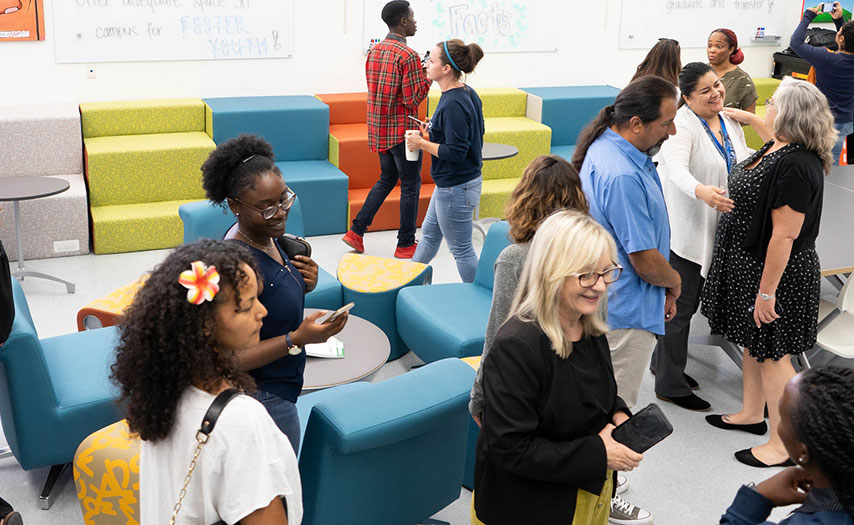 The new FAST Center, in D-102, is a place where foster youth are able to gather with other students who are or were also in foster care. At the Center, they can receive support services and have access to computers and specific resources to meet their needs.
Statistics about foster youth:
Between 3-11% of foster youth will graduate from college.
By the age of 26, 80% of former foster youth have 2 or more children.
By the age of 25, 34% of foster youth are homeless, with nowhere to turn for housing or resources.

The FAST Center at Mesa College was envisioned to change that narrative by providing foster youth students with the resources they need to succeed in higher education and future careers.
"The number one goal we had in creating this program was to make it extremely difficult to NOT be successful," shared Sade Burrell, Counselor and FAST Scholars program coordinator. The center is a place for students to get the resources they need, whether that includes counseling, tutoring, food, child care, emergency housing, and any other need unique to their situation. It's also about creating a sense of community. As the leading college of equity and excellence, Mesa strives to provide support that meets the unique needs of our diverse community of students. With programs like NextUp and FAST Scholars, Mesa College is able to better support foster youth in accomplishing their educational goals and developing self-sufficiency.
"This is a geographical space on our campus, but it's so much more than that. This is a love zone," said President Pamela Luster. "This is a place where we're going to find love, feel love, and we're going to pour love into this space."
While Sacramento City College and Butte College are among some of the latest community colleges to launch student support programs designed for foster youth in higher education, San Diego Mesa College has taken it a step further by being the first and only community college in San Diego to open an on-campus center for this deserving community of students.
"What this center does is say, we see our foster youth. We see their experiences. We see the unique contributions that they bring to the campus; that we understand the many challenges or systemic barriers that are often placed in their way," shared Dr. Ashanti Hands, Vice President of Student Services. "The message we want our students to hear is: Bring your full self. There is not one part of your experience that we will not embrace."
Several Mesa College students have already benefitted from the FAST Scholars program. For example, Oscar, a geography major, believes the services he's received have been life changing. With the support of the FAST Scholars program, he has been accepted to several universities in California and plans to work in Geographic Information Systems (GIS) with the city of San Diego.
Esmeralda, a sociology major, thanks NextUp for being a huge support system. "They made me feel safe and comfortable, and they really showed that they cared and want the best for me." Since then, Esmeralda transferred to San Diego State University and plans to work as a counselor in middle school or higher education to help other foster youth.
San Diego Mesa College's NextUp & FAST Scholars:
Mesa programs have a 77 percent retention rate.
Mesa College is the first community college in San Diego to provide adequate space for foster youth.
Nine foster youth graduated and/or transferred in spring 2019.
One former FAST Scholars student recently graduated with her BA in Communications from San Diego State University in May 2019. She is currently working with foster youth in a community-based program.
The team includes a faculty counselor, outreach student ambassadors, and classified professionals to support the program and work with foster youth.
Fostering Academic Success and Transitions (FAST) Center is a space at San Diego Mesa College dedicated to serving current and former foster youth whom are current and prospective students. The FAST Center is offering services such as, tutoring, technology resources, a food pantry, and school supplies. The center will host workshops on mental health and financial literacy among other best practices to support students in pursing their personal, professional, and academic goals. The center will also offer information on how to best serve the foster youth student population through professional learning activities.
FAST Center office hours:
Monday – Thursday: 8 a.m. - 6 p.m.
Friday: 8 a.m. - 3 p.m.
To speak to a FAST Center team member, call 619-388-5895. If you are in need of resources, or want to learn more about NextUp and the FAST Center, contact Sade Burrell visit Mesa College EOPS online.