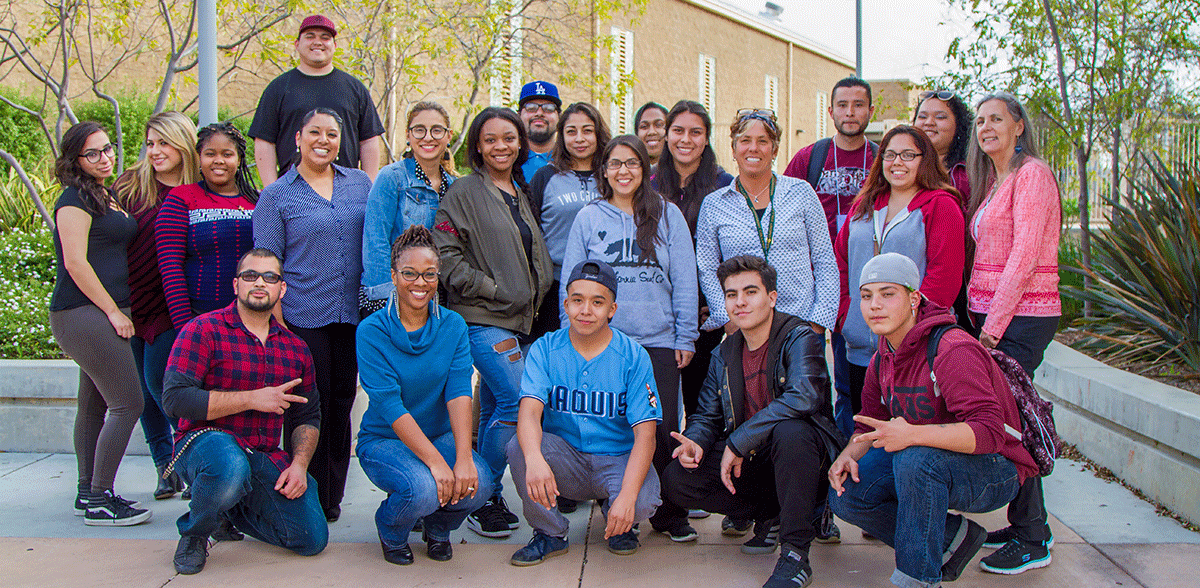 Gateway program helping students rebuild
March 5, 2019

|
A former high school dropout, Beverly Ladezma is now looking at a career as a substance abuse counselor. Lakenya Rose Foster was out of school and out of work but is now wrapping up a job training program setting her on a path toward becoming a carpenter. Jahir Costelo was facing an uncertain future just a couple years ago, but now he's working two jobs and is determined to enroll in college.
Ladezma, Foster, and Costelo are among those whose lives are being transformed through San Diego Continuing Education's Gateway to College and Career program – a program serving so-called opportunity youth, defined as ages 16 to 24 who are neither in school nor working. The initiative offers paid internships, connections to industry, support in securing a high school diploma or equivalency, and an intensive, 40-hour college and career readiness course aimed at determining and creating viable pathways to a productive future.
"Getting opportunity youth back at school and back at work is among our primary social justice responsibilities," said Laurie Coskey, Ed.D., executive director of the Gateway program. "We cannot continue to let a generation of young people fall through the cracks."
In only its second year, San Diego Gateway to College and Career is having a profound impact. Eighty-six students enrolled in the inaugural year, and all were facing overwhelming barriers that included hunger and homelessness. Many were former foster youth. Some were former gang members. Yet, of those original 86 students, 45 are now employed, 37 are taking part in paid internships, 31 have earned a credential, and 19 are now college students.
"A student's academic success can be tied to the support available to them beyond the classroom." said Continuing Education President Carlos O. Turner Cortez, Ph.D. "We do everything we can to ensure that our students are ready for the workforce and we help them establish career pathways that pay living-wages."
The challenge can seem daunting. Nearly 41,000 opportunity youth are struggling to survive in San Diego, and almost all live in and around the neighborhoods served by Continuing Education.
Gateway's success is attributed to its partnerships with community organizations such as Pillars of the Community, Gompers Preparatory Academy, the Southeast Collaborative Group, the Malcolm X Library, and more. The Gateway program is open to anyone 18 to 24 years old who has not finished high school, lives in one of six southeastern San Diego neighborhoods, and who is looking to embark on a new career. Approximately 150 students are currently enrolled in the program, 20 percent of whom are homeless.
The Jacobs Center for Neighborhood Innovation, with support from the James Irvine Foundation, is providing $300,000 in additional funding to the San Diego Continuing Education Foundation to extend programming to serve an additional 45 students living in southeastern San Diego.
The initiative is modeled after a national Gateway to College network and is funded primarily by a Workforce Innovation and Opportunity Act grant administered through the San Diego Workforce Partnership. Students begin their Gateway journey by completing an online vocational assessment to identify career interests. They then meet with a program coordinator to establish needs and identify barriers while developing a pathway to help them reach their goals. Bi-weekly, one-on-one sessions are scheduled, attendance is tracked, and progress is closely monitored.
San Diego Gateway to College and Career launched its first pre-apprenticeship pilot program, a three-month, 40-hour-per-week effort, in 2018. The initial cohort of students attended class twice each week at the Educational Cultural Complex, with the other three days devoted to installing heating and air condition systems, doing various carpentry work, applying stucco, and installing doors and windows at an 18-unit apartment building under construction off 53rd Street in the San Diego neighborhood of City Heights.
Every student in the pre-apprenticeship cohort completed the program. One is now in the United Association of Plumbers & Steamfitters Local 230's registered apprenticeship program. Three are in the San Diego Chapter of the Associated Builders and Contractors' apprenticeship program. One, Lakenya Rose Foster, is with Southwest Regional Council of Carpenters Local 1506. Another is working full time at the Navy Exchange.
The latest 12-week apprenticeship readiness program, in partnership with the San Diego Building and Construction Trades Council, began in mid-March.
The San Diego Gateway program, Turner Cortez said, is the only Gateway model program in the nation that includes paid work experience. In all, students have 75 job-training programs to choose from.
Critical to the program's success are the wrap-around services that help opportunity youth find their footing by getting the support they need.
"Our students are accustomed to not finishing. One of our strengths here is helping them persist," Coskey said. "We try to take away the barriers from our students that prevent them from persisting in both learning and working. Among them are transportation barriers. Food barriers. Emotional barriers. Daycare barriers. We are supporting people in figuring out what their dreams are and how they are going to achieve them."
Beverly Ladezma is a believer.
"I was a dropout. I went to four different schools throughout my teenage years, and I was in the point of my life where I was not ready, until now. I'm very more mature, and with all these people and this great support in this class, I feel really enthusiastic and willing to commit and actually come through myself. The teachers are great here. I feel like I really get that one-on-one when I need it."
Added Costelo: "I had no job skills, no resume skills, no interview skills. I was going to come out of high school empty handed. Gateway received me with open arms. They taught me how to work a resume. They taught me how to get into an interview. They even helped me apply for jobs. I want to be able to lead this all into college, having my own place, being able to do the things that I couldn't do for myself before. I'm working toward success."