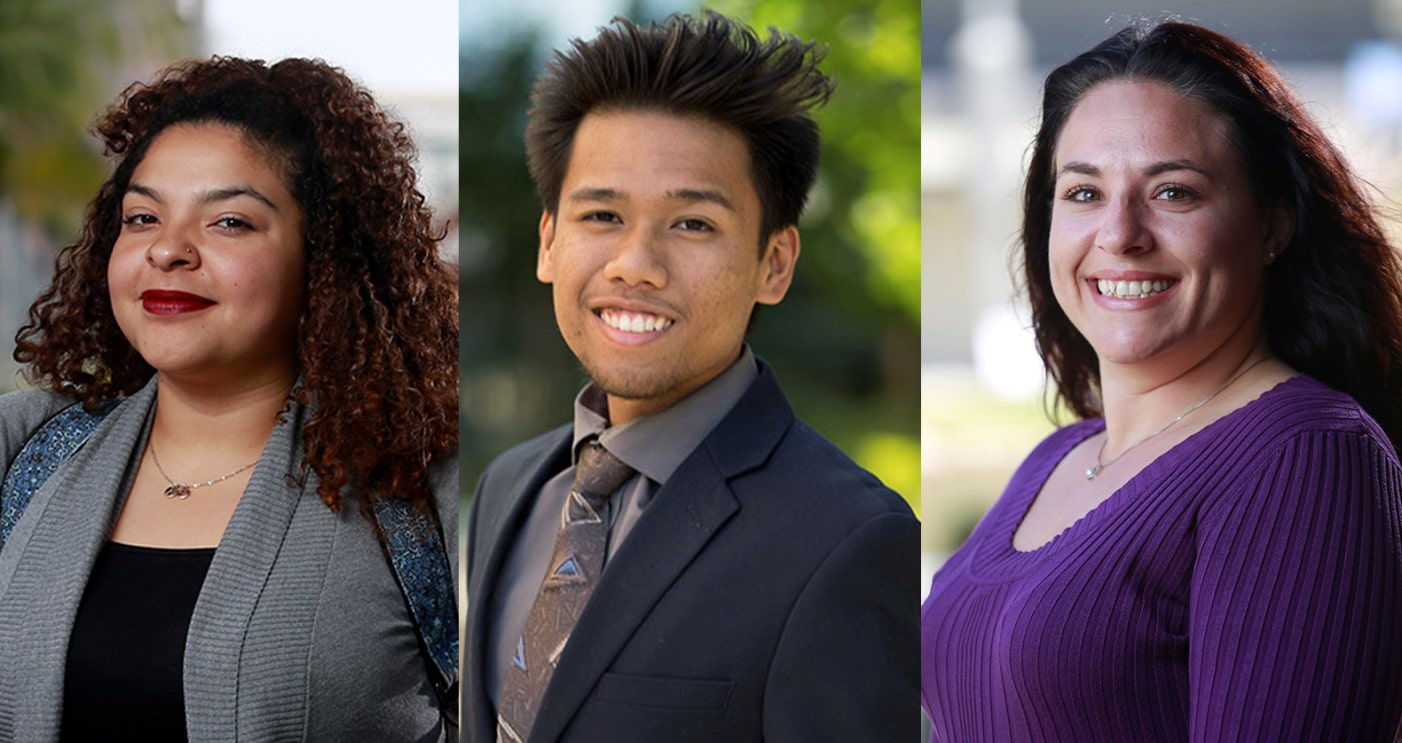 Academic All-Stars to be honored at annual reception
April 25, 2019

|
One is a San Diego City College scholar who once had to move to Mexico because of the high cost of housing in California; she's transferring to a University of California campus this fall. Another is a Mesa College leader from southeastern San Diego who studied abroad in Spain and Costa Rica and is aiming for a career with the U.S. Department of State; he, too, will be transferring to a UC campus this fall. A third is a 40-year-old single mom who enrolled at Miramar College and is graduating with a 4.0 grade point average; she's moving on to San Diego State University for a master's degree in geography and a career in geospatial intelligence.
Meet Mia Zedukes, Harley Sobreo, and Christina George, who are among the best and the brightest students in the San Diego Community College District being recognized May 1 at the SDCCD's 32nd annual Honors Reception at The Prado in Balboa Park from 11:30 a.m. to 1:30 p.m. All are part of the SDCCD's Honors Program, and all say they owe much of their success to the camaraderie and support it provides.
"The Honors Program helped connect me with like-minded students who are pretty serious about their education, and the rigor of the courses has allowed me to dig a little deeper into my more creative side," said Sobreo, who graduates from Mesa with associate degrees in French and Spanish and an Honors Global Competencies Certificate of Achievement. Sobreo is heading to UC Davis to study International Relations and is interested in a career focusing on international aid.
The SDCCD's Honors Program is geared for students looking for a challenging curriculum, and graduates have transferred seamlessly to some of the top universities in the country. Honors students are afforded access to designated Honors counselors, an opportunity to present research at conferences, and a chance to apply for expanded scholarship opportunities. More than 2,000 students participate in the Honors Program annually, with Latino students – at 41 percent – making up the largest segment of the Honors population.
The May 1 event is a celebration of accomplishment.
"The San Diego Community College District's annual Honors Reception provides an opportunity to recognize and acknowledge the enormous work and dedication of our Honors students as they challenge themselves to excel both in their courses and as members of the broader college community," said Professor Ian Duckles, who serves as an honors coordinator at Mesa College. "Many of our students do not realize what they are capable of until they become Honors students, and this event creates a valuable opportunity to reflect on and celebrate the intellectual journeys that they have taken."
Christina George wasn't sure how she would fare when she enrolled at Miramar College in 2017. The single mom lost a scholarship to Wake Forest University after suffering serious injuries in a car crash as a high school senior and wasn't able to graduate on time. The following two decades included jobs ranging from a night manager at a fast-food restaurant to a general manager at a furniture store.
Now she's president of the Miramar College chapter of the Phi Theta Kappa International Honor Society, and she was a recent semifinalist for the prestigious Jack Kent Cooke Undergraduate Transfer Scholarship.
"The Honors Program gives you a chance to be surrounded by students who share your interests, it gives you a chance to hear their stories, hear their aspirations, and hear about what their plans are and where they're going," said George, who will be a speaker at the May 1 event. "Going to the Honors Reception provides you with the opportunity to see everything come to fruition."
Zedukes concurs. The first-generation college student moved with her family as a teen to Rosarito from California's Central Valley because of the state's high cost of living, and she crossed the border weekly for high school in San Diego.
"Attending and speaking at this wonderful celebratory event makes my hard work, late nights, and success real," said Zedukes, an English major who has been accepted to UC Berkeley and is waiting to hear back from UC San Diego. "This event further shows me that I am worth it and that I am going to continue to make great strides in my educational career."