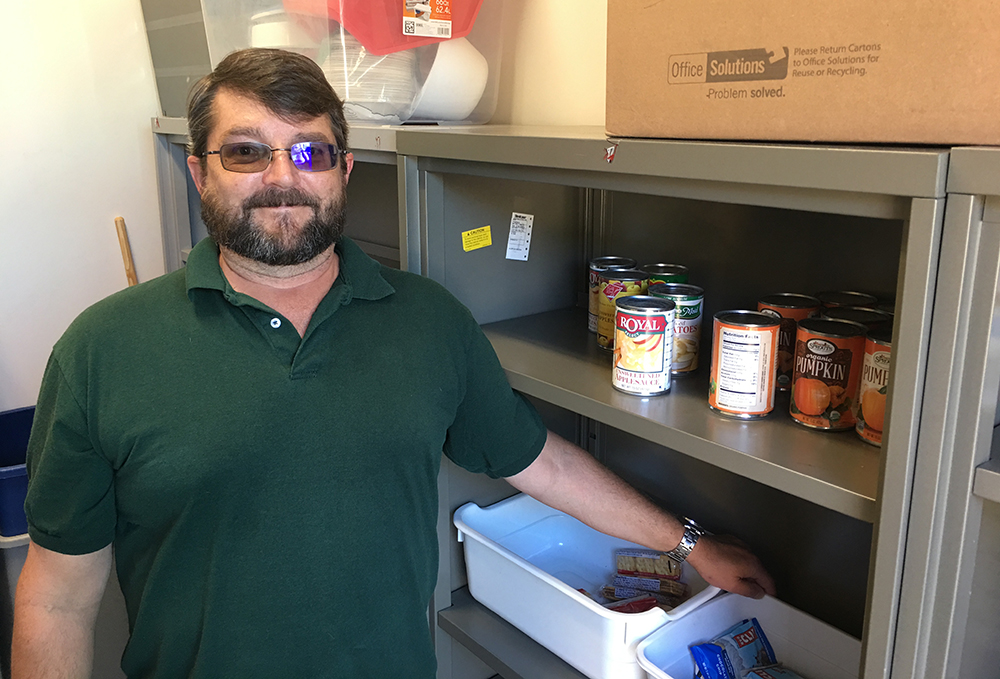 Fighting student hunger one meal at a time
January 10, 2019

|
His official title at Miramar College is student life officer, but his title doesn't do him justice. Joseph Hankinson is more of a Miramar College student life saver.
Hankinson, 53, is the driving force behind a campus emergency pantry on steroids. He has spent the past several months forming collaborations with Feeding San Diego and local grocers to bring thousands of pounds of food to hungry students, more than tripling the numbers served to up to 150 or more per day.
"We've seen a pretty huge uptick in the number of visitors to the pantry," Hankinson said.
That uptick will continue to grow, making Hankinson among the San Diego Community College District's people to watch in 2019. This year, thanks to a recent state grant, Hankinson has his sights set on moving the Miramar College pantry from a small closet near the Ned Baumer Aquatic Center to a space more than four times the size in the Student Services Building at the center of campus.
The need is profound. A 2017 University of Wisconsin study that included the San Diego Community College District found that 36 percent of Miramar College students surveyed were facing challenges affording a meal, 44 percent of Mesa College students were food insecure, and 56 percent of City College students were food insecure.
It's a challenge Hankinson knows all too well. As a student some 25 years ago at Indiana University of Pennsylvania, Hankinson found himself skipping meals, ringing up credit card debt, and eating more than his share of Top Ramen to get by.
He came to Miramar College in 2002 and oversaw the school's Career Center, but he moved over to the position of student life officer two years ago. That job entails planning campus activities, working with student government, and supporting student clubs and organizations. It didn't take long, however, to discover more was needed.
"Students have basic needs that come under the area of 'student life,' so my job sort of expanded to address students who are hungry and have needs that aren't being met," he said. "It was clear we needed to bring more services to students."
Working with Feeding San Diego, a nonprofit that is part of the Feeding America network, Hankinson arranged to pick up surplus food from Sprouts Farmers Market at the Mira Mesa Mall that would otherwise be tossed in a landfill because it didn't meet shoppers' standards for shape or size. That was followed by a similar arrangement with a Smart & Final Extra! at the Mira Mesa Market Center. The result: a bounty of 1,200 pounds of fresh food at a time – and it's all free.
"We used to have stuff like canned tuna and maybe some peanut butter and crackers, but now we're getting surplus bread, salads, fresh fruit, and fresh vegetables that would otherwise go to waste," Hankinson said. "I'm excited about what we can do in the coming year."