Continuing Education instructor Sam Phu honored for leadership
June 17, 2019

|
Assemblymember Shirley Weber, Ph.D., recognized longtime educational leader, Sam Phu, as a recipient of the 79th District's Annual Salute to Men Making a Difference. Dr. Weber's yearly celebration honors men who have made significant contributions to Southeastern San Diego through education and activism. The ceremony took place on Thursday, June 13, 2019 at Oak Park Elementary School.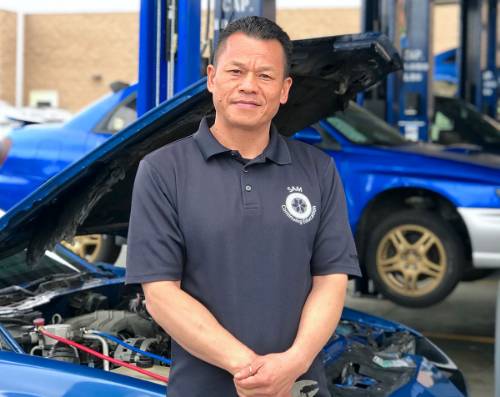 Phu has dedicated his life's work to the auto repair industry and 10 years of service to San Diego Continuing Education. He currently serves as the Department Chair for SDCE's Automotive, Skilled and Technical Trades.
"Being recognized by Assemblymember Weber is a true honor," said Phu. "What SDCE offers is a unique opportunity to pursue an education in Southeastern San Diego, and it's for everyone who comes through our doors. We serve students with barriers to education but have the desire to accomplish a meaningful career for themselves and for their families."
SDCE is the noncredit division of the San Diego Community College District and offers four free Automotive certificates including: Quick Service Inspection Technician, Service Advisor, Auto Body and Paint Technician and Auto Technician. After certification completion, SDCE students are ready for entry-level employment or can transition to San Diego Miramar College with up to 23 college credits earned toward an Associate Degree in Automotive Technology.
"Sam Phu is highly motivated, hard-working and engaged," said Carlos O. Turner Cortez, Ph.D., President of SDCE. "Our students, faculty and staff look to him for guidance and leadership. His energy and passion for the automotive industry continue to make a positive impact at SDCE."
In addition to his leadership role, Phu established the Sam Phu Automotive Achievement Scholarship, which awards deserving SDCE scholars with a mechanic's tool box complete with an entry level toolset, valued at $2,000.
Phu's family arrived in Vietnam from China to maintain coffee and rubber tree plantations. "Like a lot of our students, I also come from an underprivileged family. I escaped to the United States as a young boy, as a refugee and an immigrant in 1980 from Vietnam. I remember traveling by boat, being thirsty, hungry and not knowing if we would make it," said Phu. "I created this scholarship so that every student who really wants to can be successful."
Phu is a Distinguished Alumni of San Diego Miramar College and a member of the Automotive Service Counsel in California. He holds an ASE Master Certified Mechanic, and an L-1 Advanced Engine Performance Technician certification.