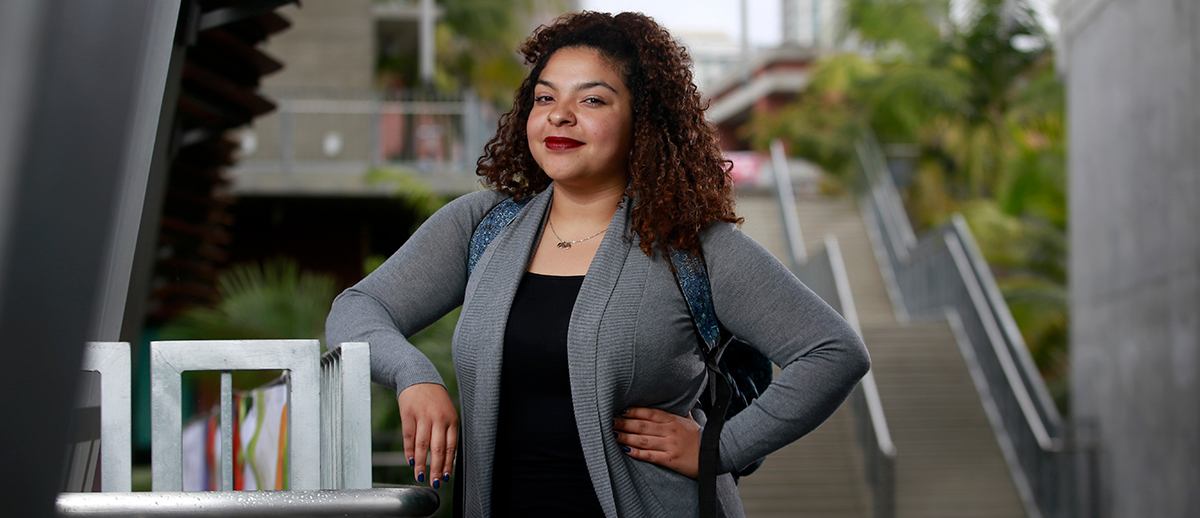 First-generation college student has grown into a leader
May 13, 2019

|
Honor student. Peer advocate. English tutor. Volunteer. Meet San Diego City College scholar Mia Zedukes, who graduates May 24 with associate degrees in psychology and English, a certificate in mental health work, and a dream of returning to the downtown campus one day as dean of Student Services.
"I really love City College," said Zedukes, 23, a first-generation college student whose family moved with her to Mexico when California became too costly. "This school has made me ready for the world in so many ways."
Born and raised in Fresno, Zedukes lived on a farm with her parents who scraped by working various jobs until a rising cost of living coupled with decreasing finances prompted a move to Mexico, where Zedukes' mother was born.
Zedukes was 16 years old. Going to a Mexican high school was a non-starter, as Zedukes couldn't speak Spanish. Instead, she enrolled at a San Diego charter school that offered a flexible schedule and independent-study options, limiting the need for cross-border trips from their home in Rosarito to a couple of times each week. When it came time to assess her higher education options, Zedukes said San Diego City College was an easy decision.
"It just felt right," she said.
Zedukes has served as a peer advocate and an English tutor while volunteering for a number of initiatives both on and off campus. Among them, working with Border Angels delivering bottled water in the San Diego County desert for immigrants coming from Mexico.
"That was one of the best experiences I've ever had," said Zedukes, who now lives in Barrio Logan. "You feel so connected to the pain people are feeling, but there's also a certain beauty in taking action and helping someone. Even if you help just one person, you're making a difference in the world, and making a difference in the world is a wonderful thing."
Other endeavors include interning with nonprofit organizations through the City College Price Scholarship Program, and interning with the American Federation of Teachers.
"Mia is just an amazing and wonderful human being," said Kelly Mayhew, a City College Honors Program coordinator who also oversees the campus's Preparing Accomplished Transfers to the Humanities (PATH), a collaboration between the San Diego Community College District, San Diego City, Mesa, and Miramar colleges, and the UC San Diego Arts and Humanities Division to create a pipeline of successful humanities students leading from the District to UC San Diego. Included in the PATH program is a five-week summer academy at UC San Diego for students preparing to transfer to the La Jolla campus in the fall, a summer academy that Zedukes is taking part in this year.
Zedukes won't be attending UCSD, though. She's opted instead to accept an offer from UC Berkeley, where she will continue focusing on the humanities.
"I feel the humanities is so important because the emphasis is on what your role is in the world and how you can impact it. My experience at City has motivated me to have an impact."
City College Commencement is at 5 p.m. May 24 at the San Diego Convention Center's Ballroom 6A, 111 W. Harbor Drive.